5TB ADATA HD710P Pro Durable Waterproof Shock Resistant USB3.2 Portable HDD Black PN AHD710P-5TU31-CBK, Bonus HDD Carry Case
Web ID: 24469
5TB Capacity, The HD710 Pro takes external hard drive durability further. We test it to beyond IP68 dust and waterproof standards, plus make sure it passes military-grade shock proofing with triple-layered protective construction. With up to 5TB capacity, this master of storage survival is your ally in keeping content safe whether your flavor is diving, hiking, biking, or simply taking a quick stroll, BONUS ADATA External HDD Pouch
Manufacturer Warranty: 3 Year
Manufacturer PN: AHD710P-5TU31-CBK
GTIN: 4713218463074
Manufacturer Website
The HD710 Pro takes external hard drive durability further. We test it to beyond IP68 dust and waterproof standards, plus make sure it passes military-grade shock proofing with triple-layered protective construction. With up to 5TB capacity, this master of storage survival is your ally in keeping content safe whether your flavor is diving, hiking, biking, or simply taking a quick stroll
Beyond IP68 to withstand the unexpected
ADATA external storage expertise results in a drive with total dust-tight protection and a submarine-like ability to survive water. The HD710 Pro is tested for 60 minutes in 2 meters of water - that's more than IEC IPX8 requirements! Prepare to dive? *Water protection applies in full only when the USB port cover is firmly closed
Takes shocks like a true warrior with military-grade toughness
The HD710 Pro holds up against shocks, drops, and vibrations thanks to its extra-rugged triple-layered construction. We test it to US Army MIL-STD-810G 516.6, meaning it can easily take falls from 1.5 meters. Your data is safe, so feel free to go out there and take on more challenges
Guarded by durable triple-layered construction
No matter what you store inside, the HD710 Pro's exterior delivers supreme protection. It has three primary layers coating it, from tough silicone, through a shock absorbing buffer, the tough plastic shell that's closest to the drive itself and holds it firmly in place.
Exclusive Shock vibration sensing technology
Lesser external drives keep trying to work even if they fall or encounter a shock, resulting in errors and bad sectors. The HD710 Pro features Shock sensors that immediately stop all drive activity if a shock is detected. Once vibrations fully end, activity resume. You're kept fully informed with a clear status indicator.
Pick your capacity
With 1TB, 2TB, 3TB, 4TB, and 5TB, you get the flexibility of great external storage for your needs. In any case, you have plenty of room for your experiences, be they 4K videos of your weekend outings, essential work materials, or game library.
Neat cable management
The drive has a nifty groove that goes around its shell, serving as convenient storage for the detachable USB cable. When not in use, simply disconnect the cable, easily wrap it around the HD710 Pro, and get going. This greatly reduces the risk of annoying cable misplacement and clutter, further enhancing your experience.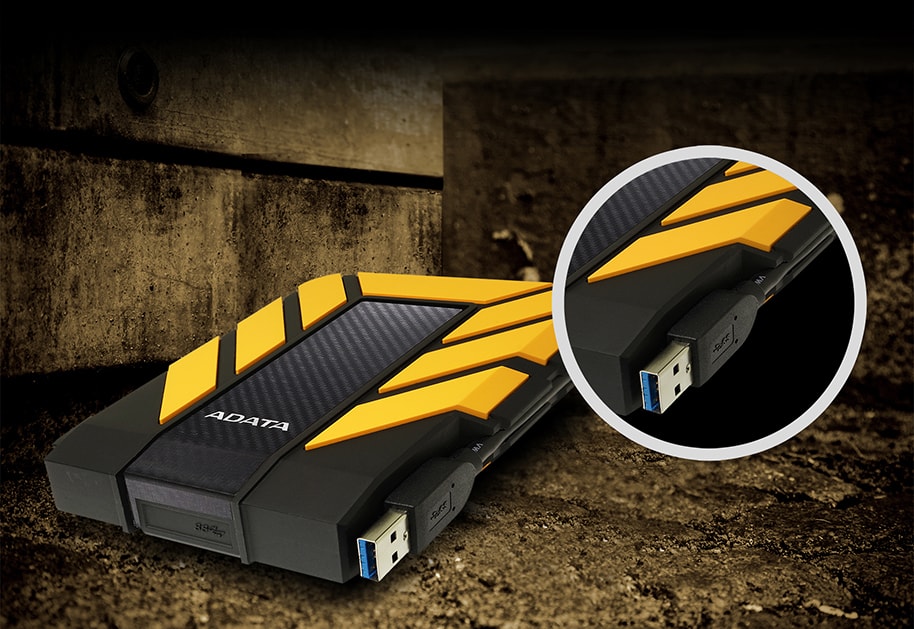 Ergonomic waterproof port cover
Unlike other so-called external durable drives, the HD710 Pro has an easy to use USB port cover. No fiddling, no pressing to find the right angle until it's finally closed. Our engineers pay attention to every detail, and the HD710 Pro's tab cover is one-touch easy but totally secure and waterproof .
Capacity
1TB/2TB/3TB/4TB(Black only)/5TB(Black only)
Color
Yellow/Black/Blue/Red
Dimensions (L x W x H)
133.3 x 98.5 x 21.5mm / 5.2 x 3.8 x 0.8" (1TB)
133.3 x 98.5 x 26.7mm / 5.2 x 3.8 x 1.01" (2TB/3TB/4TB/5TB)
Weight
270g / 9.5oz (1TB), 390g / 13.7oz (2TB/3TB/4TB/5TB)
Interface
USB 3.1 (backward compatible with USB 2.0)
Texture
Plastic/Anti-shock Silicone
Operating Temperature
5–50°C/41–121°F
Operating Voltage
DC 5V, 900mA
System requirements
Windows XP/Vista/7/8/8.1/10
Mac OS X 10.6 or later
Linux Kernel 2.6 or later
Accessories
USB 3.1 cable, Quick Start Guide
Warranty
3 years
Note
1.HD710 Pro dust and water proof ratings apply only when the USB port cover is firmly closed.
2.Compatibility with specific host devices may vary and could be affected by system environment.
3.Connecting via USB 2.0 requires plugging in to two USB ports for sufficient power delivery. A USB Y-cable will be needed.