StarTech USB-C Dual-Monitor Docking Station for Laptops - MST and Power Delivery - 4K
Web ID: 19731
Power and charge your laptop through USB Type-C (5Gbps), and create an MST based, dual-monitor workstation, USB-C Laptop Dock, MST and Power Delivery, 4K ONLY WHILE STOCKS LAST!
Manufacturer Warranty: 1 Year
Manufacturer PN: MST30C2DPPD
GTIN: 065030863506
Manufacturer Website
Here?s a must-have accessory for your USB-C™ equipped laptop. This dual-monitor docking station is one of the first to integrate the next-generation USB-C host connector, so you can easily power and charge your laptop through its USB Type-C™ port. Plus, because it supports MST, you can connect dual monitors through a single USB-C cable. (For a dual-monitor configuration the host laptop must support MST).
With power delivery, MST, dual video (DV), or 4K Ultra HD support, this innovative docking station caters to a range of users, such as IT administrators, designers and animators.
Connect just one adapter to power the dock and your laptop
USB-C is here. It?s the future of universal connectivity, and many new laptops and tablets already feature USB Type-C ports. This versatile laptop dock capitalizes on the full potential of USB Type-C, which simultaneously transfers power, video, and data.
This docking station supports USB Power Delivery (up to a maximum of 60 watts), so you can power and charge your laptop directly through its USB-C port. Because a single power adapter can be used for your dock and laptop, you can reduce clutter at your workstation. Plus, you don?t need to carry or remember an extra power adapter when you?re traveling to or from the office.
Typical USB Type-A docks restrict video and data to 5Gbps shared bandwidth. This USB Type-C dock allocates data and video traffic separately, so extra bandwidth can be diverted to a particular video or data function, as needed. The USB-C laptop dock offers optimal performance when using multiple monitors and peripherals, so you can get more work done in less time.
Enjoy dual-monitor video output
This versatile dock lets you easily connect dual monitors. With more monitors, you can multitask and increase productivity, by eliminating the hassle of flipping between several open windows.
For dual video, simply connect your 1920 x 1200p DisplayPort and HDMI monitors.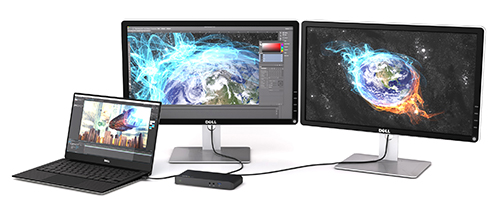 | Number of Displays | Video Output Configuration | Maximum Resolution |
| --- | --- | --- |
| 2 | DisplayPort and HDMI | 1920 x 1200p (60Hz) |
| 1 | HDMI | 4096 x 2160p (24Hz) |
| 1 | DisplayPort | 3840 x 2160p (30Hz) |
*Lower resolutions are also supported.
Easily connect a 4K display through USB-C
The USB-C laptop dock features a DisplayPort and an HDMI port, giving you the flexibility to connect your displays as needed. It supports dual monitors or a single high-resolution 4K monitor.
For extra screen space, this dock offers support for the higher 4096 x 2160p resolution, unlike traditional 4K docking stations that only support 3840 x 2160p.
For 4K output, you can connect:
A 4K HDMI display at 4096 x 2160p resolution and 24Hz
A 4K DisplayPort display at 3840 x 2160p resolution and 30Hz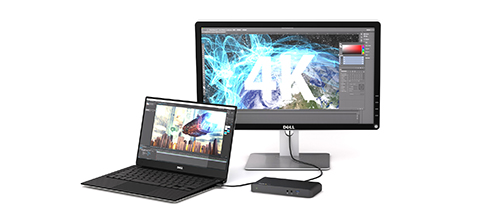 Everything you need to create a full-sized workstation
This full-featured universal docking station offers the ports you need to create a full-sized workstation, including four USB 3.0 ports (including a fast charge-and-sync port and a USB-C port), plus Gigabit Ethernet, audio, and microphone connections.
Universally supported
Unlike some proprietary docking stations designed only to work with specific laptop models, this universal laptop dock works with multiple brands. All you need is a laptop?s USB-C port that supports DP alt mode and USB Power Delivery, and you can be up and running quickly. With universal support, you can use this dock with different laptops now, or in the future.
The MST30C2DPPD is backed by a StarTech.com 3-year warranty and free lifetime technical support.
Notes:
Ensure your laptop?s drivers, firmware, and operating system are up to date prior to using the docking station.
Video output capabilities are dependent on the video card and hardware specification of your connected laptop. Certain video cards have limited MST support, while some monitors will also limit the available resolution.
Not all USB-C ports support the full functionality of the USB Type-C standard. Ensure that your laptop USB-C port supports DP alt mode, as well as USB Power Delivery.
Not all Thunderbolt 3 USB-C ports support the full functionality of the Thunderbolt 3 standard. Ensure that your laptop Thunderbolt 3 port supports USB Power Delivery.
Mac OS does not support MST.
Connector(s)
Connector Type(s)
3.5 mm Mini-Jack (3 Position) Female
DisplayPort (20 pin) Female
HDMI (19 pin) Female
RJ-45 Female
USB 3.0 A (Fast-Charge, 9 pin, SuperSpeed) Female
USB Type-A (9 pin) USB 3.0 Female
USB Type-C (24 pin) USB 3.0 Female
Environmental
Humidity
5%~95% RH (Non-condensing)
Operating Temperature
5?C to 35?C (41?F to 95?F)
Storage Temperature
-40?C to 70?C (-40?F to 158?F)
Hardware
4K Support
Yes
Bus Type
USB-C
Chipset ID
Cypress - CYPD1122-40 (USB Power Delivery)
MegaChips - STDP4320 (DisplayPort with MST)
MegaChips - MCDP2850 (HDMI)
Cypress - CYUSB3328-88LTXC (USB 3.0 with charge)
Cypress - CYUSB3610-68LTXC (LAN)
Texas Instruments - PCM2912APJT (Audio)
Displays Supported
2
Fast-Charge Port(s)
Yes
Industry Standards
USB Power Delivery Specification Rev. 2.0
USB Battery Charging Specification Rev. 1.2
DisplayPort 1.2 with MST
IEEE 802.3, IEEE 802.3u, IEEE 802.3ab
USB 3.0 - Backward compatible with USB 2.0 and 1.1
Indicators
LED Indicators
Power (Green)
RJ45 Activity (Yellow)
RJ45 Link (Green/Amber)
Packaging Information
Shipping (Package) Weight
1000 g [35.3 oz]
Performance
Auto MDIX
Yes
Compatible Networks
10/100/1000 Mbps
Full Duplex Support
Yes
Maximum Data Transfer Rate
5 Gbps (USB 3.0)
2 Gbps (Ethernet; Full-Duplex)
Maximum Digital Resolutions
1920 x 1200p @ 60Hz (DisplayPort and HDMI - Dual Monitors)
4096 x 2160p @ 24Hz (HDMI - Single Monitor)
3840 x 2160p @ 30Hz (DisplayPort - Single Monitor)
Maximum Power Delivery Support
60 W
Type and Rate
USB 3.0 - 5 Gbit/s
UASP Support
Yes
Physical Characteristics
Color
Black
Enclosure Type
Plastic
Product Height
28 mm [1.1 in]
Product Length
210 mm [8.3 in]
Product Weight
133 g [4.7 oz]
Product Width
90 mm [3.5 in]
Power
Center Tip Polarity
Positive
Input Current
1.5 A
Input Voltage
100 ~ 240 AC
Output Current
4.5 A
Output Voltage
20V DC
Plug Type
N
Power Consumption (In Watts)
90
Power Source
AC Adapter Included
Software
OS Compatibility
Windows? 7, 8, 8.1, 10
Mac OS 10.10 to 10.12*
Chrome OS?
*Mac OS does not support MST
Special Notes / Requirements
Note
A 4K-capable DisplayPort or HDMI display is required to achieve 4Kx2K resolution
For a dual-monitor configuration the host laptop must support MST
If you are connecting multiple DisplayPort monitors in a daisy chain through the dock's DisplayPort connection, the monitors must support DisplayPort 1.2 and MST
Not all USB-C ports support the full functionality of the USB Type-C standard. Ensure that your host USB-C port supports USB Power Delivery 2.0 and DP alt mode.
USB 3.0 is also known as USB 3.1 Gen 1; this connectivity standard offers speeds up to 5Gbps
Video output capabilities are dependent on the video card and hardware specifications of your connected host laptop. Certain video cards have limited MST or video support, while some monitors will also limit the available resolution.
System and Cable Requirements
A host laptop with an available USB-C port (to ensure full adapter functionality, the host USB-C port must support USB Power Delivery 2.0 and DP alt mode)
What's in the Box
Included in Package
power cords (NA/UK/EU/AU)
quick-start guide
universal power adapter
USB-C docking station for laptops
USB-C host cable