Netgear PLW1000-100AUS Powerline WiFi 1000 Ethernet over Power Adapter Kit
Web ID: 21619
Use your existing electrical wiring to extend your WiFi Internet access to any room in your house. Just plug the Powerline Adapter into your modem or router, then plug in the companion PowerLINE WiFi access point to an electrical outlet. Kit includes 1 x PLW1000 + 1 x PL1000
Manufacturer Warranty: 1 Year
Manufacturer PN: PLW1000-100AUS
GTIN: 606449114799
Manufacturer Website
Extend Your WiFi Network at 1000 Mbps Speeds
Use your existing electrical wiring to extend your WiFi Internet access to any room in your house. Just plug the Powerline Adapter into your modem or router, then plug in the companion PowerLINE WiFi access point to an electrical outlet. It's that easy. With 1000 Mbps speed and Homeplug AV2 support, the PowerLINE WiFi 1000 is perfect for connecting smart TVs, streaming players, and game consoles wirelessly.
Get Connected with Powerline
Broaden the reach of your wireless and wired network using your home electrical wiring. Connect the NETGEAR Powerline adapter to your modem or router, then simply plug-in the companion NETGEAR PowerLINE WiFi access point wherever you want WiFi.
Next Generation Powerline
Very fast speed—Up to 1000 Mbps.
Reliable Networking
Connect multiple adapters to expand your wired network reliably.
Latest Technology
Homeplug AV support for Gigabit speeds through your electrical outlets for improved coverage.
Plug-and-Play
Set up in minutes, no need to configure or install software.
Energy-saving
Automatically powers down when not in use.
Push-and-Secure
Encrypts PowerLINE network connections with the touch of a button.
Product Thumbnail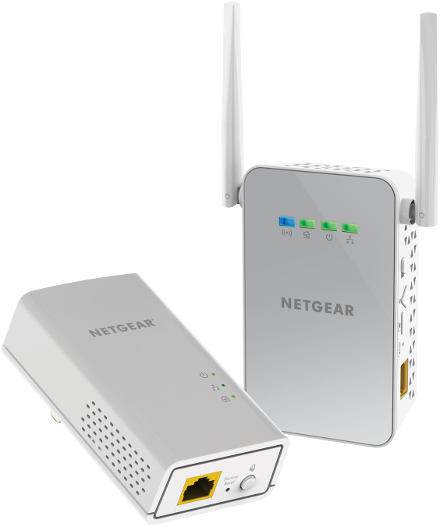 Speed and Range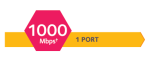 Number of Ethernet ports
One (1) 10/100/1000 Gigabit Ethernet port on each adapter
Key Features
Gigabit PowerLINE WiFi speed
Perfect for connecting smart TVs, streaming players & game consoles
Ideal for HD streaming & lag-free gaming
Typical coverage up to 500 m²†
Pick-a-plug LED for highest possible performance
Sets up in minutes, no need to install software
Secures the network connection with the touch of a button
Product diagram
Physical Specifications
PowerLINE WiFi 1000 Access Point (PLW1000) Dimensions: 121 x 87 x 38 mm (4.75 x 3.44 x 1.5 in)
PowerLINE WiFi 1000 Access Point (PLW1000) Weight: 266 g (0.59 lb)
Powerline 1000 Adapter (PL1000) Dimensions: 100 x 59 x 35.9 mm (3.9 x 2.3 x 1.4 in)
Powerline 1000 Adapter (PL1000) Weight: 126 g (0.28 lb)
Package Contents
One (1) PowerLINE WiFi 1000 Access Point (PLW1000v2)
One (1) Powerline 1000 Adapter (PL1000v2)
Two (2) 2 m (6.5 ft) Ethernet cables
Quick install documentation
Standards
10/100/1000 Mbps† Gigabit Ethernet port
PowerLINE WiFi 1000 Access Point (PLW1000): IEEE® 2.4 GHz/5 GHz 802.11 b/g/n/ac wireless interface
HomePlug® AV2 compliant*
IEEE® 1901 and IEEE® 802.3 compliant
System Requirements
RJ-45 Ethernet port to connect via Ethernet cable
2.4 GHz/5 GHz 802.11 b/g/n/ac wireless interface to connect wirelessly to PLW1000
Microsoft® Windows® 8, 7, Vista®, XP or Mac OS® X to install software utility