MSI RTX NVLink 3 Slot GPU SLI Bridge
Web ID: 24888
The MSI NVLink GPU BRIDGE forms the perfect link for your high-end MSI GAMING SLI setup. Optimized for 4K+ resolutions and high refresh rates, the MSI NVLink GPU BRIDGE is ready for next generation gaming! Supports 2-way SLI on compatible MSI GeForce RTX series graphics cards on the 1st and 4th slot ONLY WHILE STOCKS LAST! CASH PRICE
Manufacturer Warranty: 1 Year
Manufacturer PN: MSINVLINK
GTIN: 824142173114
Manufacturer Website
THE BEST LINK FOR SLI GAMING
The MSI NVLink GPU BRIDGE forms the perfect link for your high-end MSI GAMING SLI setup. Optimized for 4K+ resolutions and high refresh rates, the MSI NVLink GPU BRIDGE is ready for next generation gaming!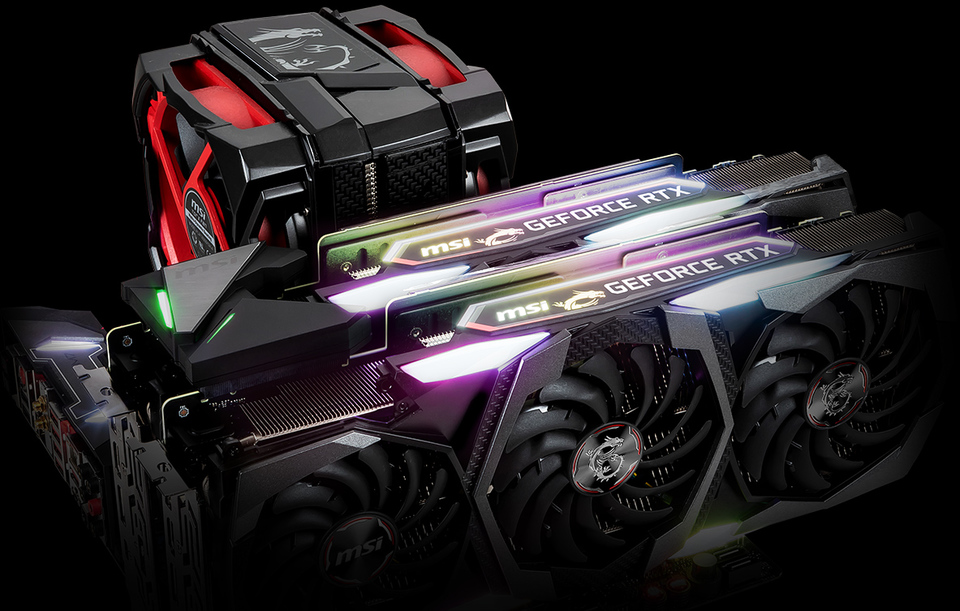 Brilliant display of colors
Put on a colorful display using the MSI Mystic Light utility. Choose your unique look from millions of available colors and provide a finishing touch with any of the predefined animated effects. A fresh new look & feel is just a few clicks away. Not feeling the hype or just prefer to go dark for a bit? Turning the LEDs off is just as easy.
Please download Mystic Light for experiencing more lighting effects: DOWNLOAD
THE RIGHT FIT FOR YOUR GAMING SETUP

2 way NVLink GPU BRIDGE on 1st and 4th slot
60 mm space between SLI connectors
Compatible with SLI enabled GeForce® RTX series graphics cards
* MSI GeForce RTX 2080 Ti series
- GeForce RTX 2080 Ti GAMING X TRIO series
- GeForce RTX 2080 Ti SEA HAWK EK series
- GeForce RTX 2080 Ti SEA HAWK series
- GeForce RTX 2080 Ti DUKE series
- GeForce RTX 2080 Ti VENTUS series
- GeForce RTX 2080 Ti AERO series

* MSI GeForce RTX 2080 series
- GeForce RTX 2080 GAMING X TRIO series
- GeForce RTX 2080 SEA HAWK EK series
- GeForce RTX 2080 SEA HAWK series
- GeForce RTX 2080 DUKE series
- GeForce RTX 2080 VENTUS series
- GeForce RTX 2080 AERO series
74.5(L) x 75.5(W) x 23.1(H) mm