ICY BOX IB-867-B 5.25" USB 3.0 Multi Card Reader
Web ID: 18656
The internal card reader IB-867 offers place for 6 different types of storage cards. To be more precise, M2, EXD, CFI/MD, SD/SDHC/SDXC/MMC/RS MMC, MicroSD, MS/MS Pro/MS Pro Duo cards. 4x USB 2.0, 1x USB 3.0, 1x eSATA, 1x USB 2.0 Charging Port. ONLY WHILE STOCKS LAST!
Manufacturer Warranty: 1 Year
Manufacturer PN: IB-867-B
GTIN: 4250078186144
Manufacturer Website


1x USB 3.0 up to 5 Gbit/s, 4x USB 2.0 up to 480 Mbit/s
1x USB 2.0 Charging port 5V / 2.4A
Faster USB 3.0 multi card reader MS/MS Pro, MS pro Duo
LED indicator for activity and data access
Six times genius
The internal card reader IB-867 offers place for six different types of storage cards. To be more precise, M2, EXD, CFI/MD, SD/SDHC/SDXC/MMC/RS MMC, MicroSD, MS/MS Pro/MS Pro Duo cards.
Fast charge
The yellow fast USB charging port provides 2.4 Amper in order to charge mobile devices and rechargable batteries. This port charges must faster than a normal USB 3.0 port since the regular ports provide only 0.9 Amper.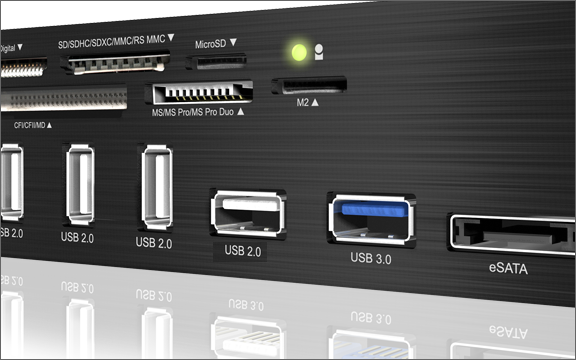 An additional plus
Are the additionally available ports. Four USB 2.0 port, a USB 3.0 port and the last one is an eSATA port, so all the options are open for the user right at the front panel of the PC.