Creative Sound BlasterX AE-5 PLUS Hi-Res Gaming Sound Card 70SB174000003
Web ID: 29017
Creative Sound BlasterX AE-5 Hi-Res PCIe Gaming Sound Card, Signal-to-Noise Ratio: 122dB (DAC), Max Channel Output: 7.1 Channels, 1x TOSLINK Optical Out, 1x 3.5mm Mic In/Line In, 1x 3.5mm Headphone/Headset Out, 1x 3.5mm Front Out, 1x Rear Out, 1x Center/Sub O. CASH PRICE
Manufacturer Warranty: 1 Year
Manufacturer PN: 70SB174000003
GTIN: 054651193895
Manufacturer Website
SOUND BLASTERX AE-5 PLUS
Hi-res PCI-e Gaming Sound Card and DAC with RGB Lighting, Dolby Digital Live, and DTS Encoding
FEATURES
UPGRADE PROGRAM FOR SOUND BLASTERX AE-5 CUSTOMERS

Customers who purchased the Sound BlasterX AE-5 (non-Plus version) directly from creative.com in the last 90 days now have the option of returning the product back to us. This option is only available to those who would like to upgrade to the Sound Blaster AE-5 Plus for additional Dolby Digital and DTS support.

VIEW MORE DETAILS
OVERVIEW
Sound BlasterX AE-5 Plus—Now with Dolby Digital Live and DTS Encoding for more surround sound delivery options!
Be one of the proud OPs showing off their gaming rigs on r/battlestations! The Sound BlasterX AE-5 Plus is a perfect convergence between aesthetics and performance that features a SABRE32 ultra-class hi-res PCI-e gaming sound card and DAC with customizable RGB LEDs on its body, and comes with an included RGB LED strip. It also features our award-winning Xamp discrete headphone amp that utilizes a bi-amplification technology, as well as our full suite of industry-leading audio processing technologies including Surround Virtualization.
AUDIO
Custom Xamp Discrete Headphone Bi-amp
Maximize your prized headset's potential! Powerful headsets require audiophile-grade headphone amplifier to drive outstanding audio performance, and that's where Sound BlasterX AE-5 Plus comes in. The hi-res sound card features Xamp, our custom-designed discrete headphone bi-amplifier.
Typical Headphone Amp
In a typical headphone amp, your left and right channels are amplified all at once using the same amplifier IC.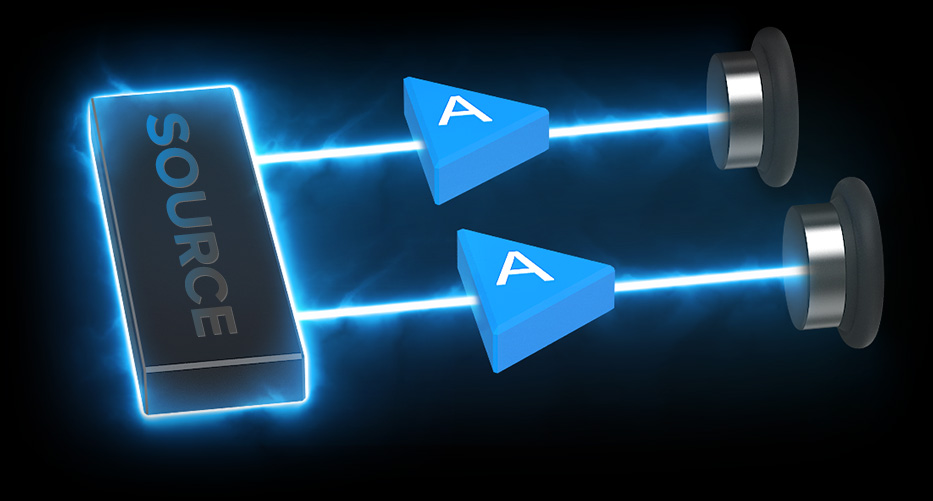 Xamp Headphone Amp
In Xamp discrete headphone bi-amp, each audio channel is individually amplified, allowing the Sound BlasterX AE-5 Plus to deliver pristine audio fidelity in an unaltered lossless model to each earcup regardless of demand.
It also features an ultra-low 1Ω headphone output impedance that can drive studio-grade headphones of up to 600Ω, including high-end planar-magnetic headphones.
The end result? Silky smooth audio regardless of how dynamic or demanding the current audio scene may be. From times when you need a break from gaming, the Xamp also satisfies even the most demanding needs of audiophiles seeking for music in its original form, and appreciate music the way it is intended to be.
SABRE-class DAC
The Sound BlasterX AE-5 Plus is a SABRE-class PCI-e DAC that is perfect for high resolution audio for games, music and movies. It delivers extremely clean 122 dB DNR audio stream at up to 32-bit / 384 kHz* playback with ultra-low distortion and jitter.
*32-bit playback only available in Windows 10 or higher.
RGB LIGHTING
Aurora Reactive Lighting System
Enjoy a symphony of lights and sound with the Aurora Reactive Lighting System! The Sound BlasterX AE-5 Plus has customizable RGB LEDs on its body, and also features an included RGB LED strip. Program up to 16.8 million colors in different patterns with the free downloadable Sound Blaster Command software for PC.
SOUND ENHANCEMENT
Surround Sound Technologies
Transform your gaming audio into immersive, theatrical audio! On top of support for Dolby Digital Live and DTS Connect Encoding, the Sound BlasterX AE-5 Plus also features discrete 5.1 on speakers, and up to 7.1 virtual surround on both speakers and headphones.
Sound Blaster Acoustic Engine
The Sound BlasterX AE-5 Plus rides on Sound Blaster's long legacy of audio processing and enhancements, available through the Sound Blaster Command software. The Sound Blaster Acoustic Engine is a suite of fully customizable audio processing technologies deliver new levels of audio immersion and precision for the ultimate competitive advantage. These sound technologies create unprecedented levels of audio realism, including stunning 3D surround effects for your speakers and headsets.
Scout Mode
Activate Scout Mode to give yourself a distinct tactical advantage! This tried and tested technology enhances important in-game audio cues—such as footsteps and weapon switching sounds—allowing you to quickly and accurately pinpoint your opponents' location before they pinpoint yours!
Pristine, Pure, Perfect
Go all out and express your style! The Sound BlasterX AE-5 Plus also comes in a special white edition. Apart from its pure white casing, the Pure Edition comes with four LED strips–three more than the standard version–so you can build the perfect rig that's truly yours.
LEARN MORE