Cougar Full ATX Panzer Max Case Black
Web ID: 19235
Panzer Max is a full tower gaming case that has been designed with gamers, overclockers, modders and professional level computer lovers in mine. It provides you with unprecedented levels of freedom when designing your system and choosing its components, has superb cooling capabilities and sports an attractive, professional looking design that will enhance any area you put it in.
Manufacturer Warranty: 1 Year
Manufacturer PN: PANZER MAX
GTIN: 871520008735
Manufacturer Website
Superior Expandability
Incredible Graphics + Loads of Storage + Motherboard FreedomPanzer MAX brings you unprecedented levels of freedom when designing your system. Its support for six different motherboard form factors and up to four double slot 390mm graphics cards allows you to install all the computing power you need, while the possibility to host up to six storage devices will provide plenty of space for your files.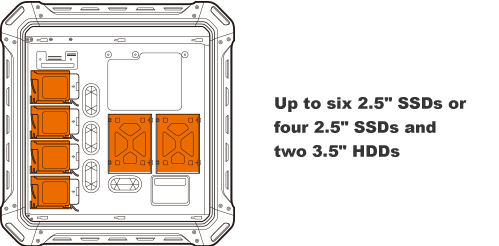 Superior Cooling
Powerful Airflow + Water Cooling Support + Intelligent Cable ManagementCooling is a key factor for gamers, overclockers and PC enthusiasts in general, and PANZER MAX offers all they could ask for. With support for up to eight fans and four water cooling radiators, you will enjoy more than enough cooling horsepower to keep even the most advanced components safe from overheating. To complement this, its intelligent cable management system will keep all the cables behind the motherboard tray, allowing air to flow unobstructedly and dissipate the internal components' heat.
Water cooling radiator support

Air cooling support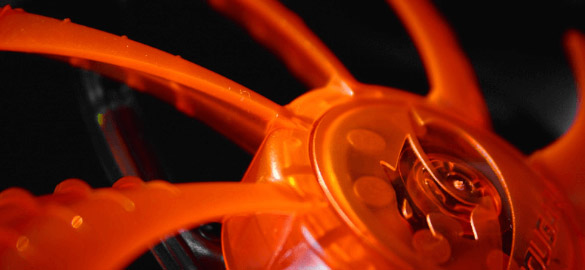 Airflow Guide for Storage
Part of the front fans' airflow is redirected towards the back of the motherboard tray.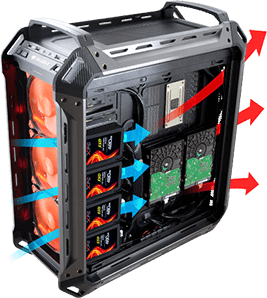 Fan Speed Control Switch
Adjust fan speed easily.
Superior Design
Military Style Design + Highly Convenient + Easily ModdableIt doesn't matter where you install it: a computer built in PANZER MAX is an impressive sight. With a metallic-like military inspiration design with a big side window, this case can both be a professional looking armored style build or a flamboyant LED fan equipped spectacle: the decision is yours. The easily removable covers and the oriffices on all four sides make modding much more convenient, and allow you to transform it into whatever you want it to be. Other features such as the keyboard tray to free desktop space, the headphone hook, the four USB plugs and the two handles will contribute to make your life easier.
Military Metallic Style with Big Side Window

Headphone Hook

Keyboard Tray

35kg Handle Support

Tool-less opening and removal of all covers

4 USB Ports (including 2 USB 3.0 ports)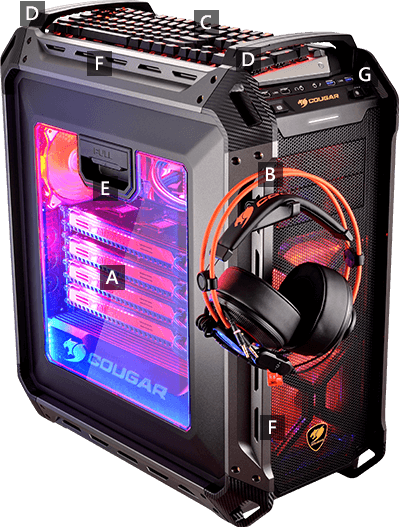 A

Military Metallic Style with Big Side Window

B

Headphone Hook :
Convenient location for your headphones that saves you desk space.

C

Keyboard Tray :
Liberate your desktop when you're not using your computer.

D

35kg Handle Support :
easy transportation

E

Tool-less opening and removal of all covers :
easy installation

F

Easily moddable

G

4 USB Ports (including 2 USB 3.0 ports) :
Extended connectivity
Case Type
Full Tower
Motherboard Type
Mini ITX / Micro ATX / ATX / CEB / L-ATX /
E-ATX ( E-ATX upto 12"x11" )
Dimension (WxHxD)
266 mm x 612 mm x 556 mm
Chassis Dimensions
220 mm x 460 mmx 450 mm
5.25" Drive Bay
2
3.5" Drive Bay
2
2.5" Drive Bay
4+2 (converted from 3.5" drive bays)
Expansion slots
8
Cooling system
Front
120mm x 3 / 140mm x 3
120mm x 2 (non-LED fan pre-installed)
Top
120mm x 3 / 140mm x 2
Rear
120mm x 1 (non-LED fan pre-installed)
Bottom
120mm x1 / 140mm x 1
I/O Panel
USB3.0 x 2 / USB2.0 x 2
Mic x 1 / Audio x 1
Fan Controller
Water Cooling Support
Front
360mm / 280mm / 240mm / 140mm / 120mm
Top
360mm / 280mm / 240mm / 140mm / 120mm
Rear
120mm x 1
Bottom
140mm x 1 / 120mm x 1
Max. Graphic Cards Length
390mm
Max. CPU Cooler Height
170mm
PSU
Standard ATX PS2
Cable Management
Yes
Total Fan
8 Max.