Cougar 550M USB RGB Gaming Mouse Iron Grey
Web ID: 18996
BORN FOR GAMING, COUGAR 550M becomes one with your hand and allows you to unleash your full power. This gaming mouse's design is based on sound ergonomics, and goes a step further from mere comfort: it helps you enhance your control of the mouse. COUGAR 550M, the best gaming mouse that brings you the best ergonomic design.
Manufacturer Warranty: 1 Year
GTIN: 871520004591
Manufacturer Website
Overview
COUGAR 550M Gaming Mouse
Let's get this straight: If you engage in online gaming or are interested in it, if you love serious gaming and need appropriate gaming gear, 550M is what you're looking for. COUGAR 550M is the best professional level gaming mouse. Let us tell you why.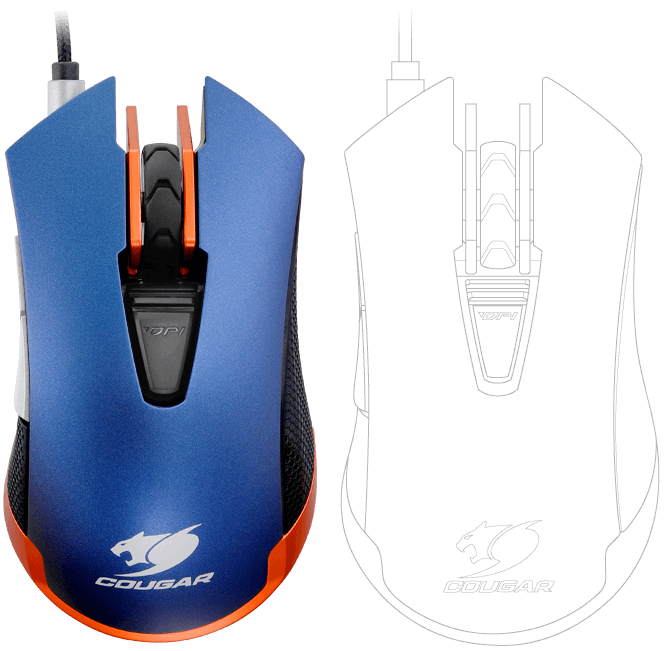 BORN FOR GAMING

COUGAR 550M becomes one with your hand and allows you to unleash your full power. This gaming mouse's design is based on sound ergonomics, and goes a step further from mere comfort: it helps you enhance your control of the mouse. COUGAR 550M, the best gaming mouse that brings you the best ergonomic design.

A WORLD OF FUNCTIONS

COUGAR 550M brings you all the functionality you will ever need for gaming. Its 6 buttons allow you to access, using only the mouse, up to 21 different functions, including macros, shortcuts and more. With carefully located buttons, including the distinctive Trigger Button, using all this extended functionality will become natural, almost instinctive. All this goes a step further with UIX System. COUGAR's gaming device management system allows you to easily and intuitively manage all this power. COUGAR 550M's 512 Kb internal memory will allow you to store up to 3 full configuration profiles and bring them with you anywhere you go.
Videos
COUGAR 550M Gaming Mouse
Features
OMRON Micro Switches

OMRON Switches provide absolute accuracy and an incredibly long life: With guaranteed minimum of 5 million clicks, this gaming mouse is going to serve you well for a long time.

Gaming-Grade Scroll Wheel

Accuracy and clear tactile feedback: a perfect solution for gaming.

BRAIDED CABLE

A solid, reliable braided cable enhances your gaming mouse's durability.

Trigger Button (Programmable)

This ergonomically designed button is located on the rear of the wheel. It allows you to access an extra function almost instantaneously with a quick finger movement.

Anti-Slip Flanks

No matter how intense a gaming session is, you usually don't want to launch your mouse with a fast movement. 550M's Anti-Slip Flanks help you getting a more stable grip.

Premium Pro-Gaming Surface

Enhanced comfort and stability for gaming.

1000Hz Polling Rate / 1ms Response Time

1000Hz Polling Rate: Absolute control, amazing response time. No control lag. Only victory.

3-Stage DPI LED Display

550M's 3-Stage DPI LED allows you to know instantly the DPI level you are using, without needing to move the mouse around to check its sensitivity.

Multi-Color Backlight System (2 Zone RGB)

The palm backlight and the 3-Stage DPI LED indicator are both RGB backlight systems that work independently and which can be used to know always which configuration profile you're currently using.
1 Hand 21 Functions
6 Fully Configurable Buttons. A World of Functions.
The 6 buttons located in carefully selected areas of the mouse and the 3 configuration profiles the mouse can store on board allow you to access up to 21 functions with a single hand.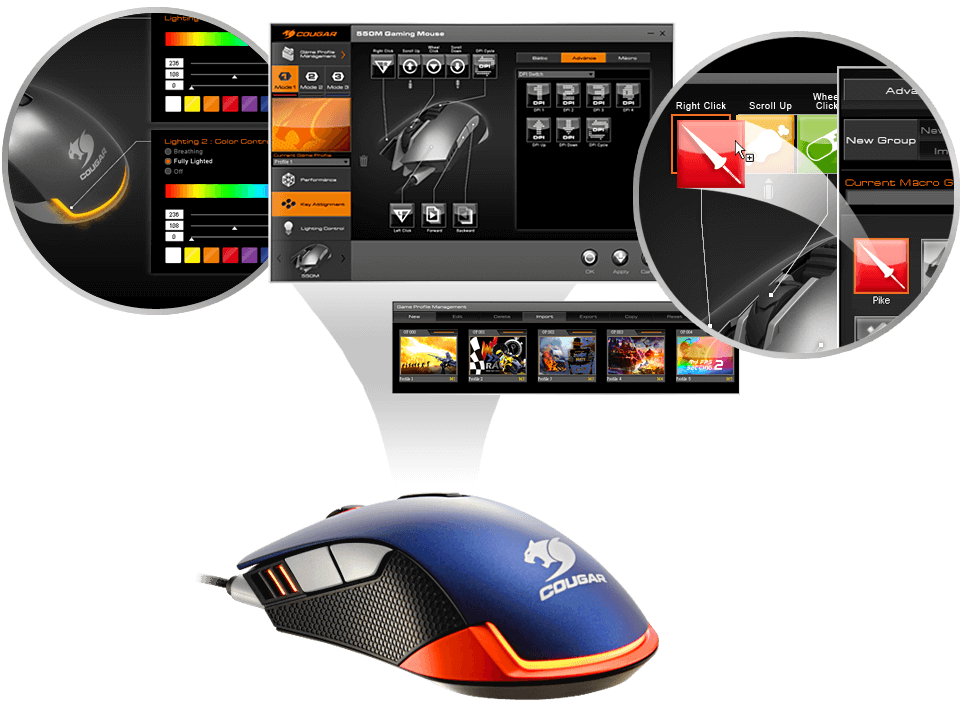 All the power you need.
Deadly Precise
COUGAR 550M's SDNS-3988 sensor provides you with the precision you need to reach the top of the competitive gaming food chain, providing always the right level for each user. In addition, the 1000 Hz polling rate and 1ms response time ensure an instant response to your commands. In short, 550M will be as quick and precise as you can be.
SDNS-3988 Optical gaming sensor 6400DPI6400DPI
Maximum tracking speed200IPS
Polling rate1000Hz
COUGAR UIX™ Device Management System
+ Internal Memory
Configure a myriad functions intuitively and bring them with you.
Set the functionality of all the buttons, assign pictures to profiles for graphical recognition, store macros and share them, all with a very convenient and intuitive interface. The 550M´s internal memory will then allow to bring up to 3 full configuration profiles anywhere you go.
Real Gaming Design
The COUGAR 550M's design has been thought so that it adapts optimally to gamers' hands. For every gamer, comfort is a key aspect of a mouse: If you don't feel good, you cannot unleash all your potential. 550M is here to become the best support for your gaming career.
Spec.
Product name
COUGAR 550M gaming mouse
Sensor
SDNS-3988 Optical gaming sensor
Resolution
50-6400 DPI
32-BIT ARM PROCESSOR
YES
Polling rate
1000Hz / 1ms
On-board memory
512KB
Software
COUGAR UIX™ SYSTEM
Programmable buttons
6
Switching
OMRON gaming switches
Profile LED backlight
2 ZONE 16.8 million colors
Frame rate
12500 FPS
Maximum tracking speed
200 IPS
Maximum acceleration
50 G
Interface
Golden-plated USB plug
Cable length
1.8m Braided
Dimension
135(L) X 70(W) X 45(H) mm
5.31(L) X 2.76(W) X 1.77(H) Inch
Weight
120g (0.27 lb)
System Requirements
Windows XP 32bit / 64bit
Windows Vista 32bit / 64bit
Windows 7 32bit / 64bit
Windows 8 32bit / 64bit
Windows 8.1 32bit / 64bit
Dimension