Coolermaster MasterCase Maker 5 ASUS ROG Edition Case PN MCZ-005M-KWN00-RG
Web ID: 19285
To celebrate ROGs 10th Anniversary, ASUS worked with Cooler Master to develop a special edition ROG case by using its flagship MasterCase Maker 5. This model integrates Cooler Masters FreeForm Modular System, a technology developed by Cooler Master for its MasterCase Series products. It allows users to customize, adjust, and upgrade their PC case from interior and exterior with a very intuitive and easy approach. ONLY WHILE STOCKS LAST! CASH PRICE
Manufacturer PN: MCZ-005M-KWN00-RG
GTIN: 884102030529
Warranty: 3 Year
Manufacturer Website
Customize with
External Modularity
Easily customize your case by adding a top cover and water bracket for a new look along with liquid cooling radiator support, freeing up space inside the case. And if you want to show off your system, a window side panel is also available. These options are included in MasterCase Pro 5 version or available separately.
Adjust Internal Layout Clip-and-Click Panel
But this isn't just about aesthetics. Each decision opens new possibilities.
Leveraging our unique clip-and-click panel, FreeForm lets users vertically adjust or entirely remove your optical disk drive (ODD) and HDD via sliding locks so intuitive you'll play with your configurations just for fun. Well, some people will. Just click-in the cages, and adjust the height to suit your needs. Position them at the top to allow room for up to three extra-long graphics cards, or retain only the bottom positioned cages to add a front-mounted radiator for even more cooling options.
Integrate replacement accessories like:
Fan brackets
Water cooling reservoirs
GPU support brackets
Slip-and-Clip Pockets
The first Cooler Master case to incorporate two easy to install slip-and-clip solid-state drive pockets (2.5") with four easy mounting positions. Showcase them on the partition panel or hide them behind the motherboard tray for a cleaner look.
A.Two behind the motherboard tray
B.Two on top of power supply partition
Unmatched Ventilation
FreeForm enables the option to install three front-mounted 140mm fans and a 280mm radiator for unmatchable ventilation due to a unique facility to horizontally shift the bottom-mounted hard disk drives. There's also support for up to six 140mm fans through the case, unique for a mid-sized tower.
Show Us What You Got
Post or send us your MasterCase projects
Accessories
FreeForm extends beyond the case to include all the support you need in terms of selecting
and purchasing components through a range of accessories to truly help you Make It Yours.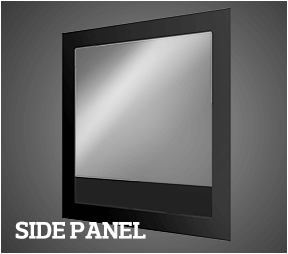 Model Number
MCX-0005-KKN00
Available Color
Dark metallic grey exterior with black interior
Materials
SECC, Plastic
Weight
10.6 kg / 23.4 lb
Dimensions
All
512(L) x 235(W) x 548(H) mm
Body
460(L) x 235(W) x 460(H) mm
M/B Type
ATX, microATX, Mini-ITX
Expansion Slots
7
Drive Bay
5.25" ODD
2
3.5" HDD
2
2.5" SSD
2 + 2
I/O Panel
USB 3.0 x 2, Audio In & Out (supports HD-Audio)
Cooling Support
Front
140mm x1 (pre-Installed)
120/140mm x2 (optional)
Rear
140mm x1 (pre-Installed)
Top
120/140mm x2 (optional)
Radiator Support
Front
240mm/280mm (up to 40mm thickness without fan)
Rear
120mm/140mm
Top
N/A
CPU Air Cooling Support
190mm/7.5 inch
VGA Card Support
w/ 3.5" HDD Cage
296mm/11.7 inch
w/o 3.5" HDD Cage
412mm/16.2 inch
Cable Management
25mm
Dust Filters
Front/Top/Bottom
Power Supply Type
Bottom Mount, ATX PS2