Cooler Master MicroATX Silencio S400 TG Case MCS-S400-KG5N-S00
Web ID: 27463
PN MCS-S400-KG5N-S00. The Silencios minimalistic design cloaks its complexity. Design elements fine-tuned in form and function result in minimized noise and efficiently maintained system temperatures. ONLY WHILE STOCKS LAST!
Manufacturer Warranty: 2 Year
Manufacturer PN: MCS-S400-KG5N-S00
GTIN: 884102059827
Manufacturer Website
Silencio Design
The Silencio's minimalistic design cloaks its complexity. Design elements fine-tuned in form and function result in minimized noise and efficiently maintained system temperatures.
Silencio Technology
Behind the outer panels are pieces of meticulously placed sound dampening material. The development of the Silencio was driven by Sorama's Cam64—this allowed for the entire sound spectrum to be visually analyzed by source, resonance pattern, and frequency.
With the identification of peaks within certain frequency ranges, fine-tuning the Silencio for the dispersion of resonance was made possible, reducing the prominence of noise generated by system components. Every detail in design optimized the Silencio for thermal efficiency and silence, from the type of material used to its placement.
Sound Dampening Material
The Silencio utilizes a combination of sound dampening materials, from thick soft foam to heavy mass-loaded vinyl, to precisely counter prominent frequencies.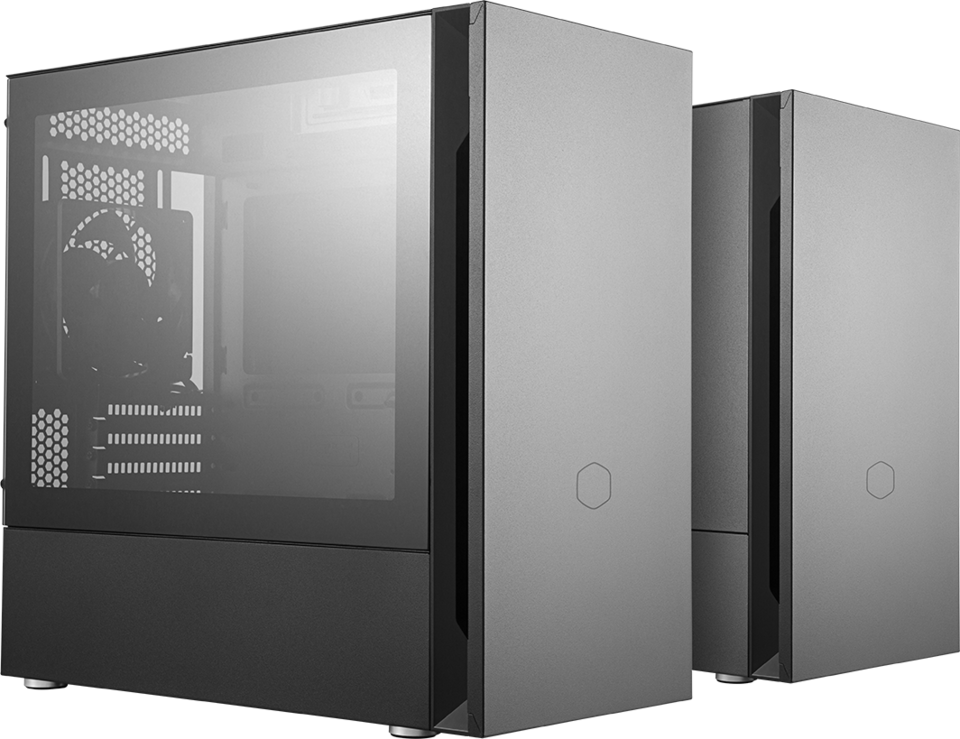 Seamless Tempered Glass or Sound-Dampened Steel
Available with seamless tempered glass or a sound-dampened steel side panel, systems can be built for show or for stealth with the Silencio.
Ventilation
Top
For an even higher demand for ventilation, the top panel's Sound Dampening Cover can be removed for unrestricted ventilation. An optional dust filter for the top panel ventilation is included, allowing the top panel and front panel work in conjunction to cool the system.
Ventilation
Front
The front panel features a recurved vent, directing air in through the front bezel. The curve points downward, taking air in from the bottom, and straightens out to direct air in from either side of the steel front door.
Reversible Steel Door
The steel front door features a reversible mounting system, capable of opening in either direction. To prevent vibrations, a softer, thicker material spans the steel structure in conjunction with a hinge system of magnets and rubber stompers.
Silencio Fans
Two Silencio FP 120mm PWM fans are pre-installed with rubber padding to reduce noise, featuring specially designed blades that allow both quiet operation and high air pressure.
Versatile HDD Cage
The HDD cage is (re)movable. The cage can be shifted forward to make room for a longer PSU, backwards for additional radiator space, or completely removed if HDD storage is not needed.
Cooling Support

Fans


Radiators
Top:
120 / 140mm x 1 Fans
120 / 140mm x 2 Fans (remove ODD cage)
120 / 240* Radiator
*remove ODD cage
Front:
120 / 140mm x 2 Fans
120 / 140 / 240 / 280* Radiator
*may interfere with HDD mounted below ODD bracket
Rear:
120 x 1 Fan
120 x 1 Radiator
Motherboard Support
Mini-ITX, Micro-ATX