ASUS S2011-3 ATX Sabertooth X99 DDR4 Motherboard
Web ID: 16048
Intel Socket 2011-3, X99 Chipset, 8 x Quad Channel DDR4 sockets (up to 64GB), 40-Lane CPU: 3 x PCIe 3.0/2.0 x16, 28-Lane CPU: 3 x PCIe 3.0/2.0 x16 and 1 x PCIe 2.0 x16 (x4 mode) and 1 x PCIe 2.0 x1, Supports AMD Quad CrossFireX, NVIDIA Quad SLI, 1 x M.2 Socket 3 (type 2242/2260/2280/22110), 1 x SATA Express, 8 x SATA 6Gb/s, RAID 0, 1, 5, 10, Dual Gigabit LAN, 2 x USB 3.1 Type-A, 8 x USB 3.0 (4 via back panel, 4 via internal header), 8 x USB 2.0 (4 via back panel, 4 via internal header), 7.1 Channel Audio with Optical Out, ATX Form Factor ONLY WHILE STOCKS LAST!
Manufacturer PN: Sabertooth X99
GTIN: 889349024324
Warranty: 5 Year
Manufacturer Website
Drive CPU and DDR4 performance beyond all expectations!
Patent Pending OC Socket
Designed to break performance barriers, ASUS OC Socket utilizes extra pins to connect a proprietary circuit to contacts found on Haswell-E's land grid array (LGA). Combined with our customized UEFI, this exclusive feature enables higher DDR4 memory frequencies, lower latencies and enhanced stability while overclocking, extending all the way to extreme overclocking conditions, such as Liquid Nitrogen (LN2). OC Socket is 100% compatible with new Haswell-E LGA 2011-v3 CPUs, ensuring the ideal combination of overclocking performance and compatibility.
Unique Cache Bus Voltage Adjustment
Cache bus links areas such as CPU cores, DDR4 Memory Controllers, System Agent and the shared L3 Cache. It is a critical interconnect for the whole CPU subsystem. Higher Cache Bus frequency directly gives faster total sub-system performance. ASUS OC Socket exclusively provides an adjustable cache bus voltage to reach higher cache bus frequencies.
3DMark Physics
CPU: Intel Core i7-5960X 4.8G| MB: SABERTOOTH X99 | DDR4: Corsair DDR4-2133*4 | GFX: GTX780 | OS: Windows7 64-bit

AIDA64 memory benchmark
CPU: Intel Core i7-5960X | MB: SABERTOOTH X99 | DDR4: Corsair DDR4-2133*4 | GFX: GTX780 | OS: Windows7 64-bit
Make your memory go faster
This is the first platform to support DDR4 memory and it's able to drive memory frequencies to 3200MHz (and beyond when overclocked)! ASUS-exclusive T-Topology circuit design plus OC Socket provides superb memory-overclocking capability to unleash the full power of DDR4 by minimizing coupling noise and signal reflection. With innovative equidistant memory channels, it delivers the most balanced control and powerful overclocking compatibility. ASUS works with almost every DDR4 memory vendor to ensure the best compatibility.
TUF Detective
System information at your fingertips
A free companion app puts detailed system information and a user-friendly interface at your fingertips– right on your smartphone or tablet . Just download the intuitive app and you're able to monitor key parameters, detect and diagnose errors and control your PC's power status with touchscreen ease. Your PC doesn't even need to be switched on for you to make use of the app!
Thermal Armor
Total airflow-boosting heat dissipation
More than just a cool military-styled cover, TUF Thermal Armor employs the fan to provide boosted airflow for rapid cooling. The special heat pipes accelerate dissipation from critical components and make sure temperatures stay low across the board. SABERTOOTH X99 Thermal Armor can reduce the temperature by up to 10°C!
Thermal Radar 2
Customized fan tuning, complete system cooling
SABERTOOTH X99 Thermal Radar 2 now has up to 11 fan connectors to let you control fans as many as you want. Moreover, Multiple onboard sensors and the bundled thermistor cable let you monitor graphics card temperatures and other key components in real time, so you can adjust manually or optimize automatically with one click.
VGA
Fan Control
Thermal Tuning
Thermal Status
Recorder
DIGI+ Power Control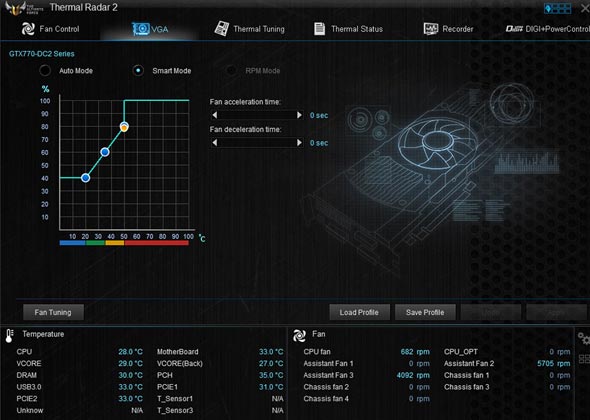 X99 Thermal Radar 2's fan management has been expanded — so now you can control fans on ASUS graphics cards, as well as multiple case fans!
TUF IC
e
The total cooling commander
ASUS TUF engineered have forged a brand-new microchip that delivers incredibly precise temperature monitoring and fan controls.
With the TUF ICe Cool processor, you can be assured that monitoring of onboard temperature sensors and fan speeds is always ultra-accurate — whether you're adjusting settings manually or using the automatic one-click optimization.
TUF Fortifier
Improves rigidity and
cooling behind the board
SABERTOOTH X99 delivers great strength and cooling via exclusive TUF Fortifier. A reinforced backplate ensures that the motherboard doesn't buckle under the weight of heavy graphics cards and CPU coolers, minimizing the risk of damaged circuitry from bowing and bending.

TUF Fortifier also includes a thermal pad that efficiently directs heat away from the VRM and other components — an innovation that reduces operating temperatures by up to 6°C!
TUF Components
Certified for tough duty
TUF MOSFETs:
military-grade certified MOSFETs with lower RDS(on)*
TUF Chokes:
Heat-sink concept design for larger heat-dissipation area
10K Ti-Caps:
+20% temp. tolerance and 5X longer lifetime usage.
*Low RDS means more power efficient and will thus produce slightly less heat as a by-product of the MOSFET
Dust Defenders
Repel the dust, expand the lifespan
TUF design protects back I/O ports, expansion and memory slots plus critical connectors from dust and particles that degrade system performance over time if left unchecked. With a filter to ensure the back I/O fan doesn't draw dust into the board, Dust Defenders guards against dust build up, helping your PC perform in an optimal and stable state longer.
5 Years Warranty
Guaranteed reliability
Each and every TUF motherboard is built with components certified for military use and undergoes serious server-level burn-in tests, including over 7,000 hours of compatibility checks with over 1,000 devices. TUF is forged solid for your confidence, which is why every board is covered by a 5-year warranty.

*The service will follow the local standard and service policy.
TUF ESD Guards 2
2X Stronger ESD protection for extended component lifespan
Electrostatic discharge (ESD) can happen suddenly, and its damaging effects are easily underestimated. TUF ESD Guards 2 technology is tested to standards that are 2X higher than industry standards and exclusive pin-level on specific rear IO connectors* testing is 30% higher than previous TUF standard, ensuring electrostatic discharges are properly grounded from all onboard connectivity — and that means greater component longevity.
*USB/LAN/DVI/HDMI/DisplayPort
Audio connectors

Capacitor protection on both front and back audio-output circuits

LAN port

ESD TVS diode protection on the LAN circuit bolstered by an anti-surge LAN connector that increases protection against extreme events, such as lightning strikes.

USB 3.1/3.0 connectors

On-circuit transient-voltage-suppression (TVS) diodes and capacitor protection for surface-mount and dual-inline packages.
10
Gb/s

USB 3.1 built in to the board

With the latest USB 3.1 connectivity built in and dual Type-A ports for the very fastest USB data transfers, you'll experience data-transfer speeds of up to 10Gbit/s — or twice as fast USB 3.0. The next-generation standard is completely backward-compatible with your existing USB devices, and you'll be all set for USB 3.1's breakneck speeds. And ASUS-exclusive USB 3.1 Boost technology automatically accelerates USB 3.1 performance even further!
Evolve your storage speed with SATA Express
Speed up with onboard M.2 up to 32
Gb/s
Turbo Lan
Turbo LAN with cFosSpeed traffic-shaping technology adds even more lag-reducing support and intuitive user interface. It allows you to lower lag with no expert knowledge – by up to 1.45X! If you're a tweaker, use Advanced Mode for hardcore controls.
Media-acclaimed the most intuitive UEFI BIOS
The smoothest mouse-controlled graphical BIOS is with improvements to both EZ and Advanced Modes. It benefits both the novice builder as well as the seasoned overclocker.
TUF Audio Design
TUF Audio Design makes short work of optimizing audio settings for the way you want to listen, chatting, watching movies or relaxing to your favorite music. Onboard physical shielding, professional engineered design and premium components result in sound output that has exceptional clarity and fidelity.
Intel CPU and chipset features
Intel® Core™ i7 Processor LGA2011-v3 Ready
This motherboard supports Intel® Core™ i7 processors in the LGA2011-v3 package, with memory and PCI Express controllers integrated to support 4-channel (8 DIMM) DDR4 memory and 40/28 PCI Express 3.0/2.0 lanes.
Intel® X99 Express Chipset
The Intel® X99 Express Chipset is a single-chipset design that supports socket LGA2011-v3 Intel® Core™ i7 processors. It provides improved performance by utilizing serial point-to-point links, allowing increased bandwidth and stability. Additionally, X99 provides a maximum 6 USB 3.0 ports, 10 SATA 6Gbit/s ports for faster data retrieval.
CPU

Intel® Socket 2011-v3 Core™ i7 Processors

Supports Intel® 22 nm CPU

Supports Intel® Turbo Boost Technology 2.0

* The Intel® Turbo Boost Technology 2.0 support depends on the CPU types.

* Refer to

www.asus.com

for CPU support list

Chipset

Intel® X99

Memory

8 x DIMM, Max. 64GB, DDR4 2400/2133 MHz Non-ECC, Un-buffered Memory

Multi-GPU Support

Supports NVIDIA® Quad-GPU SLI™ Technology
Supports NVIDIA® 3-Way SLI™ Technology
Supports AMD Quad-GPU CrossFireX™ Technology
Supports AMD 3-Way CrossFireX™ Technology

Expansion Slots

40-Lane CPU-
3 x PCIe 3.0/2.0 x16 (x16, x16/x16, x16/x16/x8) *1
28-Lane CPU-
3 x PCIe 3.0/2.0 x16 ( x16, x16/x8, x16/x8/x4) *1
1 x PCIe 2.0 x4 (x2 mode)
1 x PCIe 2.0 x1

Storage

New Intel® Core™ i7 Processors :
1 x M.2 Socket 3, graywith M Key, type 2242/2260/2280/22110 storage devices support (Support PCIE SSD only)
Intel® X99 chipset :
1 x SATA Express portcompatible with 2 x SATA 6.0 Gb/s ports
8 x SATA 6Gb/s port(s),
Support Raid 0, 1, 5, 10
Supports Intel® Smart Response Technology, Intel® Rapid Recovery Technology*2

LAN

Intel® I218V, 1 x Gigabit LAN Controller(s)
Realtek® 8111GR, 1 x Gigabit LAN
Gigabit Intel® LAN Connection- 802.3az Energy Efficient Ethernet (EEE) appliance
ASUS Turbo LAN Utility

Audio

Realtek® ALC1150 8-Channel High Definition Audio CODEC
Audio Feature :
- Absolute Pitch 192kHz/ 24-bit True BD Lossless Sound
- Optical S/PDIF out port(s) at back panel
- BD Audio Layer Content Protection
- Audio Shielding: Ensures precision analog/digital separation and greatly reduced multi-lateral interference
- Dedicated audio PCB layers: Separate layers for left and right channels to guard the quality of the sensitive audio signals
- Audio amplifier: Provides the highest-quality sound for headphone and speakers
- Unique de-pop circuit: Reduces start-up popping noise to audio outputs
- Top notch audio sensation delivers according to the audio configuration
- Absolute Pitch 192khz/24bit true BD lossless sound
Separate layer for left and right track, ensuring both sound deliver equal quality

USB Ports

Intel® X99 chipset :
8 x USB 3.0 port(s) (4 at back panel, , 4 at mid-board)
Intel® X99 chipset :
8 x USB 2.0/1.1 port(s) (4 at back panel, , 4 at mid-board)
ASMedia® USB 3.1 controller :
2 x USB 3.1/3.0/2.0 port(s) (2 at back panel, +teal blue)

Special Features

TUF Features:
TUF ENGINE! Power Design :
- 8 +2 Digital Phase Power Design
- TUF Components (Choke, Cap. & MOSFET; certified by military-standard)
- ASUS DIGI+ Power Control Utility
Ultimate COOL! Thermal Solution :
- TUF Thermal Armor
- TUF Thermal Radar 2 with Thermistors
- TUF ICe
Safe & Stable! Guardian Angel :
"We Got Your Back!" Shape Force
- TUF Fortifier
- Dust Defenders with connector covers and back I/O dust filter
- TUF ESD Guards 2

Operating System Support

Windows® 8.1
Windows® 8
Windows® 7

Back I/O Ports

2 x LAN (RJ45) port(s)
2 x USB 3.1 (teal blue)
4 x USB 3.0 (blue)
4 x USB 2.0
1 x Optical S/PDIF out
5 x Audio jack(s)
1 x USB BIOS Flashback Button(s)

Internal I/O Ports

1 x AAFP connector
2 x USB 3.0 connector(s) support(s) additional 4 USB 3.0 port(s) (19-pin)
2 x USB 2.0 connector(s) support(s) additional 4 USB 2.0 port(s)
1 x SATA Express connector: gray, compatible with 2 x SATA 6.0 Gb/s ports
1 x TPM header
1 x COM port(s) connector(s)
1 x CPU Fan connector(s) (1 x 4 -pin)
1 x CPU OPT Fan connector(s) (1 x 4 -pin)
1 x CPU fan with PWM control
4 x Chassis Fan connector(s) (4 x 4 -pin)
5 x Assistant Fan connector(s) (5 x 4 -pin)
1 x S/PDIF out header(s)
1 x Thunderbolt header(s)
1 x 24-pin EATX Power connector(s)
1 x 8-pin ATX 12V Power connector(s)
1 x 4-pin ATX 12V Power connector(s)
1 x System panel(s) (Q-Connector)
1 x Chassis Intrusion connector(s)
1 x MemOK! button(s)
3 x Thermal sensor connector(s)
1 x Clear CMOS jumper(s)

Accessories

User's manual
Accessory Guide
ASUS Q-Shield
6 x SATA 6Gb/s cable(s)
1 x ASUS 2-Way/3-Way SLI bridge
1 x Supporting DVD
1 x Q-connector(s) (2 in 1)
1 x Assistant Fans(40mm)
1 x TUF Certification card(s)
1 x TUF 5 Year Warranty manual(s) (by region)
1 x TUF Inside sticker(s)(white)
1 x STAY COOL BE TUF sticker(s)(white)
1 x Accessory Package(s):
- 2 x PCIe x16 slot dust cover(s)
- 4 x DRAM slot dust cover(s)
- 1 x PCIe x1 slot dust cover(s)
- 1 x PCIe x4 slot dust cover(s)
- 3 x Thermistor cable(s)
- 1 x connector dust cover collection(onboard USB 3.0, LAN)
- 2 x On board USB 2.0 connector dust cover(s)
- 11 x back I/O USB 2.0 connector dust cover(s)
- 9 x On board SATA connector dust cover(s)
- 1 x SATA Express conector dust cover(s)
- 5 x Audio connector dust cover(s)

BIOS

128 Mb Flash ROM, UEFI AMI BIOS, PnP, DMI2.7, WfM2.0, SM BIOS 2.7, ACPI 5.0, Multi-language BIOS,
ASUS EZ Flash 2, CrashFree BIOS 3, F11 EZ Tuning Wizard, F6 Qfan Control, F3 My Favorites, Quick Note, Last Modified log,
F12 PrintScreen, F3 Shortcut functions and ASUS DRAM SPD (Serial Presence Detect) memory information.

Manageability

WfM 2.0, DMI 2.7, WOL by PME, PXE

Support Disc

Drivers
Anti-virus software (OEM version)
ASUS/TUF CPU-Z
ASUS Utilities

Form Factor

ATX Form Factor
12 inch x 9.6 inch ( 30.5 cm x 24.4 cm )

Note

1* The PCIe x16_3 shares bandwidth with M.2 x4. When M.2 socket is occupied, the PCIe x16_3 slot will be disabled.
2* Due to chipset behavior, The SATA6G_78, SATA6G_910 ports (black) do not support IRST including RAID configuration.
3* These functions will work depending on the CPU installed.