Asrock S1151 ATX Z170 EXTREME4 DDR4 Motherboard, BONUS Steelseries Mouse Pad!
Web ID: 15589
Intel Socket 1151, Intel Z170 Express Chipset, Dual Channel DDR4 4 Slots, 3 x PCIe x16, 3 x PCIe x1, 1 x M.2, 6 x SATA 6Gbps, 1 x USB 3.1 Type A, 1 x USB 3.1 Type C, 8 x USB 3.0 (6 x back panel, 2 x via internal header), 4 x USB 2.0 (via internal header), RAID 0, 1, 5, 10, Gigabit LAN, DVI, HDMI, DisplayPort, 7.1 channel audio with Optical Out, ATX Form Factor, BONUS SteelSeries 63004 QcK Gaming Mouse Pad PN 63004
Manufacturer PN: Z170 EXTREME4
GTIN: 4717677326963
Warranty: 3 Year
Manufacturer Website
XXL Aluminum Alloy Heatsink Design
Extra large heat sinks that effectively take away heat from the MOSFET and chipset so that your motherboard may perform more stable.
Combo Caps (Nichicon 12K Platinum Caps)
Combining 820uF + 100uF Nichicon 12K Polymer Caps, provides clearer, efficient and more responsive CPU Vcore power.
Nichicon 12K Platinum Caps
Supreme 12K platinum capacitors with lifespans of at least 12,000 hours. Compared to other counterparts on high-end motherboards that merely have lifespans of around 10,000 hours, ASRock applied Nichicon 12K Platinum Caps that offer 20% longer lifespans and provide more stability and reliability.
* Tested under industry standard 105 degree Celsius ambient temperature.
I/O Armor
Protects the crucial parts near the rear I/O against static electricity.
Matte Black PCB
A new matte black and copper color scheme.
Matte Black PCB
Old PCB
High Density Glass Fabric PCB
What you've never understood about your computer is that it is scared to death of water, H2O, humidity or whatever you'd like to name it. And even though you do not see the water, actually there may be lots of excessive moist in the air killing your motherboard silently and slowly. No, your motherboard doesn't melt when in contact with water like the wicked witch of the west, but it dies of short circuit. Luckily, ASRock has a new High Density Glass Fabric PCB design that reduces the gaps between the PCB layers to protect the motherboard against electrical shorts caused by humidity.
High Density Glass Fabric PCB
Traditonal Glass Fabric PCB
USB 3.1 10 Gb/s Type-A + C
A pair of onboard Type-A and Type-C USB 3.1 connectors for delivering up to 10Gbps data transfer rates.
USB 3.1 doubles the data transfer rate
USB 3.1 Type-C doubles the data charge speed!
10 Power Phase Design
Reinforced system stability for taking on all sorts of arduous computing tasks.
3 x PCIe 3.0 x16 Slots
Fully compatible with standard graphics cards, Nvidia Quadro and AMD FirePro workstation graphics solutions.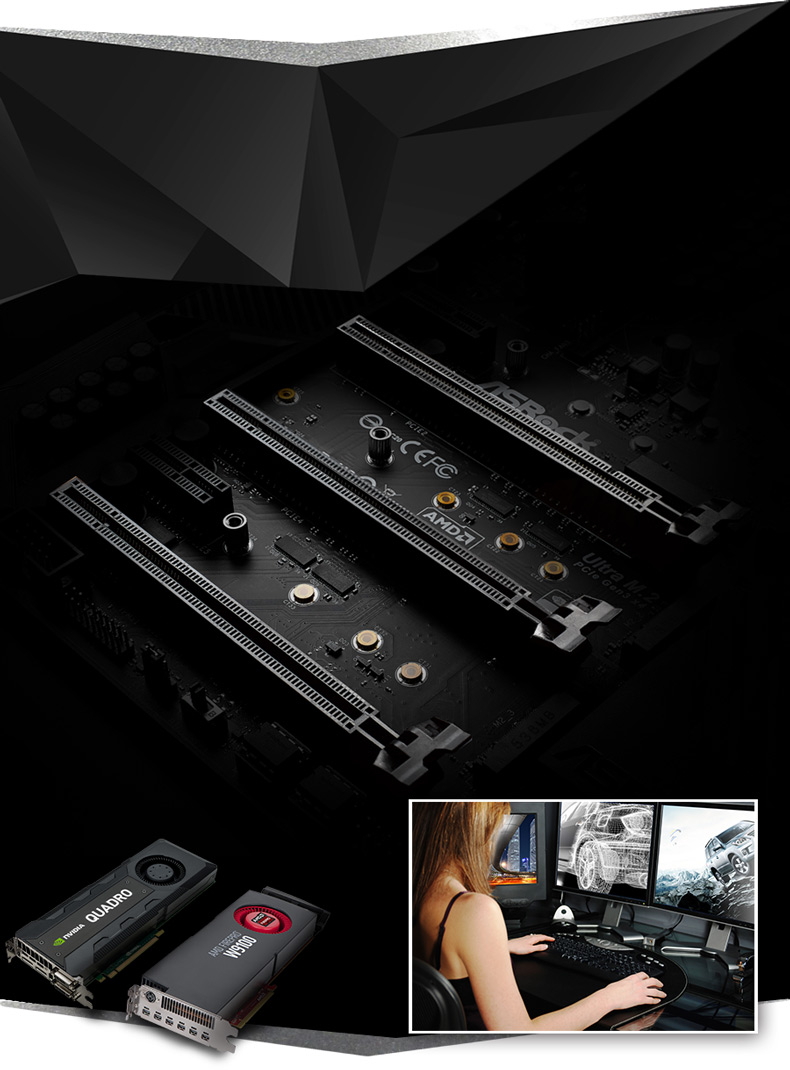 Purity Sound™ 3
7.1 CH HD audio with Realtek ALC1150 audio codec, Pure Power-In and other technologies to deliver the crispest sound effects.
- Supports Purity Sound™ 3
- Nichicon Fine Gold Series Audio Caps
- 115dB SNR DAC with Differential Amplifier
- TI® NE5532 Premium Headset Amplifier (Supports up to 600 Ohm headsets)
- Pure Power-In
- Direct Drive Technology
- PCB Isolate Shielding
Hyper BCLK Engine
An additional external base clock generator which provides a wider range of frequencies and more precise clock waveforms.
Intel® LAN
Intel® LAN provides the best throughput performance, lower CPU utilization, enhanced stability and is able to deliver ultimate network experience to users!
Flexible PCIe Slots
A new flexible PCIe Gen3 x1 slot design that allows users to install add-on cards of all kinds of sizes.
* The bandwidth of your devices will be limited to PCIe Gen3 x1.
Old
Digi Power
Unlike traditional motherboards that use analog power, this motherboard uses a next generation digital PWM (Pulse-Width Modulation) design, which provides CPU Vcore voltage more efficiently and smoothly, so that the stability and lifespan of the motherboard is greatly enhanced.
Supports DDR4 3200+ (OC)
Supports the latest DDR4 memory modules.
Live Update & APP Shop
ASRock Live Update & APP Shop is designed for your convenience. We provide various apps and support software for users to download. You can also easily optimize your system and keep your motherboard up to date with ASRock Live Update & APP Shop.
Full Spike Protection
Some sensitive digital components on the motherboard are vulnerable to power surges, the excessive current may cause your system to malfunction immediately. ASRock Full Spike Protection includes various technologies to prevent your motherboard's components from being damaged by these unexpected voltage spikes.
USB Key
In a world where time is money, why waste precious time everyday typing usernames to log in to Windows? Why should we even bother memorizing those foot long passwords? Nobody has time for that! Just plug in the USB Key and let your computer log in to windows automatically!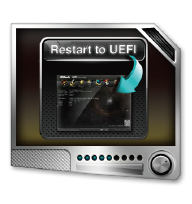 Restart to UEFI
Fast Boot is so fast that it is impossible for users to enter the UEFI setup utility during POST. Therefore, ASRock Restart to UEFI technology allows users to easily enter the UEFI setup utility automatically when turning on the PC next time. It is designed for those who constantly need to enter the UEFI setup utility.
ASRock OMG (Online Management Guard)
Limit and control your children's time spent on the internet. ASRock OMG (Online Management Guard) technology allows you to establish an internet curfew or restrict internet access at specified times. Administrators are able to schedule the starting and ending hours of internet access granted to other users.
UEFI Tech Service
Contact ASRock Tech Service by sending a support request from the UEFI setup utility if you are having trouble with your personal computer. Users may try to choose the category of the issue they have encountered, describe the problem in detail, and then attach an optional picture or log file for our technical support team.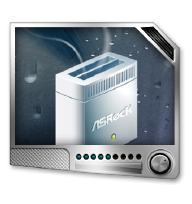 Dehumidifier
Dampness kills most electronics, so it's a better idea to keep your personal computer dry. Now users may prevent motherboard damages due to dampness by enabling Dehumidifier. When it is enabled, the computer will power on automatically to dehumidify the system after entering S4/S5 state.
Easy Driver Installer
For users that don't have an optical disk drive to install the drivers from our support CD, Easy Driver Installer is a handy tool in the UEFI that installs the LAN driver to your system via an USB storage device, then downloads and installs the other required drivers automatically through the internet. Completely no CD or optical disk drive required!
ASRock XFast RAM fully utilizes the memory space that cannot be used under Windows
®
32-bit operating systems. It shortens the loading time of previously visited websites, making web surfing faster than ever. And it also boosts the speed of Adobe Photoshop 5 times faster. Another advantage of ASRock XFast RAM is that it reduces the frequency of accessing your SSDs or HDDs in order to extend their lifespan.
When Internet Explorer loads very slowly for no clear reason, it's usually due to inefficient management. ASRock is rolling out super efficient web management in the motherboard industry. XFast LAN is a convenient tool that controls internet related applications easily and efficiently. Creating a perfect Internet environment, all you need is a smart manager. ASRock XFast LAN allows you to enjoy more speed, easier multitasking, enhanced multimedia experience, and more – all without weighing you down.
Tired of listening to crappy audio that makes your ears bleed? Experience high-quality surround sound from your personal computer. DTS Connect is a blanket name for a two-part system, including DTS Interactive and DTS Neo:PC, it is used on the computer platform only, in order to convert PC audio into the DTS format.
DTS, DTS-HD, the Symbol, & DTS or DTS-HD and the Symbol together are registered trademarks of DTS, Inc. © DTS, Inc. All Rights Reserved.
This motherboard supports HDMI™ (High-Definition Multimedia Interface) which is an interface standard for transferring uncompressed video data and delivering multi-channel audio through a single cable. Both video and audio data signals transferred through the HDMI™ interface are digital without being converted into analog, therefore it delivers the richest pictures and the most realistic sounds.
General
Unique Feature
ASRock USB 3.1
- ASRock USB 3.1 Type-A Port (10 Gb/s)
- ASRock USB 3.1 Type-C Port (10 Gb/s)
ASRock Super Alloy
- XXL Aluminum Alloy Heatsink
- Combo Caps (Nichicon 12K Platinum Caps)
- Nichicon 12K Platinum Caps (100% Japan made high quality conductive polymer capacitors)
- I/O Armor
- Matte Black PCB
- High Density Glass Fabric PCB
ASRock Ultra M.2 (PCIe Gen3 x4 & SATA3)
ASRock Full Spike Protection
ASRock Live Update & APP Shop
CPU
- Supports 6th Generation Intel® Core™ i7/i5/i3/Pentium®/Celeron® Processors (Socket 1151)
- Digi Power design
- 10 Power Phase design
- Supports Intel® Turbo Boost 2.0 Technology
- Supports Intel® K-Series unlocked CPUs
- Supports ASRock BCLK Full-range Overclocking
- Supports ASRock Hyper BCLK Engine
Chipset
- Intel® Z170
Memory
- Dual Channel DDR4 Memory Technology
- 4 x DDR4 DIMM Slots
- Supports DDR4 3200+(OC)*/2933(OC)/2800(OC)/2400(OC)/2133 non-ECC, un-buffered memory *
- Max. capacity of system memory: 64GB*
- Supports Intel® Extreme Memory Profile (XMP) 2.0
- 15μ Gold Contact in DIMM Slots


*Due to the operating system limitation, the actual memory size may be less than 4GB for the reservation for system usage under Windows® 32-bit OS. For Windows® 64-bit OS with 64-bit CPU, there is no such limitation.
Please refer to Memory Support List on ASRock's website for more information.

BIOS
- 2 x 128Mb AMI UEFI Legal BIOS with multilingual GUI support (1 x Main BIOS and 1 x Backup BIOS)
- Supports Secure Backup UEFI Technology
- ACPI 1.1 Compliant wake up events
- SMBIOS 2.3.1 Support
- CPU, GT_CPU, DRAM, VPPM, PCH 1.0V, VCCIO, VCCPLL, VCCSA Voltage Multi-adjustment
Audio, Video and Networking
Graphics
- Supports Intel® HD Graphics Built-in Visuals : Intel® Quick Sync Video with AVC, MVC (S3D) and MPEG-2 Full HW Encode1, Intel® InTru™ 3D, Intel® Clear Video HD Technology, Intel® Insider™, Intel® HD Graphics 510/530
- Pixel Shader 5.0, DirectX 12
- Max. shared memory 1792MB
- Three graphics output options: DVI-D, HDMI and DisplayPort 1.2
- Supports Triple Monitor
- Supports HDMI with max. resolution up to 4K x 2K (4096x2304) @ 24Hz
- Supports DVI-D with max. resolution up to 1920x1200 @ 60Hz
- Supports DisplayPort 1.2 with max. resolution up to 4K x 2K (4096x2304) @ 24Hz or 4K x 2K (3840x2160) @ 60Hz
- Supports Auto Lip Sync, Deep Color (12bpc), xvYCC and HBR (High Bit Rate Audio) with HDMI Port (Compliant HDMI monitor is required)
- Supports Accelerated Media Codecs: HEVC, VP8, VP9
- Supports HDCP with DVI-D, HDMI and DisplayPort 1.2 Ports
- Supports Full HD 1080p Blu-ray (BD) playback with DVI-D, HDMI and DisplayPort 1.2 Ports


*Intel® HD Graphics Built-in Visuals and the VGA outputs can be supported only with processors which are GPU integrated.

**Due to chipset limitation, the Blu-ray playback of Intel® HD Graphics is only supported under Windows® 8 / 8 64-bit / 7 / 7 64-bit.

***Intel® InTru™ 3D is only supported under Windows® 8 / 8 64-bit / 7 / 7 64-bit.

Audio
- 7.1 CH HD Audio with Content Protection (Realtek ALC1150 Audio Codec)
- Premium Blu-ray Audio support
- Supports Surge Protection (ASRock Full Spike Protection)
- Supports Purity Sound™ 3
- Nichicon Fine Gold Series Audio Caps
- 115dB SNR DAC with differential amplifier
- TI® NE5532 Premium Headset Amplifier (Supports up to 600 ohm headsets)
- Pure Power-In
- Direct Drive Technology
- PCB isolate shielding
- Supports DTS Connect
LAN
- Gigabit LAN 10/100/1000 Mb/s
- Giga PHY Intel® I219V
- Supports Wake-On-LAN
- Supports Lightning/ESD Protection (ASRock Full Spike Protection)
- Supports Energy Efficient Ethernet 802.3az
- Supports PXE
Expansion / Connectivity
Slots
- 3 x PCI Express 3.0 x16 Slots (PCIE2/PCIE4/PCIE6: single at x16 (PCIE2); dual at x8 (PCIE2) / x8 (PCIE4); triple at x8 (PCIE2) / x8 (PCIE4) / x4 (PCIE6))
- 3 x PCI Express 3.0 x1 Slots (Flexible PCIe)
- Supports AMD Quad CrossFireX™, 3-Way CrossFireX™ and CrossFireX™
- Supports NVIDIA® Quad SLI™ and SLI™
- 15μ Gold Contact in VGA PCIe Slot (PCIE2)
Storage
- 6 x SATA3 6.0 Gb/s Connectors, support RAID (RAID 0, RAID 1, RAID 5, RAID 10, Intel® Rapid Storage Technology 14 and Intel® Smart Response Technology), NCQ, AHCI and Hot Plug
- 3 x SATA Express 10 Gb/s Connectors*** M2_1, SATA3_0, SATA3_1 and SATA_EXP_0 share lanes. If either one of them is in use, the others will be disabled.
- 1 x Ultra M.2 Socket, supports M.2 SATA3 6.0 Gb/s module and M.2 PCI Express module up to Gen3 x4 (32 Gb/s)* Supports ASRock U.2 Kit


*Support to be announced

Connector
- 1 x COM Port Header
- 1 x TPM Header
- 1 x Power LED and Speaker Header
- 2 x CPU Fan Connectors (4-pin) (Smart Fan Speed Control)
- 3 x Chassis Fan Connectors (4-pin) (Smart Fan Speed Control)
- 1 x 24 pin ATX Power Connector
- 1 x 8 pin 12V Power Connector (Hi-Density Power Connector)
- 1 x Front Panel Audio Connector
- 1 x Thunderbolt™ AIC Connector
- 2 x USB 2.0 Headers (Support 4 USB 2.0 ports) (Supports ESD Protection (ASRock Full Spike Protection))
- 1 x USB 3.0 Header (Supports 2 USB 3.0 ports) (Supports ESD Protection (ASRock Full Spike Protection))
- 1 x Dr. Debug with LED
- 1 x Power Switch with LED
- 1 x Reset Switch with LED
Rear Panel I/O
- 1 x PS/2 Mouse/Keyboard Port
- 1 x DVI-D Port
- 1 x HDMI Port
- 1 x DisplayPort 1.2
- 1 x Optical SPDIF Out Port
- 1 x USB 3.1 Type-A Port (10 Gb/s) (ASMedia ASM1142) (Supports ESD Protection (ASRock Full Spike Protection))
- 1 x USB 3.1 Type-C Port (10 Gb/s) (ASMedia ASM1142) (Supports ESD Protection (ASRock Full Spike Protection))
- 6 x USB 3.0 Ports (Intel® Z170) (Supports ESD Protection (ASRock Full Spike Protection))
- 1 x RJ-45 LAN Port with LED (ACT/LINK LED and SPEED LED)
- 1 x Clear CMOS Switch
- HD Audio Jacks: Rear Speaker / Central / Bass / Line in / Front Speaker / Microphone
Other Features / Miscellaneous
Software and BIOS
Software
- ASRock A-Tuning
- ASRock Disk Health Report
- ASRock USB Key
- ASRock APP Charger
- ASRock XFast LAN
- ASRock XFast RAM
- ASRock Fast Boot (Fast Boot, Restart to UEFI, Instant Boot)*
UEFI
- ASRock Full HD UEFI
- ASRock My Favorites in UEFI
- ASRock Instant Flash
- ASRock Internet Flash
- ASRock Crashless BIOS
- ASRock OMG (Online Management Guard)
- ASRock UEFI System Browser
- ASRock UEFI Tech Service
- ASRock Dehumidifier
- ASRock Easy RAID Installer
- ASRock Easy Driver Installer


*These utilities can be downloaded from ASRock Live Update & APP Shop.

Support CD
- Drivers, Utilities, AntiVirus Software (Trial Version), Google Chrome Browser and Toolbar
Accessories
- 1 x ASRock SLI_Bridge_2S Card
- Quick Installation Guide, Support CD, I/O Shield
- 4 x SATA Data Cables
- 1 x Screw for M.2 Socket
Hardware Monitor
- CPU/Chassis temperature sensing
- CPU/Chassis Fan Tachometer
- CPU/Chassis Quiet Fan (Auto adjust chassis fan speed by CPU temperature)
- CPU/Chassis Fan multi-speed control
- Voltage monitoring: +12V, +5V, +3.3V, CPU Vcore, GT_CPU, DRAM, VPPM, PCH 1.0V, VCCIO, VCCSA
Form Factor
- ATX Form Factor
OS
- Microsoft® Windows® 10 64-bit / 8.1 64-bit / 7 32-bit / 7 64-bit* To install Windows® 7 OS, a modified installation disk with xHCI drivers packed into the ISO file is required. Please check our User Manual for more detailed instructions.*


*For the updated Windows® 10 driver, please visit ASRock's website for details.

Certifications
- FCC, CE, WHQL
- ErP/EuP ready (ErP/EuP ready power supply is required)