40 Bay AVer S40i 14" Device Charger Cart
Web ID: 18974
When it comes to children, its always safety first. S40i features a fully-welded steel frame with smooth, rounded plastic covers, ensuring a safe learning environment without sacrificing superior structural integrity. You can store, secure and charge up to 40 tablets, laptops and Chromebooks under 14. And its intelligent charging system plus straightforward cable management make it an ideal choice for satisfying any charging needs. ONLY WHILE STOCKS LAST!
Manufacturer Warranty: 5 Year
Manufacturer PN: S40i
Manufacturer Website
Sizeably Smart
S40i's ingenious self-monitoring charging system and spacious design is perfect for charging all your Chromebooks, laptops, and tablets. It's reliable, durable, and safe!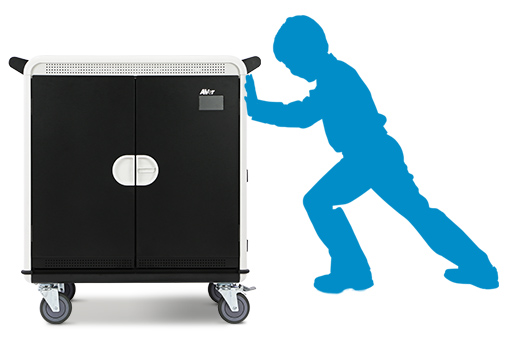 Child-safe design
The cart's steel frame is welded into a complete metal skeleton (no screws!), after which the seams are smoothed to a round finish and covered in protective, eco-friendly plastic, leaving no exposed corners or sharp edges. The hinges on the steel double doors are cleverly placed on the inside of the doors to protect students from potential injuries to their hands and fingers.
Easy loading and charging
S40i's wide storage slots are designed to fit a variety of Chromebooks, laptops and tablets. The slim and sturdy metal dividers and sliding-out shelves allow for easy storage and removal of mobile devices. Power adapters are stored in individual compartments for added convenience, while the repositionable cable clips keep power cables neat and organized.
Intelligent charging system
The intelligent charging system optimizes total charging time by dynamically evaluating the power demand of each of the four charging zones and efficiently allocating electrical current to the devices that need it most. Additionally, 4 LED status indicators monitor charging status of each zone.
Safe & secure storage
Protect against theft and vandalism with the durable steel construction and 3-point locking mechanisms found on both the front and rear double doors. S40i keeps your most valuable ICT investment safe and secure.
Convenient operation
Non-skid surface and 4 AC auxiliary outlets allow users to run other devices such as a document camera or a laptop on top of it, doubling up as a safe and secure work surface.
Device Capacity
Slot Size
Support Device
Charging Type
40 (20 devices * 2 sliding shelves)
W = 2.8cm (1.1'')
D = 36.4cm (14.33'')
H = 25.0cm (9.84'')
Chromebooks, iPads, Android, Windows Tablets, Netbooks (up to 14'' screen, supports most tablet covers with total width up to 1.1")

Intelligent, self-monitoring, zone-based charging system; no programming required
External Power Outlets
LED Indicator
Cart Dimension
Package Dimension
4 with power switch and LED
Power LED: Green
Status LED (x4):
Solid Blue: Regular Charging,
Flashing Blue: Quick Charge
W = 97cm (38.19'')
D = 62cm (24.41'')
H = 100cm (39.37'')
W = 103cm (40.55'')
D = 74cm (29.13'')
H = 121cm (47.64'')
Net weight
Gross weight
Power Specification
Cable Management
90kg (198.5lbs)
120kg (264lbs)
AC IN:
100-120V ~ 50/60Hz, 12A

PWR Strip 40-Port Total
100-120V ~ 50/60Hz, 8A

Outlet 4-Port Total
100-120V ~ 50/60Hz, 4A
Numbered device slots with cable clips; individual AC adapter compartments
Security
Cooling/Ventilation
Push cart handles
Casters
Front and rear doors: 3 point mechanism with lock hole
Ventilation slots along front/back panels
Two: integrated, top/side mount
5" medical-grade casters (x4)
2 among are lockable
Color
Certification
Warranty
Accessories with shipment
Exterior: Black doors, side panels
White trim, auxiliary power panel
Silver: locks, push handles
Interior: Black doors, side panels
White: device slot dividers
AC adapter slots
UL certified
10 years cart and tray
5 years electrical components
User Manual
Warranty Card
Power Cord
Cable Clips