4 Bay QNAP TS-431XEU-2G Rackmount 10 Gigabit NAS Unit
Web ID: 24379
The high-performance quad-core short depth TS-431XeU includes a 10GbE SFP+ port to fully support 10GbE high-speed networks at a budget price with maximized ROI. The short depth design is perfectly suitable for installing the TS-431XeU in a compact rack, or places with a lot of cabling. The TS-431XeU provides versatile all-in-one functionality and unique features including VJBOD (Virtual JBOD), an economical way to utilize unused NAS storage space for expanding the storage capacity of other QNAP NAS, and Container Station, that allows users to rapidly develop and deploy Internet of Things (IoT) apps.
Manufacturer Warranty: 2 Year
Manufacturer PN: TS-431XEU-2G
GTIN: 885022014033
Manufacturer Website
The high-performance quad-core short depth TS-431XeU includes a 10GbE SFP+ port to fully support 10GbE high-speed networks at a budget price with maximized ROI. The short depth design is perfectly suitable for installing the TS-431XeU in a compact rack, or places with a lot of cabling. The TS-431XeU provides versatile all-in-one functionality and unique features including VJBOD (Virtual JBOD) - an economical way to utilize unused NAS storage space for expanding the storage capacity of other QNAP NAS - and Container Station - that allows users to rapidly develop and deploy Internet of Things (IoT) apps. The TS-431XeU is a cost-effective storage solution designed for growing businesses looking for backup, restoration, private cloud, storage for virtualization, and to future-proof their IT infrastructure for 10GbE networks.
The short depth design is suitable for installing in smaller racks or space-constrained locations
10GbE readiness, SSD caching, and encryption acceleration engine
VJBOD allows using the TS-431XeU to expand the storage capacity of other QNAP NAS
Containerized virtualization and IoT app development with Container Station
Build a private cloud to centrally organize & manage files and backup tasks
Secure access with VPN Server & VPN Client
Qsirch, the full text search engine, helps quickly locate files on the NAS
Expand the total storage capacity up to 24 drives by connecting up to 2 QNAP expansion enclosure (UX-1200U-RP or UX-800U-RP)
Smaller Footprint for Bigger Opportunities
Compared to a traditional 4-bay rackmount NAS, the TS-431XeU has a depth of only 11.46 inches (291 mm). This makes the TS-431XeU an excellent choice for smaller racks, and the unused space can be reserved for cabling or ventilation. The TS-431XeU is space-saving for flexible deployment and is especially suitable for multiple locations and applications including offices, audiovisual rooms and security surveillance recording.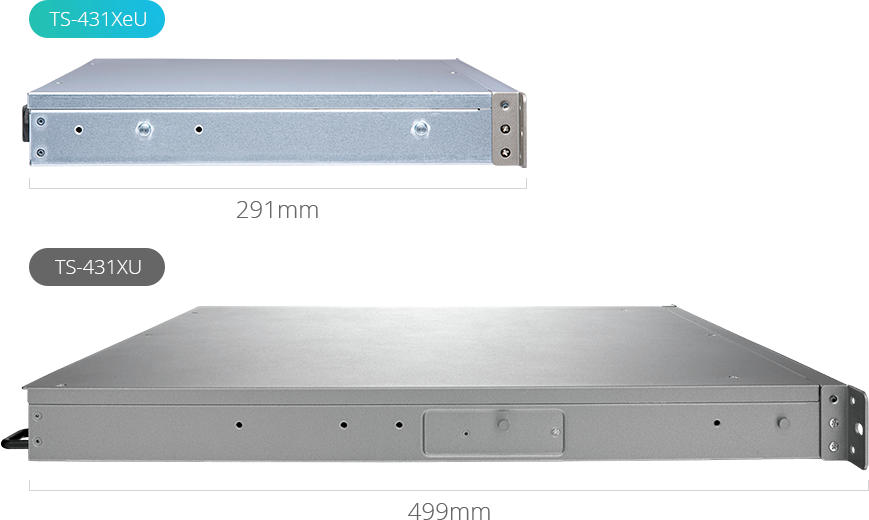 Quad-core CPU and built-in one 10GbE SFP+ port
The TS-431XeU is equipped with an Annapurna Labs, an Amazon company, Alpine AL314 quad-core 1.7 GHz ARM® Cortex-A15 processor with SATA 6Gb/s and up to 8GB DDR3 RAM. Its encryption acceleration engine provides unmatched encryption performance in its class with AES 256-bit full NAS volume encryption, boosting system performance & security while ensuring the safety of sensitive business data stored in the TS-431XeU. Besides two Gigabit Ethernet ports, the TS-431XeU also includes a 10GbE SFP+ port to fully support 10GbE high-speed networks for businesses that demand higher bandwidth for virtualization and fast backup & restoration of an ever-growing amount of data.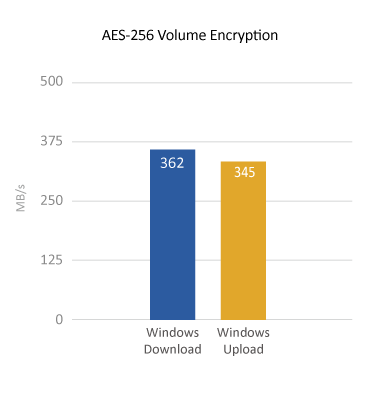 Tested in QNAP Labs. Figures may vary by environment.

Test Environment:
NAS:
OS: QTS 4.3
Volume type: RAID 5; 4x Intel SSD DC S3500 240G

Client PC:
Intel® Core i7™-6700 @ 3.40 GHz CPU; 32GB DDR4 RAM; Mellanox ConnectX-3 dual-port 10GbE SFP+ NIC; Microsoft Windows 10 64bit; 10GB file transfer by Robocopy
SSD cache acceleration
The TS-431XeU supports SSD caching to greatly boost the IOPS performance of storage volumes to increase operational efficiency. It is perfect for improving the overall workflow of IOPS-demanding applications and allows the best of both cost and performance by combining SSDs with HDDs.
Reduce the impact of ransomware or system failure with Snapshots
The TS-431XeU supports snapshots, which can record the system status and data at any single moment*. If the system unexpectedly fails or is infected with ransomware, you can instantly restore files from a snapshot. The intuitive snapshot tool in the QTS Storage Manager can be used to take snapshots of your data, and restore data from snapshots if necessary. Always take regular snapshots to ensure the safety of your files and data.
* For a single volume/LUN, up to 64 versions are supported. For the whole NAS, up to 256 versions are supported. Snapshot support will be added to the TS-431XeU in the upcoming QTS 4.3.4.
High reliability design ensuring business continuity
The business-ready TS-431XeU is designed to provide 24/7 operations and services. The support for comprehensive RAID configurations and hot-swapping allow for replacing hard drives without service interruption. QNAP's advanced RAID recovery technology also helps if any healthy drives are accidentally removed from a degraded RAID volume. The system can be recovered by reinserting the wrongly-removed hard drives so the data can still be accessible. The TS-431XeU delivers high reliability and efficiency with support for multiple port-trunking modes including fail-over support.

VJBOD: Maximize storage utilization across multiple QNAP NAS
Besides using expansion enclosures, there is an additional option to expand NAS storage capacity. QNAP VJBOD (Virtual JBOD) is network-based JBOD, allowing you to expand the storage of a QNAP NAS with multiple QNAP NAS units. The TS-431XeU offers great potential for economically expanding the storage of other QNAP NAS with VJBOD, and to create virtual storage pools and volumes on virtual disks for operating NAS services.
Note: The remote QNAP NAS must support iSCSI and Storage Pools and use QTS 4.2.1 (or newer).


Rapidly deploy IoT apps with Container Station
QNAP Container Station exclusively integrates LXC and Docker® lightweight virtualization technologies, allowing you to operate multiple isolated Linux® systems on the TS-431XeU as well as download apps from the built-in Docker Hub® Registry for unlimited containerized applications. What's better, Container Station supports the QIoT Containers platform that helps quickly structure your IoT environment and deployment on your private IoT cloud, boosting microservices and modernizing legacy applications to drive more business opportunities.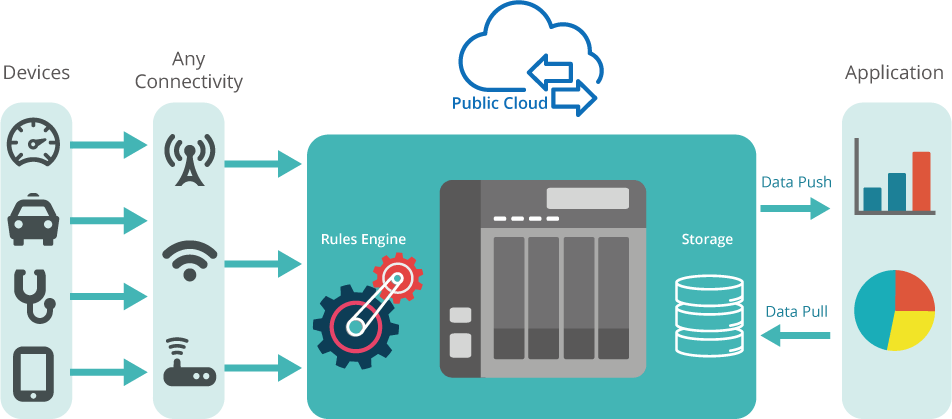 Ordering P/N
TS-431XeU-2G
Processor
AnnapurnaLabs, an Amazon company, Alpine AL-314 Quad-Core 1.7 GHz

Hardware Encryption Accleration

Yes
System Memory
1 x 2GB SO DIMM DDR3-1600
Maximum Memory
1 x 8GB SO DIMM DDR3-1600
Memory Slots
1
Hard Drive Tray
4
Drive Interface
SATA 6 Gb/s, HDD or SSD
Drive Type
3.5-inch or 2.5-inch
10GbE LAN
1 x 10 Gigabit SFP+ port
GbE LAN
2 x Gigabit RJ45 LAN port
USB
4 x USB 3.0
Storage expansion

1x UX-800U-RP and 1x UX-1200U-RP
2x UX-800U-RP
1x UX-800U-RP or UX-1200U-RP

Up to 24 drives are supported.
Fan
3 x 4 cm system fan (12V DC)
Power Supply
100W, 100-240V AC, 50/60Hz, open frame
LED Indicators
HDD1, HDD2, HDD3, HDD4, LAN1, LAN2, 10GbE, STATUS
Buttons
Power, Reset
Other I/O
Kensington security slot, console port
System Warning
Buzzer
Form Factor
1U
Dimension (H x W x D)
44 x 439 x 291 mm
Weight
4.15 kg (net); 5.78 kg (gross)
Operating Temperature
0 to 40 degree of Celsius
Relative Humidity
5 to 95 % non-condensing, wet bulb: 27 degree of Celsius
Noise Level; Sound Level (dB)*
20.3
Power Consumption
HDD standby: 12.42
In operation: 30.99
(With 4 x2TB HDDs installed)