4 Bay ICY BOX IB-3640SU3 External JBOD System for 3.5" SATA HDD
Web ID: 22394
Silent operation by thermal controlled fan. Energy saving by supporting sleep modus. Easy assembling by trayless design. HDD capacity unlimited, JBOD only, Supports: Windows XP and up, MAC OS X. Plug&Play and Hot Swap. ONLY WHILE STOCKS LAST!
Manufacturer Warranty: 1 Year
Manufacturer PN: IB-3640SU3
GTIN: 4250078186328
Manufacturer Website
All good things come in fours
External hard drives are the latest trend. And rightly so, because they can always be transported and connected to another device. The ICY BOX 3640SU3 offers enough space, thanks to the fact that up to four hard disks of any size can be operated simultaneously. The robust enclosure made of aluminum not only looks cool, but directs the produced heat efficiently from within the enclosure to the outside. In addition, the cooling is further enhanced by a temperature-controlled fan, which quietly ensures proper air circulation.

The installation of hard drives into the IB-3662U3 is done without any tools. Thanks to the modern EasySwap® technology , they can be replaced quickly at any time. We did not forget the environment either - The ICY BOX has a sleep mode that reduces power consumption to a minimum.

All the versions of Windows from XP and Mac OS X are supported. The connection is done selectively either via a fast USB 3.0, with which the transfer rates of up to 5 Gb per second can be achieved, or eSATA. Each disk is then displayed as an individual drive (JBOD = "Just a Bunch of Disks").
No more "Double Trouble"
In case two HDDs are not enough: In this wonderful JBOD (=Just a bunch of disks) enclosure, four 3.5" HDDs can be mounted. Without using any screws, the HDD can be mounted and replaced. Even while in operation.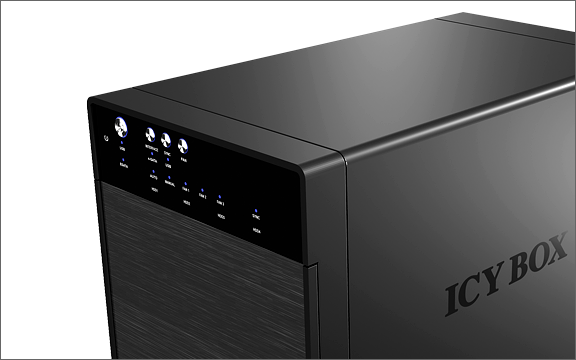 The smart fan
The fan has a quick reaction when the temperature changes inside the enclosure. This way, your important data is constantly protected against heat. In case you would like to set it manually, you can still set it on one of the three available fan persets.
For the environment
If the host cable (USB 3.0 or eSATA) is not connected, or when the device is not being used it turns itself into Standby mode automatically. In addition, each HDD has an LED indicator in order to provide information regarding HDD activity (read/write), fan settings and connection.
Model:
IB-3640SU3
Article No:
20640
EAN Code:
4250078186328
Brand:
ICY BOX
Category:
External enclosure
Material:
Aluminium/Plastic
Colour:
Black
HDD size (Zoll):
3.5"
HDD interface:
3.5" SATA
HDD capacity:
unlimited
HotSwap:
Yes
Plug & Play:
Yes
External data interface:
USB 3.0, eSATA
Transfer rate:
USB 3.0 bis zu 5.0 Gbit/s, eSATA up to 3.0 Gbit/s, Firewire a up to 400 Mb/s, Firewire b up to 800 Mb/s
LED:
Power, fan, interface, Power, fan, interface, HDD in use, HDD in use and access
Operating system:
Windows XP/Vista/Win7, MAC OS X
Power connector:
External power supply, input: AC 100~240 V, output: 12 V / 5 A /60 W