24 Bay QNAP TVS-EC2480U-SAS-RP-8GE-R2 Rackmount NAS Unit
Web ID: 21916
QNAP TVS-EC2480U-SAS-RP R2 is the world's first unified NAS supporting Auto Tiering to deliver ongoing optimization of data across high-performance SSD, 12Gbps SAS drives and high-capacity SATA disks. Powered by an Intel Xeon E3 CPU, the 40GbE-ready TVS-EC2480U-SAS-RP R2 delivers exceptional performance and supports cross-platform file sharing, comprehensive backup solutions, iSCSI & virtualization applications, and more practical business functions. With the powerful QTS operating system, the TVS-EC2480U-SAS-RP R2 performs as a reliable, scalable and unbeatable unified and tiered storage solution for businesses. ONLY WHILE STOCKS LAST!
Manufacturer Warranty: 5 Year
Manufacturer PN: TVS-EC2480U-SAS-RP-8GE-R2
Manufacturer Website
QNAP TVS-EC2480U-SAS-RP R2 is the world's first unified NAS supporting Auto Tiering to deliver ongoing optimization of data across high-performance SSD, 12Gbps SAS drives and high-capacity SATA disks. Powered by an Intel® Xeon E3 CPU, the 40GbE-ready TVS-EC2480U-SAS-RP R2 delivers exceptional performance and supports cross-platform file sharing, comprehensive backup solutions, iSCSI & virtualization applications, and more practical business functions. With the powerful QTS operating system, the TVS-EC2480U-SAS-RP R2 performs as a reliable, scalable and unbeatable unified and tiered storage solution for businesses.
Built-in 10GbE, highly-efficient storage solution with high speed network for HD video editing and sharing
3,800+ MB/s throughput and 267,000+ IOPS
Qtier Technology drives Auto Tiering for optimal storage efficiency
Built-in 256GB mSATA modules for caching, beneficial to IOPS-demanding applications
Scalable design, up to 152 drives
Virtualization-ready, centralized data storage, backup, sharing and disaster recovery
Backward compatible with SAS/SATA 6Gbps drives
5 year warranty - Global warranty inclusive
Enable Auto Tiering with Qtier Technology
QNAP's Qtier Technology empowers the TVS-EC2480U-SAS-RP R2 with Auto Tiering that helps continuously optimize storage efficiency. With Auto Tiering, the TVS-EC2480U-SAS-RP R2 can automatically move hot data to high-performance storage tiers and cold data to lower-cost, higher-capacity drives, making the TVS-EC2480U-SAS-RP R2 an extremely efficient shared resource. Businesses will no longer have to invest heavily in expensive Flash technology, but can still enjoy exceptional application performance and lower TCO of storage from Auto Tiering with the TVS-EC2480U-SAS-RP R2.
Learn more: Qtier
12Gbps DataBolt™ Advantage
Implementing DataBolt technology, the TVS-EC2480U-SAS-RP R2 can deliver twice the throughput for 6Gbps SAS drives by automatically aggregating the bandwidth from 3Gbps and 6Gbps drives to fully utilize 12Gbps, effectively accelerating the existing infrastructure.
Excellent performance
The TVS-EC2480U-SAS-RP R2 supports 12Gbps SAS drives to provide fast data transmission speeds and drive up to 3,812 MB/s throughput and 267,726 IOPS*. Powered by an Intel® Xeon® E3 v3 quad-core processor with 16GB DDR3 or 8GB DDR3 ECC RAM, the TVS-EC2480U-SAS-RP R2 greatly enhances the efficiency of CPU-demanding tasks and serves more concurrent tasks.
Tested in QNAP Lab. Figures may vary by environment.

Test Environment:
4 Client PC configurations: Intel (R) Core (TM) i7-4790 CPU @ 3.60GHz CPU, 16GB DDR3 RAM, Windows 7 professional 64-bit, Dual-port Intel X520 10GbE Server Adapter, IOMeter sequential read and write.

NAS Configuration: Plextor PX-256MPro ; F/W:1.07, SSDs with RAID 5 configuration, QNAP LAN-10G2T-X550 dual-port 10GBase-T network adapter*2
SSD cache acceleration
The TVS-EC2480U-SAS-RP R2 features 2 pre-installed 128GB mSATA modules, and there are no limits on using SSDs for caching. By installing high-performance SSDs, the IOPS performance of storage volumes can remarkably boost. It is perfect for improving overall workflow of random IOPS demanding applications such as database and virtualization. The internal cache port design reserves the space of hard drive tray for more storage capacity.
Learn more: SSD cache
Removable motherboard drawer for easy maintenance
With the TVS-EC2480U-SAS-RP R2's removable motherboard drawer, IT administrators have easier access in upgrading/installing RAM, the internal cache, 40GbE adapter and other components. The motherboard itself can be removed and replaced without needing to remove the heavy TVS-EC2480U-SAS-RP R2 from the rack cabinet, making it especially useful in maintaining the TVS-EC2480U-SAS-RP R2 in data centers with multiple rack cabinets.
Note: The TVS-EC2480U-SAS-RP R2 is not hot-pluggable and must be powered-off before removing the motherboard drawer.
Get ready for 40GbE to your TVS-EC2480U-SAS-RP R2
The TVS-EC2480U-SAS-RP R2 offers four inbuilt Gigabit Ethernet ports and features two inbuilt 10GbE SFP+ ports to deliver 10 Gigabit high speed network. If 10GbE is insufficient for some workloads, the TVS-EC2480U-SAS-RP R2 supports Mellanox® ConnectX-3 Pro adapter cards with 10/40/56 Gigabit Ethernet connectivity to deliver the most cost-effective computing and storage Ethernet Interconnection solution. It helps achieve significantly higher throughput for high-performance embedded I/O applications and virtualization acceleration. Businesses can greatly benefit from the fast, flexible storage network of the 40GbE-ready TVS-EC2480U-SAS-RP R2 for boosting their mission-critical IT performance.
5 year warranty - Global warranty inclusive
QNAP's TVS-EC2480U-SAS-RP R2 offers 5 year warranty with 3-year global warranty inclusive at no extra cost. This premier warranty demonstrates QNAP's attention to the essential business needs of continuous operations and non-interrupted services to their customers.
Learn more: QNAP warranty services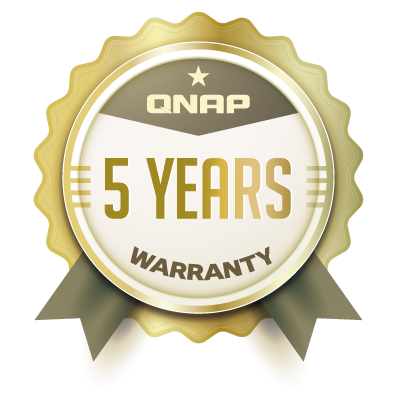 QTS - Simple and efficient
Thanks to the intuitive user interface of QTS, your NAS experience is smarter, smoother and spectacular. Its modern flat design streamlines loading times, and the intelligent desktop allows you to find desired functions quickly, create desktop shortcuts or group shortcuts, monitor important system information on a real-time basis, and open multiple application windows to run multiple tasks concurrently, bringing greater working efficiency.
Learn more: QTS
QRM+: Centralized management solution for networked computing devices
QRM+ is QNAP's Centralized Management Solution, designed for IT teams, for networked computing devices. It provides a single-point solution to discover, map, monitor and manage all of the critical computing devices (including servers, PCs, and thin clients) in your network, and facilitates device discovery with the graphical topology diagram. QRM+ supports IPMI 2.0, provides remote KVM (Keyboard, Video, Mouse) for certain IPMI devices, and supports tracking every action using KVM recording and playback. Simply install QRMAgent on your Windows® and Linux® devices and you will see their system status on the QRM+ management interface. With centralized management using QRM+ on the NAS, IT infrastructure and device security is enhanced while troubleshooting and network resource performance analysis is greatly simplified.
Learn more: QRM+
Volume & LUN snapshot simplifies restoration
QTS Storage Manager adds an easy-to-use web-based snapshot tool for you to easily back up and restore data on the TVS-EC2480U-SAS-RP R2 back to any point of time to prevent loss of important data. You can take snapshots for both volumes and LUN, efficiently replicate volume/LUN snapshots to remote servers by copying only the changes made, and quickly clone a volume /LUN snapshot as a local volume without interrupting the current system operation. You can even set up the system to automatically take a snapshot of the volume before backup via RTRR/rsync, even when the file is opened.
Seamless capacity expansion
The TVS-EC2480U-SAS-RP R2 supports online capacity expansion by cascading multiple QNAP RAID expansion enclosures to meet the needs of growing business data. With QNAP scale-up solution, total storage capacity can be gradually expanded on demand. It is especially useful for large data applications, such as video surveillance, data archiving, and TV broadcast storage.
The maximum number of drives available by connecting QNAP expansion enclosures:
Turbo NAS Model
RAID Expansion Enclosure
No. of RAID Expansion Enclosure
Total HDD No.
(NAS + Enclosure)
TVS-EC2480U-SAS-RP R2
REXP-1620U-RP
8
152
7
136
6
120
5
104
4
88
3
72
2
56
1
40
REXP-1220U-RP
8
120
7
108
6
96
5
84
4
72
3
60
2
48
1
36
Learn more: RAID expansion enclosures
Powerful QNAP flexible volume
QNAP's flexible volume provides a more secure and flexible way to store NAS data. This next-generation volume offers powerful features such as storage pooling with multiple RAID group protection, thin provisioned volume with space reclaim, block-level iSCSI LUN, and online capacity expansion. The QTS Storage Manager neatly presents tools and options for managing system storage which simplifies the process of NAS capacity expansion and QNAP RAID expansion enclosure management.
Learn more: QTS storage manager, QNAP flexible volume
Qsirch – A smarter, faster way to search
Quickly and easily find documents, photos, videos, and music with Qsirch, QNAP's new built-in NAS search application lets you find what you need by real-time, natural search. Simply type in as much as you know about what you are trying to find, including parts of the file name or even words/phrases in the document, and Qsirch will display a list of matches – complete with thumbnails – as you type. Qsirch even remembers your search history so you can quickly navigate to files you've previously searched for. Qsirch is a huge productivity boost that greatly reduces the time spent looking for files on the NAS, allowing you to focus on other tasks.
Learn more: Qsirch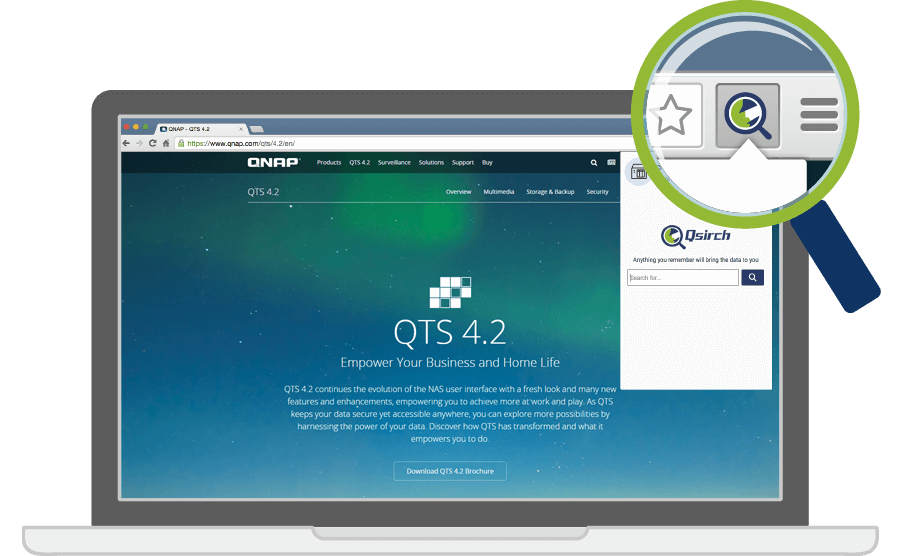 Monitor and manage multiple NAS with Q'center
Q'center turns your TVS-EC2480U-SAS-RP R2 into a central management system to manage multiple QNAP NAS units. After installing Q'center in the QTS App Center, you can use the TVS-EC2480U-SAS-RP R2 to centrally manage multi-site QNAP NAS for monitoring system logs, manage firmware updates & maintenance, and enjoy major benefits including ease-of-use, cost-efficiency, convenience and flexibility. Managing multiple QNAP NAS becomes effortlessly easy and efficient.
Learn more: Q'center
Cross-platform file sharing, centralized data storage
The TVS-EC2480U-SAS-RP R2 supports SMB/CIFS, NFS, and AFP protocols for file sharing across Windows, Mac, and Linux/UNIX networks. Data, logs and ISO images of CDs and DVDs can be centrally stored on the TVS-EC2480U-SAS-RP R2 and protected by an integrated antivirus solution. The Windows AD and LDAP services enable system administrators to configure user permissions by using existing Windows AD server, LDAP server or NAS build-in LDAP services.
Learn more: Windows Active Directory (AD), LDAP Directory Service, Antivirus,ISO share, Syslog service

Well-rounded backup solutions to secure data
The QNAP NetBak Replicator supports real-time and scheduled data backup on Windows including Outlook email archiving. Apple Time Machine is also supported to provide Mac OS X users with a solution to effortlessly back up data to the TVS-EC2480U-SAS-RP R2.
Learn more: NetBak Replicator, Time Machine backup
Disaster recovery solutions brings peace of mind
The TVS-EC2480U-SAS-RP R2 offers various data recovery options. RTRR (Real-Time Remote Replication) supports real time or scheduled data backup to a remote QNAP NAS or FTP server and synchronizes files to a remote folder from a local folder with better backup efficiency and reduced backup time. The TVS-EC2480U-SAS-RP R2 also supports rsync protocol to back up data to another remote server on a scheduled basis. Data can also be backed up to and restored from a range of cloud storage services, including Amazon® S3, Amazon Glacier, Microsoft® OneDrive, Windows Azure, ElephantDrive®, Dropbox®, Google® Drive, Yandex, Google Cloud Storage, and more.
Learn more: RTRR, rsync, Cloud storage backup
Comprehensive security options
In an open network environment, business data may be exposed in a potential hack. The TVS-EC2480U-SAS-RP R2 provides numerous security options, such as encrypted access, IP blocking, and more. Besides, IT administrators can control the access rights of each user to different folders, preventing unauthorized access to important files. The TVS-EC2480U-SAS-RP R2 is validated with military-level FIPS 140-2 AES 256-bit encryption, preventing sensitive business data from unauthorized access and breach even if the hard drives or the entire system were stolen.
Learn more: Encrypted access, IP blocking, Hard drive encryption
Storage for comprehensive virtualization applications
The TVS-EC2480U-SAS-RP R2 supports VMware® and Citrix®, and is compatible with Microsoft® Hyper-V™ and Windows Server 2012, benefiting flexible deployment and management in virtualization environments. The TVS-EC2480U-SAS-RP R2 supports VMware VAAI and Microsoft ODX to increase performance by offloading server loading for ESXi server and Hyper-V respectively, and supports QNAP vSphere Client plug-in and QNAP SMI-S provider with enhanced efficiency of operations and management in virtualization applications.
Learn more: VMware® Ready™, Citrix® /Ready™, VMware VAAI, Microsoft ODX, SMI-S provider for Microsoft SCVMM
Run multiple operating systems on the TVS-EC2480U-SAS-RP R2
The Virtualization Station transforms the TVS-EC2480U-SAS-RP R2 into a 2-in-a-box NAS that can function as an all-in-one NAS and a virtualization platform supporting multiple operating systems, fast virtual machine (VM) creation, VM backup & restoration, VM import/export, snapshot, and enables desktop operations in web browsers. With an easy-to-use interface, you can centrally manage every VM created on the TVS-EC2480U-SAS-RP R2 with minimal effort. You can download VMs on demand from online VM markets and import them to TVS-EC2480U-SAS-RP R2 to use directly without any complex procedures.
Learn more: Virtualization Station
Container Station – LXC and Docker Containers inclusive
QNAP Container Station exclusively integrates LXC and Docker lightweight virtualization technologies, allowing you to operate multiple isolated Linux systems on the TVS-EC2480U-SAS-RP R2 as well as download apps from the built-in Docker Hub Registry. It supports container import/export and permission settings, and features an informative dashboard and flexible user interface for you to manage multiple containers. You can experience the amazing Container Station and enjoy the playground of virtual containers with the TVS-EC2480U-SAS-RP R2.
Learn more: Container Station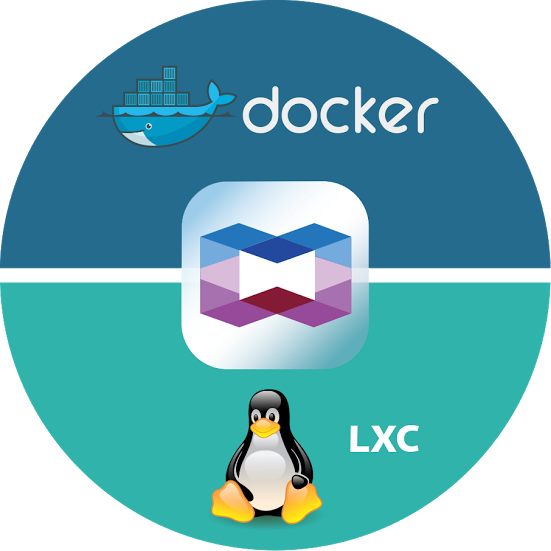 Highly-efficient storage solution for video editing
Digital video production produces a significant amount of data that requires high-performance storage with sustainable throughput to meet the demanding output of video editing. The TVS-EC2480U-SAS-RP R2 fulfills storage and video editing needs with a high-speed 10GbE network interface. Videos can be quickly stored and edited on the TVS-EC2480U-SAS-RP R2 directly over the network.
File synchronization across multiple devices
The Qsync utility turns your TVS-EC2480U-SAS-RP R2 into a safe data center for file synchronization with a large storage capacity. Any file uploaded to the TVS-EC2480U-SAS-RP R2 will be made available for all linked devices, such as computers, laptops or mobile devices. Qsync is especially useful for frequent travelers to manage files and always have the most updated files on different devices. Qsync provides multiple ways of file synchronization and group file sharing, greatly enhancing the flexibility of collaboration.
Learn more: Qsync
Comprehensive surveillance solution with 24/7 security
The TVS-EC2480U-SAS-RP R2's Surveillance Station offers a professional surveillance solution with a user-friendly management interface, a wide range of over 3,000 compatible IP camera models, and expandable IP camera channel licenses. It supports real-time monitoring, video & audio recording and playback with a wide range of customizable settings. You can also install the Vmobile app on your iOS® or Android™ mobile devices to manage the monitored channels anytime and anywhere to safeguard your office environment, or install the Vcam app to turn your mobile device into a network camera to instantly record any moment around you to your TVS-EC2480U-SAS-RP R2.
Learn more: Surveillance Station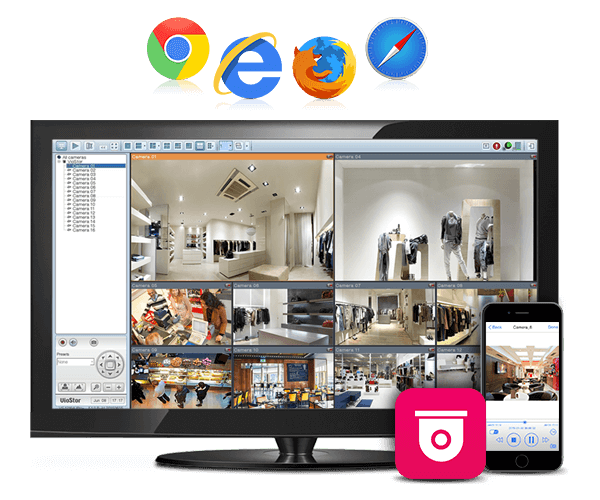 A certificated storage for use with the Milestone XProtect VMS
Milestone Systems is a global industry leader in the open platform IP video surveillance software. It has provided easy-to-use, powerful video management software in more than 100,000 installations worldwide. The TVS-EC2480U-SAS-RP R2 is certified by Milestone XProtect Corporate 2016 R2 and Milestone XProtect Professional 2016 R2, meaning that the TVS-EC2480U-SAS-RP R2 can be seamlessly integrated with Milestone XProtect® VMS as a cost-effective and reliable storage solution for recording and archiving surveillance footage. The TVS-EC2480U-SAS-RP R2 can be used to support XProtect Recording Servers that record between 1 and 200 cameras at megapixel resolution. Larger systems can be built using multiple storage solutions, alternative disk configurations, and multiple Recording Servers.
Learn more: QNAP storage solution for Milestone IP surveillance platform
Install-on-demand apps extend NAS features
The TVS-EC2480U-SAS-RP R2 has a built-in App Center that provides over 100 install-on-demand apps developed by QNAP and third-party developers, including tools for backup/sync, business, content management, communications, download, entertainment, and much more. It is also a centralized location for managing & updating installed apps. In addition, QNAP's development platform embraces the open-source spirit to enable developers to create their own apps, adding potentially limitless potential for the TVS-EC2480U-SAS-RP R2.
Learn more: App Center
Additional SMB-ready features
The TVS-EC2480U-SAS-RP R2 supports various business applications as an all-in-one Turbo NAS with cost-efficiency.
| | | | | |
| --- | --- | --- | --- | --- |
| FTP Server | | Web Server | | RADIUS Server |

The Turbo NAS supports FTP server to share large size files, coming with user-defined settings including bandwidth limitation, number of connections, and write-only permission.
The Turbo NAS supports VPN server which provides an easy way for IT administrators to build up a secure private network and allows the staff to log on from outside the office and access business resources securely such as files and Internet connections.

| | | | | |
| --- | --- | --- | --- | --- |
| VPN Server | | Printer Server | | Surveillance Station |
*Click here to learn more other business features.
CPU
Intel® Xeon® E3-1246 v3 Family 3.5 GHz Quad-core Processor
Memory
Total memory slots: 4
TVS-EC2480U-SAS-RP-8GE-R2:

System memory: 8 GB DDR3 ECC RAM
Memory module pre-installed: 4 GB x2
Memory expandable up to: 32 GB (8GB x4)

Note:

When upgrading RAM to more than 28GB, the original 4GB RAM modules must be removed.
For the information of RAM module installation and compatible NAS models, please refer to the QNAP RAM Module Installation Guide

Flash Memory
512MB DOM
Internal Cache Port
Two mSATA port on board for read caching. The standard system is shipped with two 128GB mSATA flash.
For the optional mSATA flash, please visit https://shop.qnap.com/
Hard Drive
24 x 3.5-inch SAS 12Gbps, SAS/SATA 6Gbps/3Gbps hard drive or 2.5-inch SAS/SATA SSD hard drive
NOTE:

The standard system is shipped without hard drives.
For the hard drive compatibility list, please visit https://www.qnap.com/compatibility

Hard Drive Tray
24 x hot-swappable and lockable tray
LAN Port

Built-in 2 x 10 GbE SFP+ ports (LAN-10G2SF-MLX) and 4 x GbE ports
40GbE is optional

Note:
1. For the optional network card compatibility list, please visit Compatibility list
2. For the information of network card installation, please refer to chapter 6 in the Turbo NAS Hardware Manual.
LED Indicators
10 GbE, Status, LAN, Storage expansion port status
USB
4x USB 3.0 port (rear)
4x USB 2.0 port (rear)
Support USB printer, pen drive, USB hub, and USB UPS etc.
Buttons
System: Power button and reset button
Alarm Buzzer
System warning
Form Factor
4U, Rackmount
Dimensions
176.15(H) x 442.5(W) x 530.5(D) mm
6.94(H) x 17.42(W) x 20.89(D) inch
Weight
Net weight (NAS only) : 23.08 kg/50.88 lb
Gross weight (with packing and accessories) : 28.56 kg/ 62.96 lb
Sound Level (dB)*
Sound Level (dB) Sound pressure (LpAm) (bystander position): 36.2 dB
(with 24 x HITACHI HUS724020ALA640 hard drive installed)
Power Consumption (W)
Sleep mode: 144.82
In Operation: 351.21 W
(with 24 x HITACHI HUS724020ALA640 hard drive installed
Temperature
0-40°C
Relative Humidity
5~95% non-condensing, wet bulb: 27°C.
Power Supply
Redundant power: Input 90~264VAC; 650W x 2
PCIe Slot
2 (Right slot: 1* PCIe Gen3 x8; Left slot: 1* PCIe Gen3 x4)

Note:
The PCIe Gen3 x8 slot is occupied by a 10GbE network adapter.
Fan
4 x 8 cm smart cooling fan
* Testing Environment:
Refer to ISO 7779 ; Maximum HDD loaded ; Bystander Position ; Average data from 1 meter in front of operating NAS
Note: Use only QNAP memory modules to maintain system performance and stability. For NAS devices with more than one memory slot, use QNAP modules with identical specifications.
Warning: Using unsupported modules may degrade performance, cause errors, or prevent the operating system from starting.

* Sound Level Test Environment:
Refer to ISO 7779 ; Maximum HDD loaded ; Bystander Position ; Average data from 1 meter in front of operating NAS.