15.6" Everki ContemPRO Commuter Notebook Backpack Navy PN EKP160N
Web ID: 25567
PN EKP160N. The ContemPRO Commuter Laptop Backpack is the bag to choose when functionality reigns. Now you can be hands-free and still have everything organized for your business commute. It allows you to safely and securely carry your laptop, tablet and everything you need for the office. ONLY WHILE STOCKS LAST!
Manufacturer Warranty: Lifetime
Manufacturer PN: EKP160N
Manufacturer Website

The Commuter Laptop Backpack
A professional environment calls for a professional bag. The Commuter Laptop Backpack allows you to remain hands-free, and also has the professional look you need for the office. And while this bag allows you a great sense of style, it doesn't lack in the features department. It's spacious and highly organized – with a dedicated technology compartment for your laptop and tablet, multifunctional side pockets, a front quick access pocket, internal zippered mesh pocket, and a file divider to separate your important paperwork and documents. Commuting to and from work just got easier with the Commuter Laptop Backpack. And because it's suitable for daytime / business use or weekends, it's perfect for a quick getaway or a trip to the gym and back.
Laptop and tablet compartment
You often find yourself toting both a laptop and a tablet when you commute to the office every day. The Commuter Laptop Backpack is designed with a dedicated laptop and tablet compartment that can handle up to a 15.6-inch laptop and today's larger tablets. The compartment is padded on the bottom, front and back to safely secure your devices from bumps and knocks – and the tablet pocket is padded to prevent scratches. So the next time you have to take work home, don't worry, your laptop and tablet are safely stowed in your ContemPRO Commuter Laptop Backpack.
Personalizable window
In every area of your life, you want an outlet of self-expression, even in your business bag; so we crafted the ContemPRO series just for that. Like every bag in the ContemPRO series, the Commuter Laptop Backpack has a personalizable window on the front of the bag that can be customized. The bag comes with a set of images, so choose the image you like or design your own to match your personal style. The window on the front of the bag helps you do what you always do – stand out in a crowd.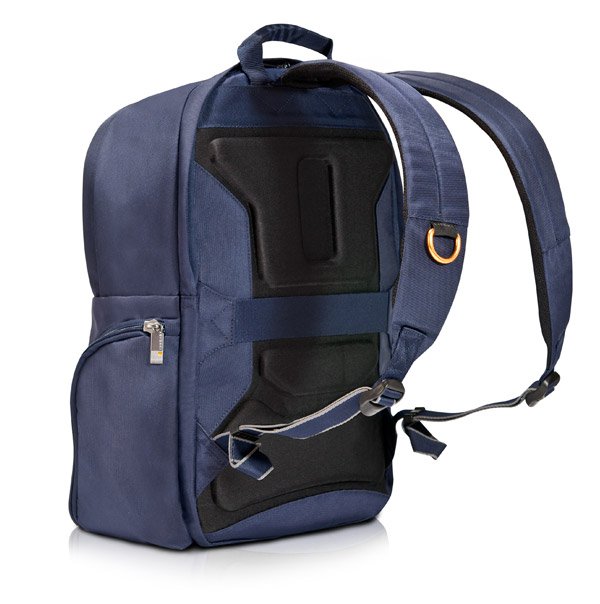 Comfortable carrying
Your bag can feel heavy and uncomfortable when you have to carry a lot of things to the office, so the Commuter Laptop Backpack is structured to minimize stress and maximize comfort. With an ergonomically molded back panel, cushioned padding and deep airflow channels, this bag offers increased air circulation for comfort and cooling. And don't forget about your shoulders – they're carrying the brunt of the weight, but that's not a problem. We also engineered the Commuter Laptop Backpack with padded and reactive shoulder straps that conform to the owner's shoulders. Personalized comfort.
Trolley handle pass-through
When you're traveling with many bags, the trolley handle pass-through on the back of the Commuter Laptop Backpack allows you to double your efforts. Simply slip your backpack onto the handle of your roller luggage and you're ready to wheel through the airport.
Padded carry handle
Sometimes it's just not practical to carry your backpack on your back. The Commuter Laptop Backpack is designed with a padded carry handle; now it's easy and comfortable to carry your bag in one hand.
Durable zippers and metal pulls
Have you ever broken a zipper on your favorite bag? We have. That's why we designed the Commuter Laptop Backpack using durable zippers and metal pulls. So your favorite bag can remain your favorite bag.
High-contrast lining
All EVERKI interiors are stylish, high-contrast orange because we know how frustrating it is to mistakenly leave a compartment unzipped, and how difficult it is to organize against a black background. Savvy and Stylish.
Peace of mind
EVERKI makes products of value because we value our relationships. Every product EVERKI makes comes with our Limited Lifetime Warranty which covers manufacturing defects over the entire life of the product. EVERKI. We give you peace of mind.
Dedicated laptop and iPad/Pro/Kindle/tablet compartment
Personalizable window
Well-organized compartments
Multifunctional side pockets with water bottle loop
Comfortable and cooling molded back panel
Trolley handle pass-through
Specifications

| | |
| --- | --- |
| Model | EKP160N |
| UPC | 874933002444 |
| Fits device sizes | 15.6" |
| Fits tablets up to | 13" (33 cm) |
| Laptop pocket | 15.5 x 10.5 x 1.3 in |
| External dimensions | 18.5 x 14.6 x 6.3 in |
| Capacity | 24.5 L |
| Bag Weight | 2.1 lbs |
| Warranty | Limited Lifetime Warranty |