12 Bay QNAP TVS-1271U-RP-i7-32G Gigabit Rackmount NAS Unit
Web ID: 18706
The QNAP TVS-1271U-RP, Intel Core i7 4790S 3.2GHz (8M Cache, up to 4.00 GHz) Quad Core CPU, 32GB (4 x 8GB) DDR3 Memory, featuring the easy-to-use QTS operating system, provides a reliable and scalable NAS solution to fulfill data backup, file synchronization and remote access. The TVS-1271U-RP is 10GbE-ready, delivers exceptional performance, and supports cross-platform file sharing, comprehensive backup solutions. ONLY WHILE STOCKS LAST!
Manufacturer Warranty: 2 Year
Manufacturer PN: TVS-1271U-RP-i7-32G
GTIN: 885022007899
Manufacturer Website
The QNAP TVS-1271U-RP, featuring the easy-to-use QTS operating system, provides a reliable and scalable NAS solution to fulfill data backup, file synchronization and remote access. The TVS-1271U-RP is 10GbE-ready, delivers exceptional performance, and supports cross-platform file sharing, comprehensive backup solutions, iSCSI and virtualization applications, and many practical business functions, making it the ideal choice for SMBs to secure important business data. It also includes abundant multimedia applications backed by its powerful hardware specifications.
3,300+ MB/s throughput and 162,000+ IOPS
Two internal cache ports for IO acceleration
Scalable design, up to 1120TB raw capacity
Virtualization-ready, centralized data storage, backup, sharing and disaster recovery
Breakthrough performance
The TVS-1271U-RP supports SATA 6Gbps hard drives driving over 3,300 MB/s throughput and 162,000 IOPS *. The TVS-1271U-RP is powered by an Intel® Haswell processor with numerous options including Pentium®, Core™ i3, Core™ i5 and Core™ i7 for users to flexibly choose based on their demands, greatly enhancing the efficiency of CPU-consuming tasks and serving more concurrent tasks at the same time.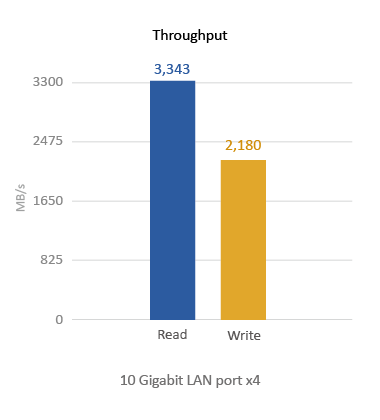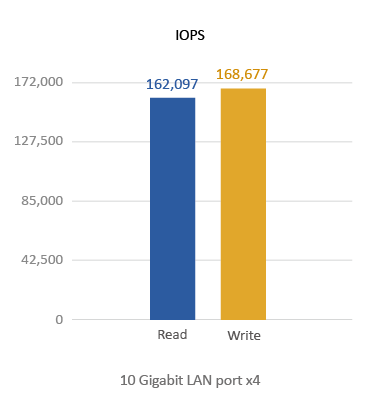 Tested in QNAP lab. Figures could vary by environments.
Testing Environment: 4 Client PC configuration: Intel(R) Core(TM) i7-2600 CPU, 16GB DDR3 RAM, Windows 7 professional 64-bit, Dual-port Intel X520 10GbE Server Adapter, IOMeter sequential read and write. NAS configurations: TVS-1271U-RP-i3, Plextor PX-256MPro SSDs with RAID 5 configuration, QNAP LAN-10G2T-U dual-port 10GBase-T network adapter*2
Internal cache port for IO acceleration
The TVS-1271U-RP supports two on-board internal cache ports. By installing mSATA flash modules (optional purchase), the IOPS performance of storage volumes can be remarkably boosted. It is perfect for improving the overall workflow of random IOPS demanding applications such as databases and virtualization. The internal cache port design does not require the space of a hard drive tray to allow for more storage capacity.
*Note: Instead of installing the mSATA in the internal cache port, SSDs can be installed in the hard drive tray.
Learn more:
SSD cache
10GbE ready
The TVS-1271U-RP offers four inbuilt Gigabit Ethernet ports and supports 10 Gigabit high speed networks by installing a 10GbE network adapter. The 10GbE-ready TVS-1271U-RP delivers lightning-fast data throughput and coupled with the support for a large storage capacity is perfect for data centers to store big data, excel in fast data transmission, and for editing large size videos on-the-fly without transferring the videos between the TVS-1271U-RP and desktop computers.
Learn more:
10GbE solution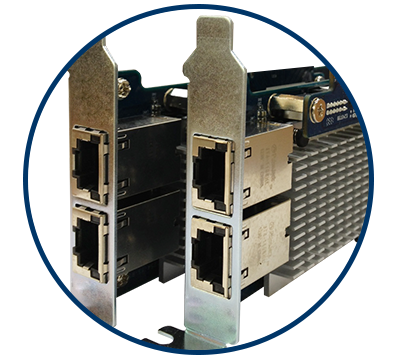 Seamless capacity expansion
The TVS-1271U-RP supports online capacity expansion by cascading multiple QNAP RAID expansion enclosures to meet the needs of growing business data. With the QNAP scale-up solution, raw storage capacity can be gradually expanded on demand. It is especially useful for video surveillance, data archiving, TV broadcast storage, and other large-data applications.
The maximum raw storage capacity available by connecting RAID expansion enclosures:
Turbo NAS Model
RAID Expansion Enclosure
No. of RAID Expansion Enclosure
Total HDD No. (NAS + Enclosure)
Max. Raw Capacity (TB)*
TVS-1271U-RP
REXP-1600U-RP
8
140
1120
7
124
992
6
108
864
5
92
736
4
76
608
3
60
480
2
44
352
1
28
224
REXP-1200U-RP
8
108
864
7
96
768
6
84
672
5
72
576
4
60
480
3
48
384
2
36
288
1
24
192
*The maximum capacity is calculated by using 8TB HDDs.
Learn more: RAID expansion enclosures
Use your TVS-1271U-RP as a PC with the exclusive QvPC Technology
QNAP's exclusive QvPC Technology consolidates a number of high-end technologies including VM integration, HDMI output, cloud integration and NAS connection technologies, allowing users to operate the TVS-1271U-RP as a PC when they plug in a keyboard, mouse and monitor. With QvPC Technology, the TVS-1271U-RP is transformed into a cost-effective device with PC functionalities for users to directly access stored data, run multiple applications using Windows/Linux/UNIX/Android-based VMs, surf the web on Google Chrome, enjoy Full HD videos with up to 7.1 channel audio with Kodi, monitor Surveillance Station in real time with local display, and much more.
Learn more:QvPC
QTS - Simple and efficient
Thanks to QTS' intuitive user interface, system operations of the TVS-1271U-RP are smooth and handy. Its intelligent desktop allows you to find desired functions quickly, create desktop shortcuts or group shortcuts, monitor important system information on a real-time basis, and open multiple application windows to run multiple tasks concurrently, bringing greater working efficiency.
Learn more:
QTS 4
Qsirch – A smarter, faster way to search
Quickly and easily find documents, photos, videos, and music with Qsirch, QNAP's new built-in NAS search application lets you find what you need by real-time, natural search. Simply type in as much as you know about what you are trying to find, including bits of the file name or even words/phrases in the document, and Qsirch will display a list of matches, complete with thumbnails, as you type. Qsirch even remembers your search history so you can quickly navigate to files you've previously searched for. Qsirch is a huge productivity boost – it greatly reduces the amount of time spent looking for files on the NAS so you can focus on other tasks.
Note: 2GB RAM (4GB or more RAM is recommended for optimum performance) and QTS 4.1 or newer firmware is required.
Learn more: Qsirch
Powerful QNAP flexible volume
QNAP's flexible volume provides an easier and more secure way to store NAS data. This next-generation volume offers powerful features such as storage pooling with multiple RAID group protection, thin provisioned volume with space reclaim, block-level iSCSI LUN, and online capacity expansion. The QTS Storage Manager neatly presents tools and options for managing system storage which simplifies the process of NAS capacity expansion and QNAP RAID expansion enclosure management.
Learn more: QTS Storage Manager, QNAP flexible volume
Cross-platform file sharing, centralized data storage
The TVS-1271U-RP supports SMB/CIFS, NFS, and AFP protocols for file sharing across Windows, Mac, and Linux/UNIX networks. Data, logs and ISO images of CDs and DVDs can be centrally stored on the Turbo NAS and protected by an integrated antivirus solution. The Windows AD and LDAP services enable system administrators to configure user permissions by using existing Windows AD server, LDAP server or NAS build-in LDAP services.
Learn more:
Windows Active Directory (AD)
,
LDAP Directory Service
,
Antivirus
,
ISO share
,
Syslog service
Well-rounded backup solutions to secure data
The QNAP NetBak Replicator supports real-time and scheduled data backup on Windows including Outlook email archiving. Apple Time Machine is also supported to provide Mac OS X users with a solution to effortlessly back up data to the TVS-1271U-RP.
Learn more:
NetBak Replicator
,
Time Machine backup
CPU
TVS-1271U-RP-i7-32G: Quad-core Intel® Core™ i7-4790S 3.2 GHz Processor
DRAM
TVS-1271U-RP-i7-32G

System memory: 32 GB DDR3 RAM
Memory module pre-installed: 8 GB x4
Total memory slots: 4

For the information of RAM module installation and compatible NAS models, please refer to the QNAP RAM Module Installation Guide

Flash Memory
512MB DOM
Internal Cache Port
Two mSATA port on board for read caching

Note: The standard system is shipped without mSATA flash module. For the optional mSATA flash module, please visit http://shop.qnap.com/
Hard Drive
12 x 3.5-inch SATA 6Gb/s, SATA 3Gb/s hard drive or 2.5-inch SATA, SSD hard drive
NOTE:
1. The standard system is shipped without hard drives.
2. For the hard drive compatibility list, please visit www.qnap.com/compatibility
Hard Disk Tray
12 x hot-swappable and lockable tray
LAN Port
4 x Gigabit RJ-45 Ethernet port
(Expandable up to 8 x 1 Gb LAN or 4 x 10 Gb + 4 x 1 Gb LAN by installing optional dual-port 10 Gb and 1 Gb network card)

Note:
1. For the optional network card compatibility list, please visit www.qnap.com/compatibility
2. For the information of network card installation, please refer to chapter 6 in the Turbo NAS Hardware Manual.
LED Indicators
Status, 10 GbE, LAN, storage expansion port status
USB/eSATA
4x USB 3.0 port (rear)
4x USB 2.0 port (rear)

Support USB printer, pen drive, USB hub, and USB UPS etc.
HDMI
1
Buttons
System: Power button and reset button
Alarm Buzzer
System warning
Form Factor
2U, Rackmount
Dimensions
89(H) x 482(W) x 534(D) mm
3.5(H) x 18.98(W) x 21.02(D) inch
Weight
16.14 kg/ 35.58 lb (Net)
18.98 kg/ 41.84 lb (Gross)
Power Consumption (W)
HDD Standby:

TVS-1271U-RP-i7-32G: 89.82

In Operation:

TVS-1271U-RP-i7-32G: 176.42

(with 12 x WD WD20EFRX hard drive installed)

Sound Level*
Sound pressure (LpAm): 45.0 dB(A)
Temperature
0~40°C
Relative Humidity
5~95% non-condensing, wet bulb: 27°C.
Power Supply
Input : 100-240V~, 50-60Hz, 7A-3.5A
Output: 500W
PCIe Slot
2 (1* PCIe Gen3 x8, 1* PCIe Gen3 x4)
Fan
3 x 7 cm smart cooling fan