12 Bay AVer L12i 14" Device Charger Cabinet
Web ID: 18975
The stackable design of the L12i can accommodate 12 Chromebooks or laptops up to a 15-inch screen and has a hassle-free cable management system. The intelligent charging system of the L12i can accommodate multiple cabinets connected together from a single outlet without the worry of overcharging or overloading your devices or circuit. You can also add mobility to the L12i with an optional cart that can support up to two cabinets. ONLY WHILE STOCKS LAST!
Manufacturer Warranty: 5 Year
Manufacturer PN: L12i
Manufacturer Website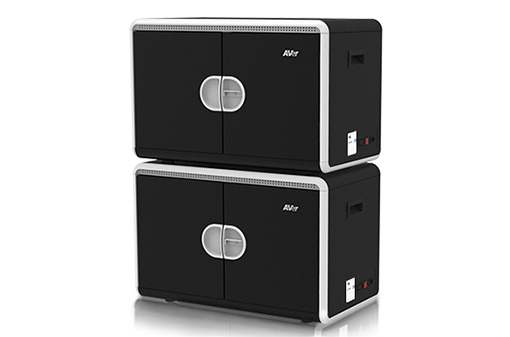 Compact & stackable
The compact size and the ability to stack on top of each other add more classroom space and reduce clutter.
Daisy-chain feature
The L12i can be daisy chained up to 2 charging cabinets. The expandable feature allows you to easily boost charging capacity to 24 mobile devices and laptops, and with intelligent charging system you can safely charge all of your devices through a single outlet without overloading circuit.
Ample storage slots
The L12i's ample storage slots can fit a variety of mobile devices and laptops on the market. Power adapters can be stored in individual compartments while the repositionable cable clips keep power cables neat and organized.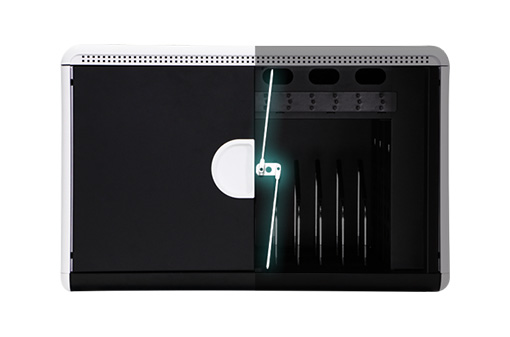 Protect your devices
Secure your valuable devices against theft and vandalism with L12i's sturdy steel frame and a three-point locking mechanism on the front double door. And the foam protected dividers add an extra layer of protection to your devices.
Round & sound
The seams are smoothed to a round finish and covered in protective, eco-friendly plastic, leaving no exposed corners or sharp edges. The dependable L12i ensures a safe learning environment.
Device Capacity
Slot Size
Support Device
Charging Type
12
H = 28.5cm (11.22")
W = 3.6cm (1.42")
D = 36.4cm (14.33")
Tablet/Chromebook/ up to 15"
Power receptacle
LED Indicator
Divider type
Foam on Bar
Cabinet Dimension
Status LED (x1): Blue when charging
Metal bar
Yes
H = 49.5 cm (19.49")
W = 76cm (29.92")
D = 42.5cm (16.73")
Package Dimension
Net Weight
Gross Weight
Power Specification
H = 60.5 cm (23.82")
W = 89cm (35.04")
D = 55cm (21.65")
35kg (77lbs)
39kg (86lbs)
AC:
100-120V ~ 50/60Hz, 12A
Cable Management
Security
Security Hook
Warranty
Individual AC adapter compartments and cable clips
Front door:
3 point mechanism with lock hole
Yes
10 years cart and tray
5 years electrical components
AC Adapter compartment dimensions
Wireless AP holder dimensions (optional)
H = 6.7cm (2.64")
W = 4.9cm (1.95")
D = 10cm (3.94")
N/A