Zalman ZM-FX100 Fanless Heatsink CPU Cooler
Web ID: 11463
Ultimate Fanless CPU Cooler FX100. Socket 1150/Socket FM2/Socket AM2+/AM2/Socket AM3+/AM3/Socket FM1/Socket 775/Socket 1156/Socket 1366/Socket 1155/Socket 2011 CASH PRICE
Manufacturer PN: ZM-FX100
GTIN: 823884205107
Warranty: 1 Year
Manufacturer Website
With Zalman`s innovative technology, the FX100 is designed to utilize natural convection
where the heatsink passively transfers the heat to the surrounding. The hot air is then exhausted
out of the chassis with the help of chassis fans. And, due to its passive and efficient operation,
several factors that contribute shorter life span in electronics (such as vibration, dust, and heat)
have minimal impact, which makes the FX100 one of the most durable CPU cooler out in the market.
The FX100 is the perfect cooling solution at places where noise, dust, and vibration can be detrimental to the system and
its surrounding areas.
Hexahedron structure offers maximum heat dissipation area with minimal space.
Optimized heat transfer performance with 10 heatpipes applying
MPJ(Multiple-heatpipe Pressing Joints) technology. .
Corrosion-resistance reinforced with high quality finishing touch .
Fits in ATX mid tower case (Width 180mm)
and compatible with most CPU sockets.
[ CPU socket compatibility ]
Intel Socket LGA 2011/1366/1150/1155/1156/775,
AMD Socket FM2/FM1/AM3+/AM3/AM2+/AM2
* Optional fan (92mm) ZM-F2Q(BL) is required for
Intel LGA 2011/1366 CPUs
Provides outstanding heat transfer
performance.
High performance ZM-STG2 helps to maximize the heat
transfer from CPU to CNPS9900DF base allowing
optimal cooling performance.
Supports up to 130W with 92mm option fan.
Enjoy same quality as noiseless environment with Zalman LED Fan ZM-F2Q(BL) at 650rpm.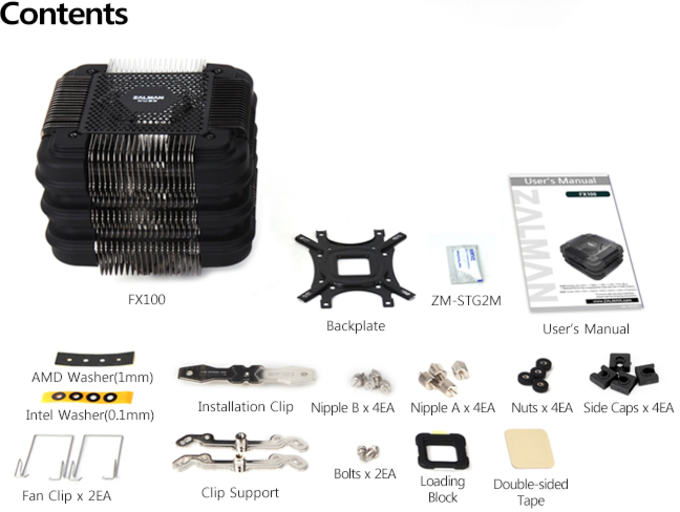 | | | | | | | |
| --- | --- | --- | --- | --- | --- | --- |
| | | Socket | | CPU | | CPU Compatibility |
Intel
2011
Core i7 Extreme
Supports all speeds
(Optional 92mm fan installed)
Core i7
1155/1156
Core i7 Extreme
Supports all speeds
Core i7
Core i5
Core i3
Pentium
Celeron
1150
Core i7
Supports all speeds
Core i5
1366
Core i7 Extreme
Supports all speeds
(Optional 92mm fan installed)
Core i7
775
Core 2 Quad
95W or lower
Core 2 Duo
Core 2 Extreme
Pentium Dual Core
Pentium D
Pentium 4
Celeron D
AMD
FM1
LIano
95W or lower
FM2
Trinity
95W or lower
AM3+
Vishera
95W or lower
Zambezi
AM3
Phenom II
95W or lower
Athlon II
Opteron
AM2+
Phenom II
95W or lower
Phenom
Athlon FX
Athlon X2
Athlon
Sempron
Opteron
AM2
Athlon FX
Supports all speeds
Athlon X2
Athlon
Sempron
Opteron
| | |
| --- | --- |
| Dimension | 156(L) x 156(W) x 157(H)mm |
| Weight | 770g |
| Material | Pure Copper and Aluminum |
| heatpipe | 10ea |
| Noise Level | 0 dBA |
| | |
| --- | --- |
| Capacity | 1g |
| Temp. Range | -40°C ~ +150°C (-40? ~ +302?) |
Avoid inserting objects or hands into the fan while it is in operation to prevent product damage and injuries.
Do not ingest the Thermal Grease, and avoid its contact with skin and eyes. If contact is made with skin, wash off with water. If ingested or irritation persists, seek medical attention.
To prevent possible injuries, gloves must be worn while handling this product.
Excessive force exerted on the fan may cause damage to the fan and/or system.
Use and keep product away from reach of children.
Check the components list and condition of the product before installation. If any problem is found, contact the retailer to obtain a replacement.
During transportation of the system, the cooler must be removed.
Zalman is not responsible for any damages that occur during the transport of a system.
Product design and specifications may be revised to improve quality and performance.
Enable PWM function in BIOS settings after installation.
Zalman Tech Co., Ltd. is not responsible for any damages due to external causes, including but not limited to, improper use, problems with electrical power, accident, neglect, alteration, repair, improper installation, or improper testing.