Wacom Bamboo Spark Pocket PN CDS-600G/G0-C
Web ID: 18878
Bamboo Spark supports handwriting to text conversion. Start writing naturally on any paper, then use the Bamboo Spark Ink to Text lite app with Wacom Cloud to turn your handwritten notes into plain text. Now your notes are in shareable shape for sending out in email or dropping into your archive on Dropbox or Evernote. ONLY WHILE STOCKS LAST!
Manufacturer PN: CDS-600G/G0-C
GTIN: 4949268704472
Warranty: 1 Year
Manufacturer Website
Work anytime. Sync later.
When you finish a page of notes, press the button to save it safely and securely. Don't worry if you're not connected to another device, the Bamboo Spark can store up to 100 pages, so you can capture ideas anywhere and at any time. When you reconnect to your Bluetooth® Smart Ready device, your notes will be automatically synced to the Bamboo Spark app and, once you're connected to the web, the Wacom Cloud.
A Wacom Cloud account opens up all the tools and features of your Bamboo Spark.You can use it to access your notes on different devices and edit them even after they have been saved.
Your ideas wherever you need them.
Once in the Wacom Cloud, you can really let your ideas flourish. Review and revise notes, drawings and doodles across a range of different smart devices, on both iOS and Android. You can also use the Wacom Inkspace web portal to access your noteswithin the cloud. Or share them in PDF and JPG formats with third party Cloud services, programs and apps, like Evernote and Dropbox.
Let your thoughts grow and thrive.
The notes you take on Bamboo Spark continue to live after you've written them. Your notes are saved using the Wacom Ink Layer Language (WILL), which means they remain dynamic within our ecosystem. And that means you can modify, amend, update, organize, archive and enhance your ideas quickly and easily.
Share and collaborate
One of the Bamboo Spark's best features is the ability to collaborate with peers to help improve your ideas. Use the Bamboo Paper app to share your notes with friends and colleagues who also have the app installed. You can work collectively on developing and refining your work, saving your progress within the app.
See the full range.
Choose from one of three smart folios in the range: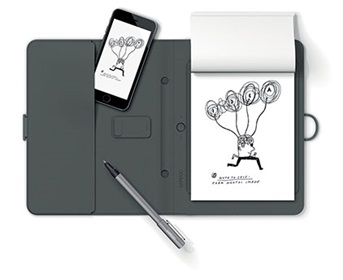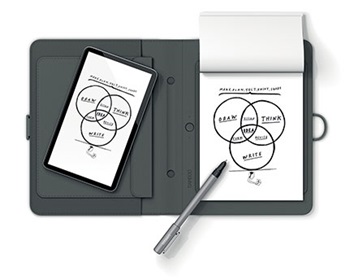 Get Started with your
Bamboo Spark
Find out how to pair your smart folio, create a Wacom Cloud account and start using your Bamboo Spark.
Download the free ebook, "How to Draw Your Idea"
Download the free ebook, "How to Draw Your Idea" when you sign up for the Bamboo newsletter. It's a bi-monthly source of inspiration for taking your ideas even further.
Tips and News from Bamboo
From inspiration to idea to execution. Bamboo is here to help you make your ideas happen. Visit our Making Ideas news hub for product updates and insights from experts on how to keep your ideas moving.

Start on paper, refine digitally
Sign up for free and get up to 5 GB storage and have your Bamboo Spark content automatically synced to the Wacom Cloud. View and share your ideas with others, without any loss of quality or ability to edit. Easily export and import your ideas directly into Bamboo Paper for further refining or editing digitally.
Specifications
Folio Size


Approx. 206 x 253 x 30mm
(8.1 x 10.0 x 1.2 in)

Basic Control

Requires Bamboo Spark app

Ergonomics

Right or Left-handed use

Color

Gray

Connection

USB, Bluetooth® Smart wireless

Compatibility

Android™, Apple
TypeSmart folio for tablets and smartphones
ErgonomicsRight or Left-handed use
ColorGray
Folio SizeApproximately 206 x 253 x 30mm (8.1 x 10.0 x 1.2 in)
Active Area148 x 210 mm (5.8 x 8.2 in)
Pressure Levels1024
ModelSmart folio with gadget pocket CDS600G, Smart folio with tablet sleeve CDS600P, Smart folio with snap-fit for iPad Air 2 CDS600C,
WeightSmart folio with gadget pocket 535 g, Smart folio with tablet sleeve 670 g, Smart folio with snap-fit for iPad Air 2 580 g
PenBamboo Spark pen
Cable IncludedYes
TechnologyPatented electromagnetic resonance method
System Requirements

Bluetooth® Smart (v4.0) ready devices:

iPad Mini, iPad 3, iPad Air or later (iOS8 or later); iPhone 4s or later (iOS8 or later)
Android™ devices (Android 4.3 or later)

Bamboo Spark App
notepad thickness about 50 pages (<5mm)

Warranty1 year in USA, Canada, Central America, South America, The Caribbean, and Asia Pacific. 2 years in Europe, Africa, and Middle East
SizeHolds a tablet with a 9.7 in diagonal display, with dimensions of W: 174 mm, H: 240 mm, D: 6.5 mm (W: 6.85 in, L: 9.4 in, D: 0.26 in)
What's IncludedBamboo Spark with gadget pocket, Bamboo Spark pen, 30 page notepad, 2 replacement ink cartridges, nib removal tool, USB cable, quick start guide (smartphone and tablet not included)

Bamboo Spark with tablet sleeve, Bamboo Spark pen, 30 page notepad, 2 replacement ink cartridges, nib removal tool, USB cable, quick start guide (smartphone or tablet not included)

Bamboo Spark with snap-fit for iPad Air 2, Bamboo Spark pen, 30 page notepad, 2 replacement ink cartridges, nib removal tool, USB cable, quick start guide (smartphone or tablet not included)
Additional AccessoriesBamboo Spark closure bands, Bamboo Spark notepads, Bamboo Spark pen, Bamboo Spark ink cartridges