Viewsonic LS800WU WUXGA 5500 ANSI Projector
Web ID: 24237
The LS800WU shines bright in virtually any environment with 5,500 ANSI Lumens of high-brightness projection and WUXGA resolution clarity. The projector comes equipped with a laser phosphor technology capable of achieving up to 30,000 hours of maintenance free projection and is capable of 24/7 continuous operation to provide a dramatically durable solution for public use. ONLY WHILE STOCKS LAST!
Manufacturer Warranty: 3 Year
Manufacturer PN: LS800WU
Manufacturer Website
LS800WU
5,500 ANSI Lumens WUXGA Laser Installation Projector
The LS800WU shines bright in virtually any environment with 5,500 ANSI Lumens of high-brightness projection and WUXGA resolution clarity. The projector comes equipped with a laser phosphor technology capable of achieving up to 30,000 hours of maintenance free projection and is capable of 24/7 continuous operation to provide a dramatically durable solution for public use. H/V lens shift and 1.65X optical zoom offers additional flexibility and makes the projectors adaptable to a wide array of installation settings. The projector's built-in HDBaseT receiver is able to transmit uncompressed high resolution audio and video at a lengthy distance (100 meters for 1080p and 70 meters for 4K/2K) when combined with a cat5e/cat6 cable and is compatible with any certified HDBaseT transmitter. Addition features such as portrait mode and 360-degree projection allow users to deliver a fresh visual perspective for creative applications such as staging and advertising.
Laser Phosphor Technology
Unlike traditional lamp based projectors, LS800WU is designed with laser phosphor technology which provides virtually maintenance-free usage for a lower overall total cost of ownership.
Laser Phosphor
Lamp-free
High Brightness
Packed with 5,500 ANSI Lumens, LS800WU projector is guaranteed to produce high brightness suitable for large spaces with high ambient light.
5,500 ANSI Lumens
High Contrast Ratio
Boasting a 100,000:1 ultra-high contrast ratio, even the finest shades of color are enhanced – a key characteristic for delivering razor-sharp images.
100,000:1Contrast ratio
Amazing Color Accuracy
ViewSonic's proprietary SuperColor™ Technology displays a wide color range, ensuring that users enjoy a true-to-life color performance in both bright and dark environments without sacrificing image quality.
SuperColor™Technology
Long-lasting Lifespan
Laser technology offers a 30,000 hour lifespan, which is delivering reliable long-term performance with no degradation in brightness over time so that your installations are consistently vibrant.
30,000 hoursLifespan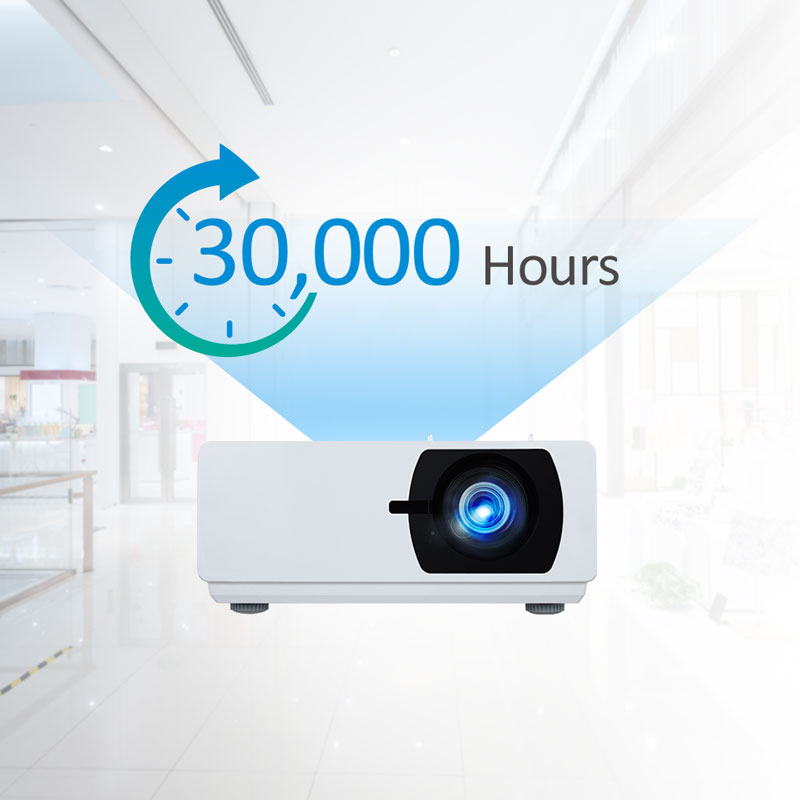 Sealed Optical Engine
The sealed optical engine with IP6X prevents dust and moisture from affecting the lighting system, ensuring the projector's image quality over time is maintained.
Sealed Optical Engine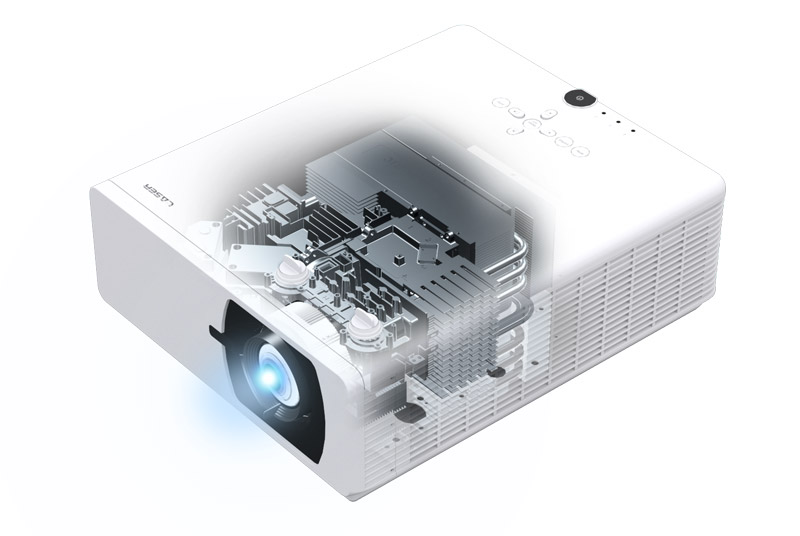 Automated Sleep Timer
Sleep Timer function allows users to select a period of inactivity that will determine when the projector should put itself into sleep mode automatically.
Sleep Timer
Reduced Energy Consumption
When no signal has been detected, the projector will automatically power off to conserve energy.
Auto Power Off
Energy Efficiency
Power Saving Mode allows users to extend the projector's lifespan and minimize energy consumption. When in Power Saving Mode, the projector will automatically switch into Eco Mode and SuperEco Mode whenever there is no signal input detected.
Power Saving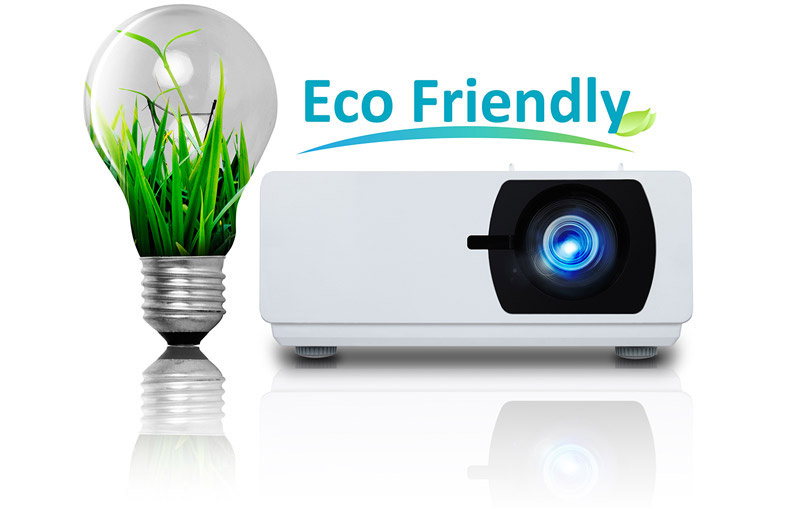 360-degree Creative Applications
The projector can be freely rotated at any angle vertically to aid with creative applications, allowing projection onto ceilings, walls, or angled signage.
360-degreeProjection
90-degree Portrait Mode
Portrait mode allows users to turn the projector 90 degrees to increase the vertical field of view and add more applications for projection mapping, staging, and advertising.
Portrait Mode
Built-in HDBaseT Receiver
LS800WU's built-in HDBaseT receiver is able to transmit uncompressed high resolution audio and video at a lengthy distance (100 meters for 1080p and 70 meters for 4K2K) when combined with a cat5e/cat6 cable and is compatible with any certified HDBaseT transmitter.
HDBaseTReceiver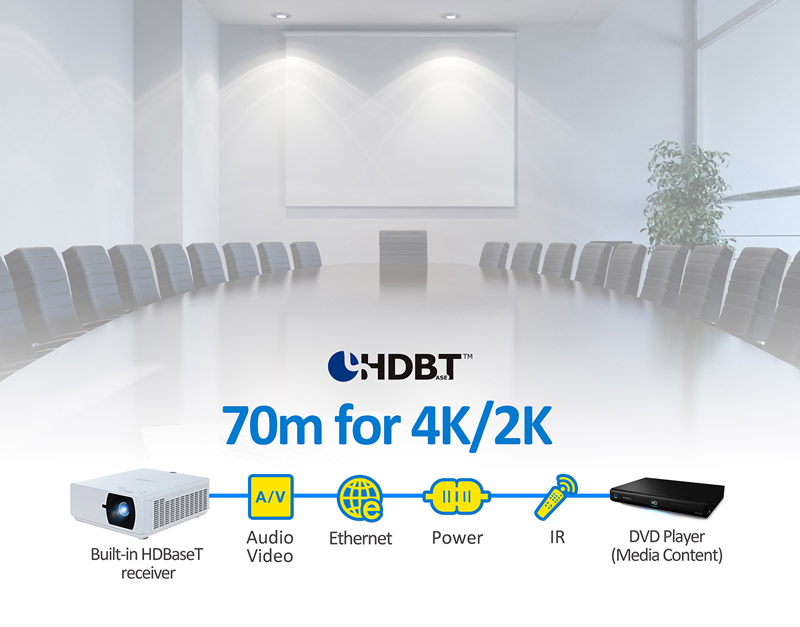 Installation Flexibility
The tool-free control knob controls the lens shift function for easily adjusting the projection lens up, down, left, and right, providing flexible installation options with less placement restrictions.
H/V Lens Shift
Larger than Life Images
Equipped with a 1.65X optical zoom lens, this projector provides mounting flexibility with a wider throw distance range.
1.65XOptical Zoom
Non-stop 24/7 Operation
With an advanced cooling design, LS800WU enables 24/7 operation without degradation of quality or performance, making the projector ideal for applications that require continuous projection.
24/7Operation
LAN Control
LS800WU is the first ViewSonic projector compatible with Control4 network management. The projector is also Creston, AMX, PJ Link and vController compatible for easy-to-use network management.
LAN Control
Multiple HDMI Inputs
3 HDMI ports provide more options for connecting any HDMI-enabled multimedia devices.
3 HDMIInputs
Easy Image Adjustment
Horizontal and Vertical Keystone correction along with 4 corner adjustment features eliminate crooked or distorted images for a perfectly proportioned picture every time.
HVKeystone 4Corner Adjustment
Instant Activation
Auto Power On can be used to get your projector up and running in an instant:
Signal Power On: The projector will power on automatically upon detection of a HDMI and VGA1 cable connection.
CEC compatible: The projector can be set to trigger DVD players to switch on/off automatically whenever the projector is powered on/off.
Auto Power On
SPECIFICATION

Projection System : 0.67" WUXGA
Native Resolution : 1920x1200
DC Type : DC3
Brightness : 5500 ANSI Lumens
Contrast Ratio With SuperEco Mode : 100000:1
Display Color : 1.07 Billion Colors‎
Light Source : Laser Phosphor system
Light Source Life (Nor/SuperEco) : 20000/30000
Lamp Watt : Laser Bank x 4
Lens : f2.45-3.13, f=17.23-27.9mm
Projection Offset : 130%+/-10%
Throw Ratio : 1.15-1.9
Image Size : 50" - 300"
Throw Distance : 1.24-7.43m (100"@2.48m )
Keystone : H:+/-30° , V:+/-25°
Lens Shift V. Range : Yes (-2.4% +9.2%)
Lens Shift H. Range : Yes (-2.5% +2.5%)
Optical Zoom : 1.65x
Audible Noise (Normal/Eco) : 34dB/32dB
Resolution Support : VGA(640 x 480) to WUXGA_RB(1920 x 1200)
*RB-Reduced Blanking
HDTV Compatibility : 480i, 480p, 576i, 576p, 720p, 1080i, 1080p
Video Compatibility : NTSC, PAL, SECAM
Horizontal Frequency : 15K~102KHz
Vertical Scan Rate : 23~120Hz

INPUT

Computer In (share With Component) : 1
Composite : 1
Audio-in (3.5mm) : 1
Audio-in (RCA R/L) : 1
Microphone In : 1
HDMI (HDCP) : 3 (HDMI 1.4/ HDCP 1.4)
3D VESA (Sync) : 1

OUTPUT

Monitor Out : 1
Audio Out (3.5mm) : 1
Speaker : 5W x 2
USB Type A (Power) : 1 (5V/1.5A)
CONTROL

RS232 : 1
RJ45 : 1
USB Type Mini B (Services) : 1
HDBaseT : 1

OTHERS

Power Supply Voltage : 100-240V+/- 10%, 50/60Hz AC
Power Consumption : Normal: 430W
Standby: <0.5W
Operating Temperature : 0~40?
Carton : Brown
Net Weight : 11.0kg
Dimensions (WxDxH) W/adjustment Foot : 360x440x161mm
Language : English, French, Spanish, Thai, Korean, German, Italian, Russian, Swedish, Dutch, Polish, Czech, T-Chinese, S-Chinese, Japanese, Turkish, Portuguese, Finnish, Indonesian, India, Arabic, Vietnamese

STANDARD ACCESSORY

Power Cord : 1
VGA Cable : 1
Remote Control : 1 (w/Laser pointer)
QSG : 1