Ubiquiti UniFi Network-Managed Power over Ethernet LED Panel PN ULED-AT
Web ID: 24337
Powered by native 802.3at PoE+ technology, the UniFi LED Panel is an energy-efficient ceiling light that provides adjustable, high-efficiency indoor lighting. Utilizing long-lasting LEDs that provide over 50,000+ hours of luminance, the LED panel requires very little maintenance and can be easily managed by the UniFi LED Controller and UniFi LED app using your hand-held iOS or Android device.
Manufacturer Warranty: 1 Year
Manufacturer PN: UniFi LED Panel
GTIN: 817882023511
Manufacturer Website
Powered by native 802.3at PoE+ technology, the UniFi LED Panel is an energy-efficient ceiling light that provides adjustable, high-efficiency indoor lighting. Utilizing long-lasting LEDs that provide over 50,000+ hours of luminance, the LED panel requires very little maintenance and can be easily managed by the UniFi LED Controller and UniFi LED app using your hand-held iOS or Android device.

Features
- Powered by 802.3at PoE+
- Managed by UniFi LED Controller and UniFi LED App
- Fits Standard 2'x 2' Square Drop-Ceiling Grid
- Brightness: 2,300 lm
- Color Temperature: 4,000K Natural White
- Long-Lasting LED: L80 > 50,000 Hours
- High Luminous Efficacy: 100 lm/W*
- Color Rendering Index (CRI) > 80
Network-Managed LED Panel
Ubiquiti Networks introduces the ultimate in lighting efficiency and convenience.
Safe, Economical Installation
Uses a single Ethernet cable, reducing labor and material costs.
Deployment Versatility
Perfect for most environments, including offices, schools, and hospitals.
Brightness Range:
2300 lm
Network Manageable
Integrates seamlessly into your enterprise network.
Save Energy
With 100 lm/W power efficiency, ULED-AT meets the modern energy standard.
Installation Simplicity
Easy to Install
Connect both power and data with a single Ethernet cable - no need for special equipment or a qualified electrician.
Connect LED Panel to PoE+
802.3at Power over Ethernet is safer than AC power and uses just a single cable.
Connect Dimmer Switch to PoE
Connect the UniFi Dimmer Switch to an 802.3af PoE switch.
Manage Your Lighting System
Use the UniFi LED Controller or the UniFi LED app (iOS or Android).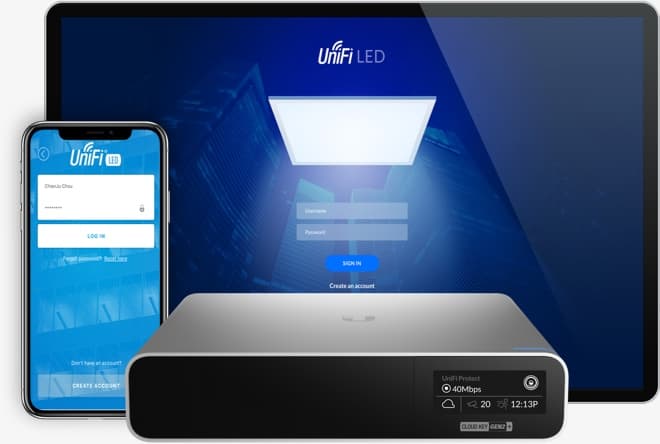 PoE Network Switch Compatibility
ULED-AT requires an 802.3at PoE+ network switch, which delivers 25W of power. UDIM-AT is compatible with an 802.3af network switch.
Wattage
25 W
Max. Light Output
2300 lm
Lifespan
>50,000 hrs
Color Temperature
4,000 K
Lumens per Watt *
100 lm/W
* Based on the power delivered to LED Panel
Dimmable
Yes
Control Flexibility with UniFi LED Controller
Control remotely using the UniFi LED Controller or UniFi LED app, or control locally using the UniFi Dimmer Switch.
The UniFi LED mobile app is now available in the App Store and Google Play Store for Android.
Model: ULED-AT
Dimensions & Weight
Dimensions: 602 x 602 x 56.7 mm (23.7 x 23.7 x 2.23")
LED Panel Thickness: 12 mm (0.47")
Weight: 4.5 kg (9.9 lb)
Technical Specifications
Ports and Power
Networking Interface: 10/100 Mbps Ethernet Port
Power Method: 802.3at PoE+
Maximum Power Consumption: 25.5W
Connectivity
Bluetooth 4.1
Mounting
Standard T-Grid
?
Operating Temperature
0 to 40º C (32 to 104º F)
Operating Humidity
10 to 90% Noncondensing
Certifications
CE, FCC, IC
Lighting Specifications
Initial Delivered Luminance (Max.): 2300 lm
Color Temperature (CCT): 4,000 K
Lifetime (L80): > 50,000 hrs
Color Rendering Index (CRI): > 80
?
Beam Angle: 114°
Environment: Indoor Dry Location
Efficacy: 100 lm/W *
* Based on power delivered to the LED Panel