Computer Alliance are proud to partner with the ASUS TUF Gaming division, to produce two exceptional Gaming Desktops that will help gamers dominate the battlefield. The Alliance TUF Gaming Desktops combine the latest CPU and GPU technology from AMD, with the latest and greatest TUF Gaming and ASUS components, to create a more durable, dependable gaming experience.
The Alliance TUF Gaming Commander Desktop features the AMD Ryzen 7 3800X – an 8-core, 16-thread CPU that can boost up to 4.5GHz - to greatly assist your quest for glory. To compliment this fantastic CPU, the TUF Gaming Commander features the ASUS RX5700XT – an 8GB GPU powerhouse that features AMD's latest RDNA technology – to produce between 100 – 200 FPS at 2K resolution, in popular games such as CS:GO, Overwatch and Call of Duty: Warzone.
To get the most out of these exceptional AMD components, we've included 16GB of high-speed RAM, a 512GB NVMe SSD and a highly efficient, highly reliable 80 Plus Gold Power Supply. This high quality, high performance Desktop will produce not only exceptional gaming performance, but also allow content creators and streamers to share their victories with the world.
BONUS Doom Eternal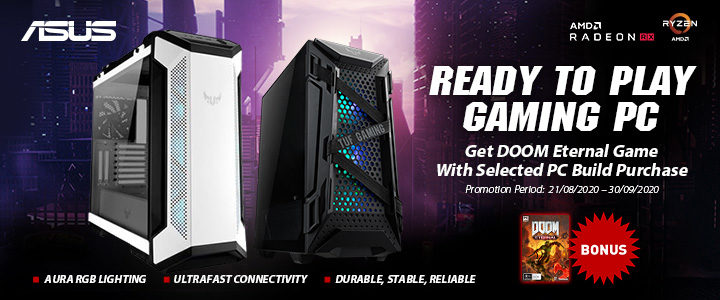 If you would like to customise this configuration, click on the below Component Categories and make your selections. Once you have finished customising your new Desktop, click the Save Config button to add it to your Cart, where you can either complete the Checkout process, or save the configuration as a quote. If you would like assistance in customizing your new PC, please don't hesitate to call our expert sales staff on 07 3421 3200 or by emailing
sales@computeralliance.com.au
.