2TB Seagate 2.5" 7200rpm SAS 12Gb/s 128MB HDD PN ST2000NX0263
Web ID: 14225
The Seagate Enterprise Capacity 2.5 HDD is the only 2.5-inch enterprise-class hard drive delivering both 2TB capacities and enterprise reliability at the industrys lowest power per watt for storage-hungry nearline applications ONLY WHILE STOCKS LAST!
Manufacturer PN: ST2000NX0263
GTIN: 7636490043475
Warranty: 5 Year
Manufacturer Website
Reduce Footprint. Increase Capacity. Lower Costs.
The Seagate® Enterprise Capacity 2.5 HDD is the only 2.5-inch enterprise-class hard drive delivering both 2TB capacities and enterprise reliability at the industry's lowest power per watt for storage-hungry nearline applications.
Optimises data centre footprint with twice the storage capacity over last generation
Helps lower your TCO with highest capacity 2.5-inch drive at industry-leading power efficiency
Delivers best-in-class performance for 2.5-inch 7200-RPM nearline drive with a sustained transfer rate of 136MB/s.
Provides secure bulk data storage with Seagate Secure Drive technologies
Unparalleled HDD Power Savings
Enterprise Capacity 2.5 HDDs reduce per-gigabyte cooling and energy costs by packing high capacities into an SFF, low-power-consumption drive.
Included Seagate® PowerChoice™ technology can further reduce energy costs by empowering IT organisations to tailor systems for optimal performance and power consumption. This results in power savings of up to 54% over traditional 3.5–inch drives, and potentially operating at less than 1 Watt when idle. PowerChoice is based on the T10-compliant power management standard.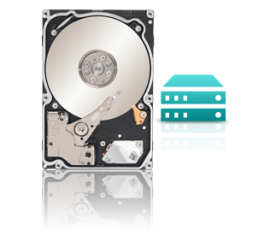 Big Storage for Small Spaces
Enterprise Capacity 2.5 HDDs can help you deploy additional enterprise storage without expanding your data centre.
With its 15mm z-height, the 2TB model is the third generation of the first 2.5-inch hard drive capacity-optimised for dense, space-constrained data centres. This model can help you store twice as much data in the same footprint. Also features for nearline storage:
Save Money with Seagate Secure Drives
Seagate Secure™ Self-Encrypting Drives (SED) are TCG-compliant and can improve data-at-rest security and reduce drive retirement costs. The SEDs meet regulatory data security compliance requirements and are FIPS 140-2 Validated™ to protect Sensitive but Unclassified and Protected class data.*
Moreover, Seagate Instant Secure EraseTM feature on the SED and FIPS drives renders all data unreadable in less than a second. Learn more about Seagate secure disk erase deployment options >
*Self-Encrypting Drives (SED) and FIPS 140-2 Validated drives are not available for all models or countries. See Seagate Encrypting Drives Import/Export Compliance. May require TCG-compliant host or controller support.