MYOB Essentials with Payroll 12 Month Subscription
Web ID: 20319
Take care of GST, Invoices, Reporting, Expenses and Unlimited Payroll requirements with MYOB Essentials. Windows Version ONLY. ONLY WHILE STOCKS LAST!
Manufacturer Warranty: 1 Year
Manufacturer PN: LVPAY-FUL-AU
GTIN: 9316869102023
Manufacturer Website
Take care of GST, invoices, reporting, expenses and payroll
Tax time made easy
Fast and easy tax updates ensure you're always up-to-date. Paying super and staying on top of ATO SuperStream requirements is a breeze.
Take care of business
MYOB Essentials is easy online accounting software that has everything you need to take care of business, including payroll.
Take back your time
MYOB Essentials is the fast and easy way to manage your cash flow and ATO compliance requirements. Includes time saving features to help take care of the day-to-day bookwork.
"MYOB Essentials is the best cloud accounting for most small business. It's cost effective and easy to use."
Graeme Beardsley,
GAB Chartered Accountants Limited
"At the end of financial year, all the group certificates are automatically done."
Pam Madytianos,
2 Peas
Tax time made easy
You won't believe the difference MYOB online accounting makes at tax time.
Produce instant reports on PAYG, GST and BAS.
You'll always be up to date with superannuation rate changes.
Easily complete your payment summaries.
Lodge your taxable payments report with the ATO.
Invite your accountant or bookkeeper into your accounts to check your numbers.
Stay on top of your ATO SuperStream obligation with just a few clicks.
You don't need to be an accountant to use it, anyone can do it
It's quick and easy to set up
Online accounting software that gives an accurate view of your cash flow and makes tax time obligations easier.
And if you link your bank account, you won't need to manually enter data as your bank transactions are reconciled for you.
Cash flow made fast and easy with Essentials
A clear picture of cash flow
See how much cash you have, your outstanding invoices and your tax liabilities in real time, so you have a clear picture of what needs your attention.
The smart way to manage bills
Making accounting easier than ever
Online accounting software that gives a more accurate view of your cash flow and makes your tax obligations easier by storing your bills and supplier invoices securely in your accounts.
Preparing for tax time has never been easier.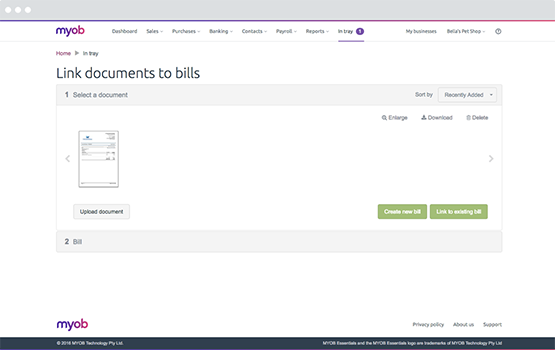 Collaboration in the cloud
Work together with your bookkeeper without having to be in the same place
It makes meeting your monthly and quarterly compliance obligations easier.
MYOB Essentials is updated automatically every time there's a tax change to keep you up to date with the tax office.
Online payroll has never been easier
Cut time managing payroll by 40%*
MYOB Essentials makes it easy to ensure your PAYG and ATO SuperStream obligations are taken care of.
What's more, MYOB YourPay stores your information electronically, so there's less admin with each payrun. There's no need to email or print payslips when employees can access them online or on their smartphones.
Get real-time access to timesheets, which employees can enter online or via smartphones. Hours and notes are automatically imported.
Certified by the ATO as SuperStream compliant.
* Source: Customer survey via MYOB Client Insights Panel, June 2014.
Invoice on the go
Stay on top of your cash flow
Send invoices and manage your contacts on the go knowing your accounts are being updated across all your devices at the same time.
With real-time invoice tracking MYOB OnTheGo helps you take more control of your sales process and better manage your cash flow, all from the palm of your hand.
And when you add MYOB PayDirect, you can also take credit card and EFTPOS payments on the spot.
Download the free MYOB OnTheGo app on your iOS and Android smartphone.