MYOB AccountRight Plus 12 Month Subscription PN MPSUB-RET-AU
Web ID: 20320
Improve productivity & financial control. Easier compliance. ONLY WHILE STOCKS LAST!
Manufacturer Warranty: 1 Year
Manufacturer PN: MPSUB-RET-AU
GTIN: 9316869102115
Manufacturer Website
Improve productivity & financial control. Easier compliance.
MYOB AccountRight is powerful accounting with business management capabilities
Stay ahead of tax changes
Make it easy to meet your tax obligations with fast and easy updates including the 2016/17 tax and payroll release. Certified by the ATO as SuperStream compliant.
Painless payroll and timesheets
Confidently handle PAYG, state-based payroll tax, superannuation and leave, even if you work from timesheets.
Easy project and job tracking
Keep an eye on how much time and money has been spent and how it stacks up against your plan.
Take control of your stock
Our inventory management software is so advanced, you'll always be able to track what you buy and sell.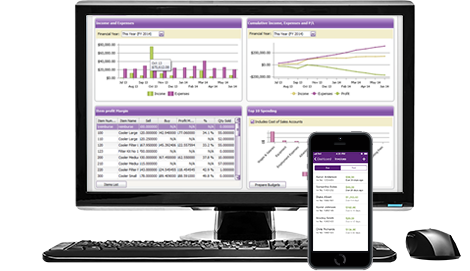 "It took me a good half a day to do super once a month. Pay Super, I literally tick the ones I want and press 'process.' It goes into my bank account, pulls the money out, and sends the remittance off to all the super funds. It can't get any better."
Nicole Smith,
The Physio Joint
Having AccountRight to do my books has been a huge help. It makes it easy to file my GST returns, something I dreaded having to do.
Denyse Forsyth,
Kruizey Kidz
Tax time made easy
You won't believe the difference MYOB online accounting makes at tax time.
Stay on top of your ATO SuperStream obligation with just a few clicks
Produce instant reports on PAYG, GST and BAS
Be on top of superannuation rate changes
Track all asset write offs and depreciation
Lodge your taxable payments report directly to the ATO
Avoid disruptive ATO audits and costly penalties by ensuring your supplier ABNs are correct with the automatic ABN validation
Invite your admin team, accountant or bookkeeper into your accounts to collaborate and check your numbers.
Get more power from customised quotes and invoices
Gain full control over your sales documents
Creating personalised quotes and invoices is easy in MYOB AccountRight. You can even create a quote, and then convert it to an invoice when the quote is accepted. Personalised designs ensure your sales documents, including purchase orders, are consistent with your brand.
Sign up to PayDirect Online and you can even let your clients pay you directly from your invoices. View when an invoice has been opened or actioned, so you'll never be behind when it comes to your cash.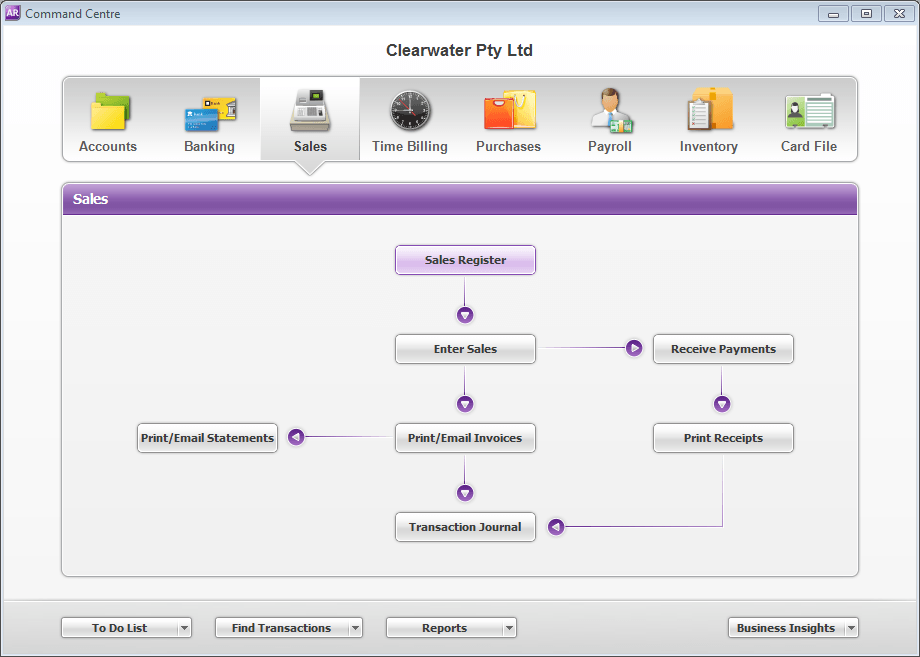 Data entry done for you
Link your bank account and save time
MYOB AccountRight businesses save up to 10 hours per month on data entry.*
Auto bank reconciliation:
has the smarts to match bank transactions with your sales, expenses and payments.
is completely secure, and you don't need to give out your online banking details to use it.
*Source: Bank Feeds Time Saving Survey via MYOB Client Insights. September, 2013.
A smarter way to manage bills
Making accounting easier than ever
Make record keeping easy by saving bills and supplier invoices securely in your accounts – ready for tax time.
Work with your accountant more efficiently.
Reduce the amount of paper filing.
Stay on top of your tax obligations.
Available in AccountRight Standard, AccountRight Plus and AccountRight Premier.
"MYOB AccountRight is great when your staff have leave. No more manual record keeping."
Bernadette Ashcroft,
Habitat Group
Powerful payroll software with time billing
Greater flexibility, complete control
Easily meet all your obligations as an employer.
Employee tax (PAYG).
State-based payroll tax.
Superannuation.
Leave entitlements such as annual, sick, rostered days off and time in lieu.
With no limit on the number of employees, transactions or Super funds, complete hours of work in minutes when you pay super using AccountRight.
Certified by the ATO as SuperStream compliant.
Payroll is only available in AccountRight Plus and Premier.
Easy job costing and tracking with adjustable pricing
Know which jobs are profitable and set special pricing to maintain a loyal customer base
MYOB AccountRight makes it easy to:
record time spent by both employees and suppliers.
monitor every cost spent on a job.
track every hour put in by an employee.
offer discounts for large customer orders.
manage multiple pricing levels on a permanent or one-off basis such as marketing campaigns.
"MYOB AccountRight enables our company to better control our accounts and expenses."
Richie Ward,
Kinetic Maintenance Engineering Services P/L
150 customisable reports at your fingertips
Know your business inside out
Gain clear insights into your business with fully customisable reports.
Accounts
Banking
GST/Sales Tax
Sales
Time Billing
Purchases
Payroll
Inventory
Control your stock your way
Powerful inventory management software
Easily track what you buy and sell, what's in stock, and what's on order.
Quickly view your stock levels
Compare physical and counted stock
Compare purchase costs and selling price
Combine individual stock components
Build stock and adjust inventory values
Track stock components during the assembly process
"I can go onsite and work with a client, then provide them with an invoice for payment straight away."
Leanne Berry,
Love Your Numbers
Run your business in the cloud
Online accounting with the flexibility to work offline or on your mobile
The cloud makes almost everything more efficient, effective, transparent and mobile for you and your business.
Work securely in the cloud
Make a local backup to your PC whenever you like
Access your accounts anywhere anytime
Give your accountant live access to your numbers
Enjoy easier collaboration with your team
Invoice on the go
Stay on top of your cash flow
Send invoices and manage your contacts on the go knowing your accounts are being updated across all your devices at the same time.
With real-time invoice tracking MYOB OnTheGo helps you take more control of your sales process and better manage your cash flow, all from the palm of your hand.
And when you add MYOB PayDirect, you can also take credit card and EFTPOS payments on the spot.
Download the free MYOB OnTheGo app on your iOS and Android smartphone.