MSI GS73VR 7RF-240AU 17.3" Core i7 Stealth Pro Notebook Win 10
Web ID: 20753
Intel Core i7-7700HQ 2.8GHz (6M Cache, up to 3.80 GHz) Quad Core CPU, HM175 Chipset, 17.3" FHD (1920*1080) eDP 120Hz Anti-Glare Display, NVIDIA GeForce GTX1060 6GB GDDR5, 16GB DDR4 (1 x 16GB, 2 slots) SODIMM 2400MHz Memory, 256GB M.2 PCIe SSD + 1TB 5400rpm HDD, HDMI, Mini DisplayPort, No Optical Drive, Gigabit LAN, Bluetooth v4.1, Wireless-AC, FHD Web Camera (30fps@720p), 1 x USB 2.0, 3 x USB 3.0, 1 x USB 3.1 (Gen2) Type-C with Thunderbolt 3, Windows 10 Home ONLY WHILE STOCKS LAST! CASH PRICE
Manufacturer PN: GS73VR 7RF-240AU
GTIN: 824142139943
Warranty: 2 Year
Manufacturer Website
MSI pioneers only the extraordinary gaming machines for your gaming pleasure. As a true gaming legend, MSI seeks to uphold its tradition to always offer the latest and the exclusive gaming features to fulfill gamers' every desire.
7TH GENERATION INTEL® CORE™ i7 PROCESSORS
The perfect combination of MSI gaming laptops and 7th Generation Intel® Core™ i7 Processors shall bring you up to 10% performance enhancement of smoother VR experience. The 7th generation Intel Core H series processor utilizes a power-efficient microarchitecture, advanced process technology and silicon optimizations to deliver faster performance than processors of the previous generation. CPU core performance of Core i7-7700HQ is 8% faster than i7-6700HQ under average usage. CPU multimedia performance is enhanced, making it 10% faster than i7-6700HQ. 4K video decoding/transcoding is also improved 15%. The new media engine of the 7th generation Intel Core H series processor also delivers power-efficient VP9 and HEVC 10-bit hardware acceleration. 4K video playback with HDR visual quality is therefore significantly improved versus previous generation processors.
* This feature may vary by SKU and country
PCI-E GEN3x 4 SSD – ULTRA SPEED STORAGE
Get in the game before everyone else with the latest PCI-E Gen 3.0 x4 bandwidth utilizing NVMe technology on single M.2 SSD. Harness the full performance potential of the Gen 3.0 SSD through the optimization of the hardware and software outputting extreme read speeds up to 2200MB/s, 5x faster than SATA3 SSD's.
*This specification may vary by model.
LATEST ARCHITECTURE DDR4-2400 MEMORY SUPPORT
Get the best possible performance out of your notebook with support of the advanced DDR4-2400 memory, achieving over 32GB/s in reading speed and 36GB/s in writing. With over 40% faster performance than previous generations DDR3-1600, DDR4-2400 is the new laptop standard to take your extreme gaming experience to the next level.
DYNAMIC TEMPERATURE / PERFORMANCE BALANCING
The exclusive MSI "SHIFT" technology pushes system to the extreme while minimizing noise and temperature. Switch between different profiles either push your system to the extreme or in the pursuit of longer battery life. Easily activate it by pressing the FN + F7 hotkey combo, or via the Dragon Gaming Center.?
Permit you to manually adjust the CPU and GPU to overclock the system, and still keep down the system temperature and noise level. (Non-K CPU models only support overclocking on GPU. AC mode only.)
ONE PORT FOR ULTRA DATA TRANSFER, 4K PIXELS AND 5V/3A DEVICE CHARGING
MSI is the first in the world to adopt the Thunderbolt 3 interface on its gaming notebooks. The latest and fastest interface Thunderbolt 3 supports up to 40Gbps data transfer rates and 4K displays with daisy chain capabilities. Its USB 3.1 ultra speed interface supports up to 5V and 3A current output for charging.
Data transfer speed up to 40Gbps
4K LCD output
Charging higher-power devices with 5V @ 3A
CONNECT 4K
60Hz display with single Thunderbolt™ 3. Enjoy your game with double the sensation.
COOLER BOOST TRINITY - TRIPLE ENHANCED FANS FOR ULTRA SLIM PLATFORM
Heat is the most original element on earth. It's pure physics that more energy will generate more heat. Cooling is therefore a knotty task to tackle with. Cooler Boost Trinity consists of triple enhanced fans, the Whirlwind Blade. Number of blades reaches up to 41, increasing 30% more airflow at same RPM. Independent thermal solution on both CPU and GPU with a total of 5 heat pipes makes sure that heat doesn't pile up on either CPU or GPU, so that both can deliver its best extreme gaming performance.
?
THE ULTIMATE PC GAMING PLATFORM
Get Game Ready with GeForce® GTX.
GeForce® GTX delivers the fastest performance, with the most advance gaming technologies (NVIDIA GameWorks™) and the best gaming ecosystem (GeForce Experience™).
Unleash your gaming dominance with the revolutionary new GPUs that turn your mobile rig into a sleek, powerful gaming weapon. GeForce® GTX 10-Series GPUs have come to laptops, powered by the game-changing NVIDIA Pascal™ architecture to deliver unbeatable energy-efficiency, gaming technologies, and VR immersion wherever you game.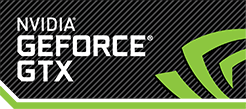 PERFORMANCE
GeForce® GTX 10-Series GPUs give you up to 3X the performance of previous-generation GPUs. They're built with ultra-fast FinFET, the latest high-bandwidth memory technologies, and support for DirectX 12 features to deliver the fastest, smoothest gaming notebook experiences.
THE LATEST GAMING TECHNOLOGIES
These innovative GPUs were created to meet the demands of next-generation displays, including VR, ultra-high-resolution, and multiple monitors. NVIDIA GameWorks™ technologies give you extremely smooth, cinematic gameplay, plus revolutionary NVIDIA Ansel™ that lets you capture 360-degree in-game images and view them in VR.
VR READY
Discover next-generation VR performance on GeForce® GTX 1080 / GTX 1070 / GTX 1060 , the lowest latency, and plug-and-play compatibility with leading headsets—driven by NVIDIA VRWorks™ technologies. VR audio, physics, and haptics let you hear and feel every moment.
NVIDIA'S LATEST GEFORCE® GTX 1060 GPU
IS READY TO AMAZE YOU ON MSI GAMING NOTEBOOKS
MSI is the world's 1st gaming notebook to have this latest NVIDIA next gen. GPU solution onboard. Performance of NVIDIA's next generation GeForce® GTX 1060 GPU is expected to improve more than 40% than GeForce® GTX 900M Series. With the innovative Cooler Boost cooling solution and MSI's special gaming features catered for gamers, the NVIDIA's latest GeForce® GTX 1060 GPU shall be able to release its full performance completely on MSI gaming laptops. By offering "one click to VR" solution and a totally immersive and smooth gaming experiences, the new MSI gaming laptops is going to shatter desktop performance cliché and amaze gamers with refreshing point of views on MSI gaming laptops.
EMBRACE THE ENTHUSIAST LEVEL VIRTUAL REALITY EXPERIENCE
The perfect combination of MSI gaming laptops and Nvidia next gen. graphics (GeForce® GTX 1080 / GTX 1070 / GTX 1060) shall bring you the enthusiast level of VR experience. Certified by both Nvidia and VIVE, MSI is the 1st VR ready gaming laptop brand. We provide an exceptionally smooth, powerful mobile platform for ultimate VR games. Perfect for you to immerse in the amazing artificial world and explore new ways of gaming.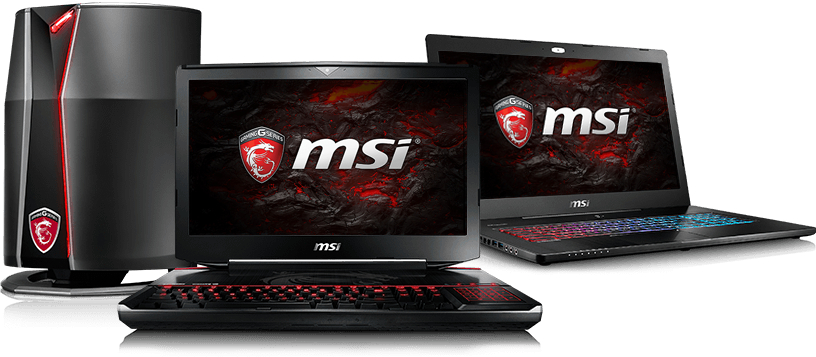 BUTTERY SMOOTH MOTION
Besides a 5ms response time, the 120 Hz refresh rate built-in panel produces up to 120 individual picture frames per second. The buttery smooth motion gives full advantages for gamers in winning.
*This feature may vary by SKU and country.
MULTI-TASK WITH UP TO 4 MONITORS
Expand the vision for extreme gaming experience. MSI innovative Matrix Display supports up to 4 external displays simultaneously (built-in+three external). Multi-task is made possible even during competitive gameplays. Connect the laptop to HDTV display, Matrix Display supports 4K output with a resolution up to 3840 x 2160. MSI Matrix Display technology creates an ideal environment for extreme gaming experience and pleasant multimedia entertainment.
*GS73VR / GS63VR : 3 external displays through 1x HDMI (4K @ 60Hz), 1x Mini DisplayPort 1.2 and 1x Thunderbolt 3
*For Thunderbolt 3, a Type-C to Mini DisplayPort cable is required
NEW DEFINITION OF SLIMNESS - 19.6MM THIN, WEIGHING MERELY 2.4KG
MSI engineers refine every delicate detail to strike a balance between portability and performance. MSI GS gaming series is surely the ideal choice for gamers who refuse to compromise. One shall not be able to find another gaming notebook in the world that delivers such a powerful performance within a chassis only 19.6mm thin. GS73 Stealth adopts a lightweight chassis, making it 40% stiffer than an aluminum-only chassis and the world's lightest gaming notebook, weighing just 2.4kg.
TRUE COLOR TECHNOLOGY
MSI has partnered with Portrait Displays, Inc. in developing a level of accuracy for display technology that sets a new standard, the MSI True Color Technology. MSI True Color Technology guarantees that each panel in a MSI notebook comes with the finest precision in color. After examination and an extensive factory calibration process by MSI True Color Technology, the panel quality will be more accurate, close to 100% sRGB. Hence, each color is delivered with the highest standard precision in detail, guaranteeing excellent color fidelity for many application uses.
Adjusted to the correct range
Color Visible Range
100% sRGB
True Color Profile
True Color Technology also offers prefect color accuracy for 5 more scenarios. Work or play, you can easily switch to the mode that best suits your eyes. And get to see clearer than your enemies to always get one step ahead of the rest. The profile sharing feature permits you to share your True Color settings to other users anywhere.
8H DRAGON SHIELD
DRAGON SPIRIT AS STRONG AS DIAMOND
Pure, passionate, focused, persistent, iron will, these are characteristics of a professional gamer. In honor of these extraordinary people, the new Dragon Shield covered with a layer of Corning Glass is inlaid on MSI gaming notebooks. The new Dragon Shield is 8H on hardness scale and is like clarity for glass, flexibility for plastics and water resistance for rubber. It is a true tribute to the combination of MSI's powerful dragon spirit and MSI product as beautiful and shiny as diamond.
ESS SABRE HiFi AUDIO DAC
16x Higher Headset Audio Detail than CD
Push the limits of your audio peripherals and hear the difference with the SABRE Audio DAC. It supports 24bit/192KHz sampling rate and drives high quality headset from 16ohm to 600ohm which gives up to highest sound detail, up to 122dB DNR unmatched by PC, Mac or mobile devices DAC. Discover new details that you've been missing or maintain the upper-hand in competitive FPS matches where every bit of sound counts.
24KHz / 8bit
MP3 AUDIO
44KHz / 16bit
CD AUDIO
192KHz / 24bit
HI-RES AUDIO
LIVE THE COMPLETE AND IMMERSIVE VR EXPERIENCE
Unchain the multichannel audio engine of your VR video game with Nahimic VR. More and more VR video games will be supporting the 7.1 audio surround. Unfortunately, they are locked in stereo. Nahimic VR is the world first audio solution to bring the 7.1 sound to a regular stereo headset. We provide specific audio algorithms that are capable of improving the 3D sound field drastically over HDMI and USB output. The result is a full and breathtaking VR experience for the gamers through combining VR video and 3D audio all together at once. Just click on the Nahimic VR button to turn on the VR audio effect through the Dragon Center, and prepare to be stunned!
*Nahimic VR will be released soon, please stay tune. It only supports products which named with "VR", not to all the series. Previous version of Nahimic could be updated into this new one, please feel free to visit the official product page and download for further installation while it's valid.

NAHIMIC AUDIO ENHANCER
Nahimic audio software offers high definition sound technology which boosts the audio and voice performance of your gaming computer. Enjoy an immersive virtual 7.1 sound over your standard stereo equipment!
A NEW WAY TO LOCATE YOUR TARGET

A companion to explore your playfields

The Sound Tracker provides a visual indication that permits better localizaion of the loudest sound while in the game. New to a game ? The Sound tracker will be your best ally to navigate an unfamiliar environment.

NEW

Sound Tracker Discrete design

The Sound Tracker is made up of a moving arrow in a circular radar. Configure its position, size and transparency for an optimal in-game integration.

Easy to launch
Use a shortcut to launch the soundtracker.

AND GAME COMES TRUE

Nahimic Immersive Audio becomes your special weapon in-game

Sound is a major part of your gaming experience. Live, feel and bocome invincible, thanks to a unique sound

Virtual Surround

Trebble Enhancer

Smart Loudness

Bass Boost

Voice Clarity

NEW

Expert Settings Take Control

Tune your listening experience with 4 gaming and 3 multimedia audio profiles. Enjoy 10 band EQ with 6 preset profiles and 1 custom profile. Access to the playback and recording device properties. Easy to access from main UI.
STEELSERIES ENGINE 3 (SSE3) – TARGET, POSITION, AIM AND FIRE
During gameplay, SteelSeries Engines 3 serves as your firearm. With SSE3, you get to suit up your weapon with cool look by lightening it up with multiple backlit colors, transform your keyboard into a high technology firearm by setting up several keys into one key command and cloud syncing all SteelSeries gears together.
*Keyboard backlit is red single color on GT80 and GS40 series and white single color on certain models of GE series.
CPU

Up to 7th Gen. Intel® Core™ i7 processor

OS

Windows 10 Home

Display

17.3" FHD (1920x1080), eDP 120Hz Anti-Glare

Chipset

Intel® HM175

Graphics

GeForce® GTX 1060 with 3GB GDDR5

Memory

DDR4-2400, 2 Slots, Max 32GB,

Storage

SSD
1x M.2 SSD Combo (NVMe PCIe Gen3 x4 / SATA )
HDD
1x 2.5" SATA HDD

Webcam

HD type (30fps@720p)

Keyboard

Backlight Keyboard (Full-Color)

Communication

Killer Gb LAN
Killer ac Wi-Fi + Bluetooth v4.1

Audio

4x 2W Speaker
1x 3W Woofer

Audio Jack

1x Mic-in
1x Headphone-out (HiFi / SPDIF)

I/O Ports

1x Type-C (USB3.1 Gen2 / DP / Thunderbolt™3)
3x Type-A USB3.0
1x Type-A USB2.0
1x RJ45
1x SD (XC/HC)
1x (4K @ 60Hz) HDMI
1x Mini-DisplayPort

Battery

3-Cell , 65 Whr

AC Adapter

180W adapter

Dimension (WxDxH)

411.8 x 284.9 x 19.6 mm

Weight (w/ Battery)

2.43 kg