MAKERBOT

REPLICATOR MINI
Unleash creativity with an educational, entertaining, and useful 3D printer.
MEET THE MAKERBOT REPLICATOR MINI
IF YOU CAN IMAGINE IT, YOU CAN MAKE IT
EASY AND AFFORDABLE 3D PRINTING
Trust in a 3D printer that's durable, reliable, and easy to use.
Get fast and easy One Touch

™

3D Printing
Transform a small desk in your home or classroom into an exciting creativity center
Experiment with a wide range of forms, colors, and textures
Join the large, supportive MakerBot Thingiverse

®

3D design community
Print, manage, and share your 3D creations simply and seamlessly, with free MakerBot software for your PC or Mac
ENTERTAINING, EDUCATIONAL, AND USEFUL
Reconnect with your imagination and creative power
Teach children how to think, imagine, create, craft and print in 3D
Energize and inspire children's creativity, while preparing them for the jobs of the future
Create occasions for children to bond with parents, siblings, classmates, and teachers
Remix and customize your creations to create unique gifts for family and friends
Choose from hundreds of thousands of free, predesigned, and ready-to-print educational, entertaining, and useful 3D models on Thingiverse
Make household utensils and replacement parts
Spur social creativity at parties, events, and brainstorming sessions
Print your creations while you work on other projects
For even more design possibilities, pair the MakerBot Replicator Mini with the MakerBot Digitizer Desktop 3D Scanner
GET ALL THE ESSENTIALS TO 3D PRINT TODAY
PC PRO
BEST OF CES 2014 GREATEST HITS
DIGITAL TRENDS
CES 2014 BEST IN SHOW
ZDNET
CES 2014 BEST IN SHOW
POPULAR MECHANICS
CES 2014 EDITORS' CHOICE
"MakerBot's Replicator Mini was the single most exciting product of CES 2014."
"More than any other company, MakerBot has helped promote the growth of affordable desktop 3D printing, and the [MakerBot] Replicator Mini takes a further step in that direction..."
"[3D Printing is] closer than ever to becoming a household commodity thanks to this new product from Makerbot."
SIMPLE TO USE
Start printing right away with virtually no learning curve
Free and friendly tablet app
Easy to use; no 3D skills needed
Powerful and intuitive tools to
create and make cool things
Print MakerBot verified files;
ready-to-print models from
MakerBot Thingiverse
OR
Original, fun, and collectible
digital content
High-quality, delightful, printable,
and paintable
Starting at just $0.99
SEND TO MAKERBOT REPLICATOR MINI
Send the file via Wi-Fi or
the included USB cable
Check the printer's light; it will blink
to show you it's ready to print
TOUCH AND PRINT
Check that the
build plate is clear
Press the button
to begin printing
3D PRINTING IN YOUR HOME
Educational, Entertaining, and Useful
See how easy it is to get started, and learn how your home can benefit from a MakerBot Replicator Mini Compact 3D Printer.
OPTIMIZED FOR

MAKERBOT

PLA FILAMENT
The best and most consistent filament for the
MakerBot Replicator Mini Compact 3D Printer
KEY FEATURES
Created and refined over five generations
of innovative desktop 3D printers
MAKERBOT REPLICATOR
SMART EXTRUDER
The swappable Smart Extruder minimizes downtime by enabling you to quickly replace a worn extruder in minutes.
Its modular design lets you plan for the natural wear common to 3D printing extruders and prepares you to quickly adapt to future innovations in the fast-evolving world of 3D printing.
Keep a spare Smart Extruder on hand. A quick swap will save you time and helps keep your production flowing.

- Easy to swap or replace

- Detects filament absence and automatically pauses your print
ON-BOARD CAMERA
CLOUD CONNECTED
Control your MakerBot Replicator Mini
from anywhere with MakerBot Mobile
Send print file via Wi-Fi or the included
USB cable
FULL-FEATURED SOFTWARE
Free to download
Store, organize, and access 3D
design files in your personal
cloud-enabled library
Find, buy, and prepare your files
from one central location
GREAT PROTECTION AND SUPPORT
Our expert MakerBot Support team is at your service
MAKERBOT MAKERCARE PROTECTION PLAN
Our recommended MakerBot MakerCare Protection Plan*provides you with the highest quality service and support from the people who know your MakerBot product best.

For one year, MakerBot will replace defective parts or arrange for you to ship your MakerBot product back to the factory for repair (return authorization required).
*Available only at the time of purchase or within 30 days
of purchase date. Read the full Terms of Service.
The MakerCare Protection Plan is additional to the coverage provided
by the limited warranty provided by MakerBot for defective parts.
See the warranty details (US) (EU).
FRIENDLY, EXPERT SUPPORT
At MakerBot, we take pride in offering expert, responsive, and friendly support to all our customers around the world.

Have a question about MakerBot apps? Need help getting your MakerBot Replicator 3D Printer running? Check out the guides, FAQ, videos, and other troubleshooting materials on our support page.
IMAGINE THE POSSIBILITIES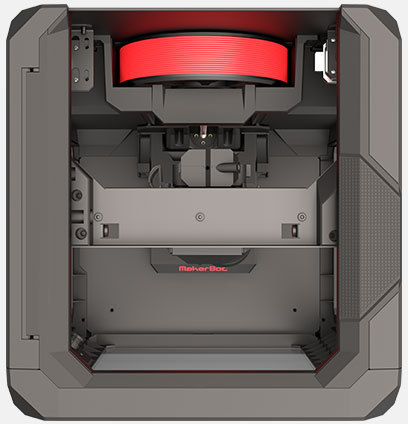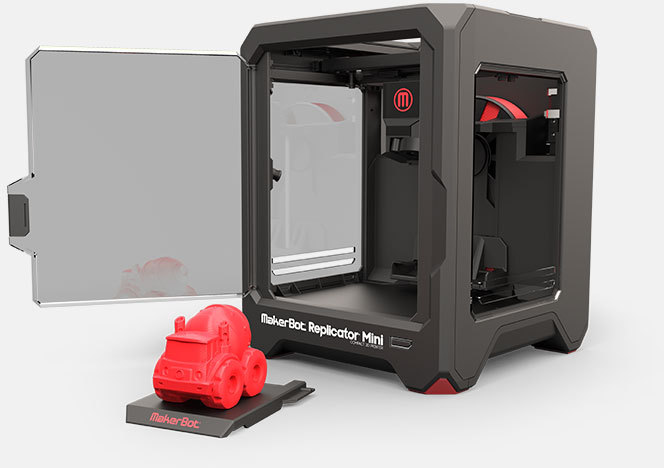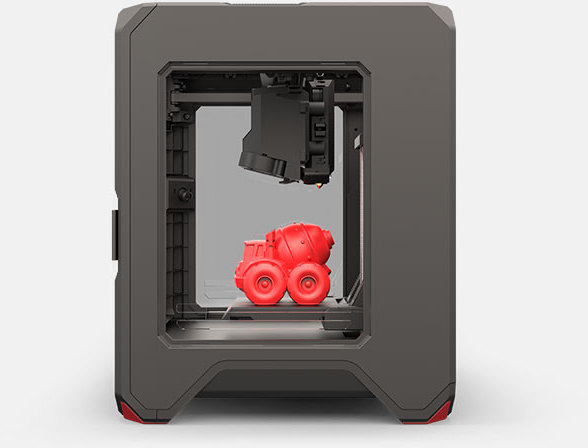 DOWNLOADS
TECHNICAL SPECIFICATIONS
PRINTING
PRINT TECHNOLOGYFUSED DEPOSITION MODELING
BUILD VOLUME10.0 L X 10.0 W X 12.5 H CM
[3.9 L X 3.9 W X 4.9 H IN]

1,250 CUBIC CENTIMETERS
[76 CUBIC INCHES]
LAYER RESOLUTION200 MICRONS
FILAMENT DIAMETER1.75 MM [0.069 IN]
FILAMENT COMPATIBILITYMAKERBOT PLA FILAMENT
SMALL SPOOL
.2 KG [0.5 LB]
NOZZLE DIAMETER0.4 MM [0.015 IN]
PRINT FILE TYPE.MAKERBOT
TEMPERATURE
AMBIENT OPERATING TEMPERATURE15-26°C [60-78°F]
STORAGE TEMPERATURE0-38°C [32-100°F]
SIZE & WEIGHT
PRODUCT DIMENSIONS29.5 L X 31.0 W X 38.1 H
[11.6 L X 12.2 W X 15.0 H IN]
SHIPPING BOX38.7 L X 39.7 W X 52.7 H CM
[15.3 L X 15.6 W X 20.8 H IN]
PRODUCT WEIGHT8 KG [18 LBS]
SHIPPING WEIGHT(INCLUDES ACCESSORY KIT)
10 KG [22 LBS]
MECHANICAL
CONSTRUCTIONPC ABS WITH POWDER-COATED STEEL REINFORCEMENT
BUILD SURFACEINJECTION MOLDED ACRYLIC
STEPPER MOTORS1.8° STEP ANGLE WITH 1/16
MICRO-STEPPING
XY POSITIONING PRECISION11 MICRONS [0.0004 IN]
Z POSITIONING PRECISION2.5 MICRONS [0.0001 IN]
SOFTWARE
SOFTWARE BUNDLEMAKERBOT DESKTOP SOFTWARE
SUPPORTED FILE TYPESSTL, OBJ, THING, MAKERBOT
OPERATING SYSTEMSWINDOWS (7+)
MAC OS X (10.7+)
LINUX (UBUNTU 12.04+, FEDORA 19+)
ELECTRICAL
POWER REQUIREMENTS100–240VAC; 0.75-0.41A;
50–60 HZ; 100W
CONNECTIVITYWI-FI, USB
CAMERA
CAMERA RESOLUTION320 X 240