Ipevo Ziggi VZ-X Wireless/HDMI/USB 8MB Document Camera
Web ID: 24514
VZ-X Wireless, HDMI & USB 8MP Document Camera features three connection modesWi-Fi, HDMI and USBthat let you capture and stream real-time images to your computer, iOS/Android devices, Apple TV, TV, projector or monitor in the setup that best suits your needs. ONLY WHILE STOCKS LAST!
Manufacturer Warranty: 1 Year
Manufacturer PN: VZ-X
GTIN: 4712098410956
Manufacturer Website
Wireless, HDMI and USB connectivity.
VZ-X Wireless, HDMI & USB 8MP Document Camera features three connection modes-Wi-Fi, HDMI and USB-that let you capture and stream real-time images to your computer, iOS/Android devices, Apple TV, TV, projector or monitor in the setup that best suits your needs.
Wireless connection to a computer, iOS/Android devices, or Apple TV.
Engage from anywhere in the room.
Connect VZ-X wirelessly to your computer (Mac/PC), iOS/Android devices (iPad/iPhone/Android Tablet/Android Phone), or Apple TV via Wi-Fi and enjoy the freedom of streaming real-time images from anywhere in the room-all without wires getting in the way! And with a battery life of 9~12 hours, VZ-X will last you through your entire teaching or presentation session.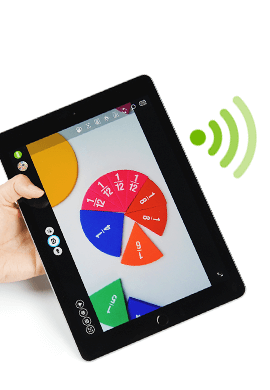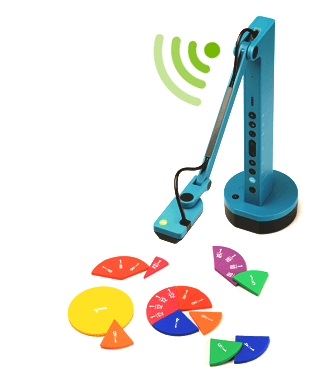 Direct HDMI projection to TV and projector.
No computer required.
Skip the need for a computer and stream real-time images directly to your TV, projector or monitor using an HDMI connection. This helps to cut the clutter and makes large screen projection more straightforward.
Note: VZ-X needs to be powered on when used in HDMI mode. You can plug it into a wall outlet using any of your phone or tablet 5V/2A USB power adapter, or, connect it to a powered USB port of your TV, projector or computer.
Compatible with different software in USB mode.
One document camera, many uses.
Use VZ-X with a computer (Mac/PC/Chromebook) via USB to capitalize on its compatibility with a wide variety of software. You may use it with our IPEVO Visualizer software that features an intuitive UI and borderless window display to present student work, or, create flipped classroom videos with video recording software such as Camtasia or OBS. Additionally, you can even double it up as a webcam for online meetings, video conferencing or remote teaching when used with video conferencing software such as GoToMeeting, Skype or Google Hangouts.
*VZ-X features a built-in microphone that is only functional in USB mode.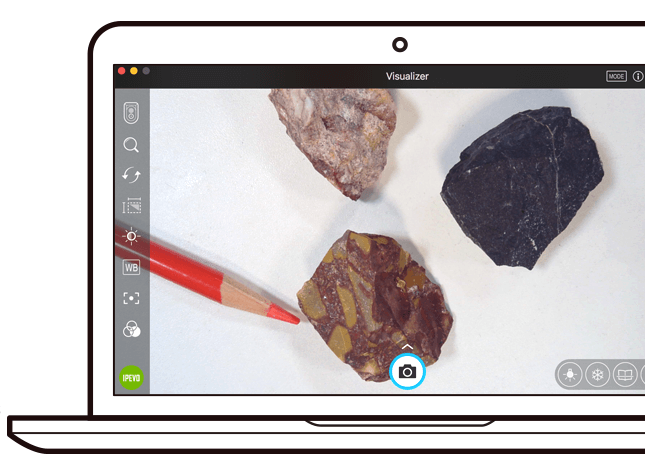 Capture stunning details with 8 MP camera.
Be surprised at what you see.
Place your material under VZ-X, capture details you wish to show to your audience using its 8 MP camera and be surprised at how crisp and clear the images are! A range of high definition resolutions is available for your different needs.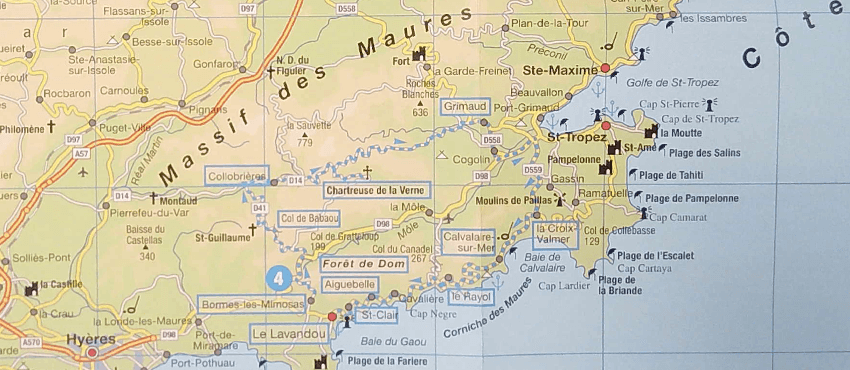 Performance boost with Sony CMOS image sensor and Ambarella SoC.
Fast focus, low noise, excellent color reproduction.
With a Sony CMOS image sensor and a powerful Ambarella integrated system-on-a-chip (SoC), you'll find enhanced performance in areas of focusing speed, noise reduction under low-light conditions and reproduction of colors as compared with previous models of IPEVO doc cams. This allows you to teach or present with lesser disruptions, distortions, and latency even in dimly lit environments.
Stronger with glass fiber reinforced stand.
Enjoy increased durability with VZ-X as we've included GVX-5H – a type of glass fiber reinforced thermoplastic developed by the Swiss company EMS-GRIVORY – in its stand. Having the strength of metal yet lightweight than most, GVX-5H has been widely used to replace metal components in many different applications. With it, VZ-X is less likely to break from heavy daily usage.
Swiveling head and multi-jointed stand.
Capture from different heights, angles and orientations.
With a swiveling head and strengthened multi-jointed stand, you're free to position VZ-X at different heights, angles and various orientations for capturing your material.
Small footprint.
Big impact.
VZ-X's small footprint allows you to do more with a limited amount of space. Its base won't take up too much of your desk, and the unit can be folded together and transported between classrooms, home or office.
Built-in LED light.
Light up when you need it.
VZ-X features a built-in LED light that gives you additional illumination for capturing material in dimly lit environments. It is ideal for use in classrooms or conference rooms that don't have adequate lighting.
Buttons for image adjustments and quick access to software functions.
Adjust the real-time images instantly to better fit your needs using the buttons conveniently located on VZ-X's body. You can turn LED light on, apply video filters, rotate, zoom, adjust exposure or refocus. In addition, the Action Button placed on VZ-X's base even allows you to quickly access Visualizer's functions such as snapshot, video recording, scan document and more!
*The Action Button is only functional in USB or Wi-Fi mode while using with IPEVO Visualizer software.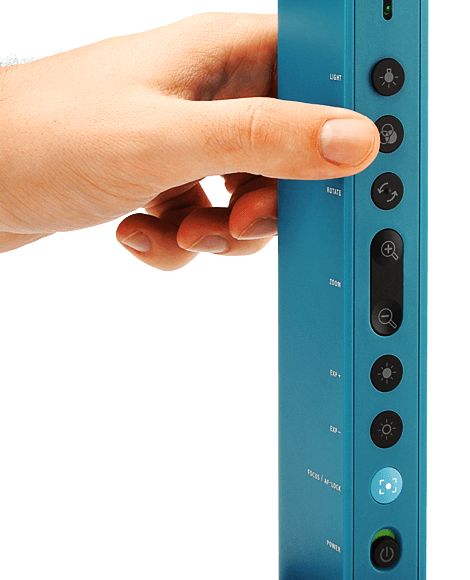 Specifications
8.0 Megapixel camera – up to 3264 x 2448 (USB mode), and up to 1920 x 1080 (HDMI or Wi-Fi mode)
Wi-Fi, HDMI and USB outputs
Full autofocus lens
Up to 30 fps live video streaming at 1920 x 1080
9~12 hours of battery life
Compatible with Mac, PC, Chromebook, Apple TV, iOS and Android devices (iPad & iPhone/Android Tablet & Android Phone)
Max shooting area:
11.14" x 19.72" (283 x 501mm) [16:9]
14.29" x 19.01" (363 x 483mm) [4:3]
D x W x H (when folded):
4.56" x 4.33" x 12.67" (11.6 x 11.0 x 32.2cm)
Weight: 2.58lbs (1.17kg)
USB cable length: 4.9ft (150cm)
Color: Blue
Model name: CDVH-02IP
System Requirements
For Mac:
Minimum Requirements

Intel® Core™ 2 Duo 2.4GHz CPU or higher
OS X 10.10 or higher
2 GB RAM
200MB of free hard disk space
256MB of dedicated video memory (For lag-free live streaming up to 1280 x 720)

Recommended Requirements

Intel® Core™ i5 CPU or higher
OS X 10.10 or higher
2 GB RAM
200MB of free hard disk space
256MB of dedicated video memory (For lag-free live streaming up to 3264 x 2448, and video recording of 1920 x 1080)

For Windows:

Microsoft Windows 7 Service Pack 1 or higher
Intel® Core™ i3 CPU 530 @ 2.93GHz or higher
4 GB RAM
200MB of free hard disk space
256MB of dedicated video memory
Works on
PC
Mac
Chromebook (USB mode only)
iPad/iPhone (Wi-Fi mode only)
Android Tablet/Android Phone (Wi-Fi mode only)
Apple TV (Wi-Fi mode only)