IPevo Ziggi HD Plus USB Document Camera NEW 8MP
Web ID: 16393
8.0 Megapixel 3264x2448 Resolution, 13.46" x 10.04" (342 x 255mm) Max shooting area, Built-in Microphone, 12x Digital Zoom, Up to 3.94" (10cm) Macro Focus, Video Recording, Anti-glare shield, Multi-jointed stand
Manufacturer PN: Ziggi HD Plus
GTIN: 4712098410369
Warranty: 1 Year
Manufacturer Website

With its rich range of practical, easy-to-use features, Ziggi-HD Plus from IPEVO is the premier document camera for education and business. Thanks to its powerful 8.0 Megapixel camera and an up to 12x continuous digital zoom (with the IPEVO Presenter software), Ziggi-HD Plus has the versatility to capture most any material for presentations and teaching sessions. Ziggi-HD Plus is hands-down the most affordable camera with its specifications, costing hundreds less than conventional document cameras.
Present and explore even the smallest details in HD clarity
Ziggi-HD Plus's 8.0 Megapixel camera delivers a resolution up to 3264 x 2448 pixels when used with Mac or PC. This remarkable resolution lets you easily capture fine print, delicate artwork details, natural objects, iPad and other devices with screens, and so much more. Take advantage of an up to 12x continuous digital zoom to get even closer without having to adjust the swing-arm or reposition the subject. Even after zooming, images will still retain their gorgeous HD clarity.
Lag-free streaming even at full HD and above
Ziggi-HD Plus improves on its predecessors with an enhanced Integrated Circuit (IC) chip. You will no longer have to compromise between a high resolution and a high frame rate – Ziggi-HD Plus delivers both. Stream at up to 30fps at full HD without any frustrating choppiness. Even at the highest resolution of 3264 x 2448, Ziggi-HD Plus still streams at up to 15fps.* Silky-smooth live streaming with stunning clarity is now a reality.
*Note: Streaming tests using Ziggi-HD Plus's 3264 x 2448 resolution were conducted on a PC running on an Intel® Core™ i3 CPU 530 @ 2.93GHz with Windows 7, as well as a Mac running on an Intel® Core™ i5 CPU with OS X 10.10. The overall quality of live streaming is dependent on the processing speed of your computer. If you experience latency with live streaming, please reduce the resolution.
Low frame rate (other doc cam) – Choppy live streaming at 1920 x 1080 resolution
High frame rate (Ziggi-HD Plus) – Silky-smooth live streaming at 1920 x 1080 resolution
Better performance and less noise
in low-light situations
Using a Sony CMOS sensor, Ziggi-HD Plus features high-performance noise reduction under low lighting conditions. This is ideal for times when the lights need to be dimmed for presentations. And no matter the lighting conditions, Ziggi-HD Plus has the power and the automated convenience to deliver the best image time and again without hassles and without trial and error.
Exceptional, well-balanced color reproduction
for a superior viewing experience
The Sony CMOS sensor we mentioned is capable of excellent reproduction of true colors. Its precise control of auto-exposure and white balance provides a much more accurate representation of what's actually in front of the user. And with IPEVO Presenter software, white balance is fully adjustable, giving you even more ways to precisely control your image. It all adds up to a more enticing and more engaging visual presentation for teachers and students alike.
Slow focusing speed of other doc cam
Fast focusing speed of Ziggi-HD Pluseven at highest resolution of 8 Megapixels
Faster focus to match the speed of your presentation
With an increase in frames per second comes an increase in focus speed. Even at high resolutions, Ziggi-HD Plus will determine the correct focus quickly for a crisp, clear, readable image. This is especially handy when you're switching between different materials. Never worry about focus; Ziggi-HD Plus has you covered.
A wider field of view captures even more
Ziggi-HD Plus boasts a wide field of view that allows you to capture a larger area. Large-format artwork, full textbooks, and much more can all be captured in a single view rather than piecemeal. Ziggi-HD Plus features a maximum shooting area of 13.46" x 10.04" (standalone) and 19.37" x 14.37" (with the Height Extension Stand, sold separately). Versus previous generations of Ziggi, you'll have even more room to maneuver and present your documents comfortably.
Zoom in and share it on the big screen for everyone to see
You'll be amazed at just how close you can get with Ziggi-HD Plus's robust zoom feature. If you connect Ziggi-HD Plus to a 19" screen at 1280 x 1024 resolution, your object will be displayed 3x larger. And on a 70" screen running 1024 x 768, the object will be displayed at an amazing 5x its original size. Plus, with IPEVO Presenter software's maximum 12x continuous digital zoom, you can display an object 40x larger than actual size on a 1280 x 1024 19" screen! And if you're using a 1024 x 768 70" screen with a projector, the object can be displayed 57x larger. Because Ziggi-HD Plus features a powerful 8 Megapixel camera, digital zooms will never be muddy, pixilated or unclear. From kindergarten to high school science class, there's virtually no limit to the details you can share for everyone to see.
Straightforward, intutive operation
Signature IPEVO design: Ziggi-HD Plus features IPEVO's iconic multi-jointed swing-arm and swiveling head for easy and intuitive capture. Regardless of the orientation or location of your subject, getting just the right framing is always quick and straightforward. Adjust the camera by hand to most any height and angle for limitless capture options.
Automatic and manual image customizations: Whether you need "set it and forget it" convenience or precise manual adjustments, Ziggi-HD Plus is ready to customize many different aspects of your image. This includes exposure level thanks to the Exposure Toggle. Lower or increase exposure to avoid washed-out or dull images. Two different autofocus modes are also right at your fingertips. Select AF-Single or AF-Continuous modes for static or moving subjects, respectively. And there's always the Focus button if you need to quickly refocus on the fly.
Magnifying Lens
Bring the tiniest details to life
Magnify tiny details which can't easily be seen by the naked eye and stream them for everyone to see. Get as close as 0.77 inches (2cm) to the subject, and enjoy a further 2x magnification of the subject. A built-in LED light illuminates your subject even when it's completely covered by the camera. The Magnifying Lens is a must for science classes, and different disciplines have found all kinds of uses for this handy and inexpensive accessory.
Provides the crucial extra height for Ziggi-HD Plus to capture an entire A3/ tabloid-sized document (11" x 17"). Now you won't be limited by the height of the swing-arm, and the 8.0 Megapixel camera will make sure that your larger capture is still crystal-clear.
Get the most out of your Ziggi-HD Plus experience with IPEVO Presenter for PC/Mac
Ziggi-HD Plus's high-resolution 8 Megapixel camera can achieve up to an astonishing 3264 x 2448 pixels when directly connected to PC or Mac. And the free IPEVO Presenter software provides a rich suite of tools and customizations to maximize your document camera usage. Practical tools include Live View, which delivers immediate real-time video of what you're capturing, and Full Screen, which fills the entire screen for lessons and presentations. And there's much more: an up to 12x continuous digital zoom; 360-degree rotation; custom and automatic exposure control; multiple resolutions; the ability to record video; multiple doc camera support; and continuous and one-click focus. There's even a Review mode for managing your snapshots and videos.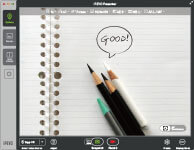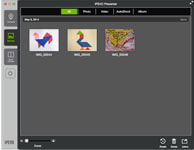 Updates to IPEVO's Presenter software:
Split Screen Mode

The latest version of IPEVO Presenter features a split screen mode which allows you to stream two document cameras simultaneously. Multiply your presentation options by comparing documents, performing "before and after" evaluations, or presenting two different types of teaching material at the same time. Download the latest version of IPEVO Presenter HERE.

Note: Do not use a USB hub for this purpose. You'll need to plug the two document cameras into the USB ports on your computer.

White Balance Adjustment

IPEVO Presenter offers full white balance adjustment when used with Ziggi-HD Plus. Adjust and lock the white balance with a simple selector to remove unrealistic color casts and to make images look more natural under a wide range of different lighting environments. By locking both the white balance and exposure levels, you'll enjoy consistent image quality across your entire session of live streaming. Consistent image quality is also essential if you plan on recording stop-motion or time-lapse videos.

Up to 12x Continuous digital zoom

Ziggi-HD Plus comes complete with more zooming options so you'll need to physically adjust the camera even less. Keep your document camera in one convenient position and still capture everything you need to present. Use a 12-point zoom slider to find just the right image size. Whichever size you choose, Ziggi-HD Plus's powerful 8.0 Megapixel camera will keep things looking clear and beautiful. You can even drag a Zoom Box around the IPEVO Presenter's live view with your mouse to dynamically change your zoom area. IPEVO Presenter's time-saving zoom functions have never been better or more practical.
Chrome and Chromebook Support
Ziggi-HD Plus and IPEVO Presenter are now compatible with Chromebooks and the Google Chrome browser (PC and Mac) through theChrome IPEVO Presenter app. Most of the Presenter's functions and tools are available in this streamlined Chrome version, so you'll still have plenty of presentation options and capture power. If you use a Chromebook at your school or business, take advantage of this special version of Presenter. As with the PC and Mac version, IPEVO Presenter for Chrome is always free to download and use.
Features at a Glance
An 8.0 Megapixel camera captures documents, artwork, textbooks, 3D objects, and devices with screens with astonishing high-definition clarity
A variety of high definition and standard definition resolutions up to 3264 x 2448 pixels
Enjoy smooth, lag-free live streaming at up to 30 fps (at full HD) and up to 15 fps (at 3264 x 2448 pixels)
Excellent performance under low-light conditions with low visual noise
Faster focus; handy for frequent switching between captured subjects
12x continuous digital zoom to capture small text and other fine details
Multi-jointed stand and swiveling head for effortless, versatile capture
On-the-fly adjustments of exposure; Single or Continuous mode focus and one-touch refocusing
Built-in microphone for web conferencing, podcasting and demonstrations
Comes with free IPEVO Presenter software with a wide range of useful tools and customizations to maximize your capture
Speci?cations
8.0 Megapixel camera
High-definition resolutions up to 3264 x 2448
Full autofocus lens
12x continuous digital zoom
Up to 30 fps live video capture (at full HD)
USB 2.0 Video Class (UVC) interface
Mac, Windows PC & Chromebook compatible
Max shooting area: 13.46" x 10.04" (342 x 255mm)
Max shooting area with Height Extension Stand: 19.37" x 14.37" (492 x 365mm)
LxWxH (when folded): 10" x 3.1" x 1.5" (255 x 80 x 40mm)
USB cable length: 4.8ft (146cm)
Color: Gray
Model name: CDVU-06IP
System Requirements
For Mac:
Minimum Requirements
Intel® Core™ 2 Duo 2.4GHz CPU or higher
OS X 10.8 or higher
2 GB RAM
200MB of free hard disk space
256MB of dedicated video memory
(For lag-free live streaming up to 1280 x 720)
Recommended Requirements
Intel® Core™ i5 CPU or higher
OS X 10.10
2 GB RAM
200MB of free hard disk space
256MB of dedicated video memory
(For lag-free live streaming up to 3264 x 2448, and video recording of 1920 x 1080 and above)
For Windows:
Microsoft Windows Vista, 7, 8, 8.1, 10
Intel® Core™ i3 CPU 530 @ 2.93GHz or higher
4 GB RAM
200MB of free hard disk space
256MB of dedicated video memory
Works on
Package Contents
IPEVO Ziggi-HD Plus USB Document Camera
Anti-Glare Shield
Quick Start Guide