Ipevo iZiggi HD Wireless Document Camera
Web ID: 12671
iZiggi-HD the document camera designed for iPad is the next evolution in affordable doc cam technology from IPEVO. Traditional doc cams often need to be connected to a computer via USB. But with the exciting rise of tablet computing in more and more classrooms, it's time to harness the full educational potential of the iPad, PC or Mac ONLY WHILE STOCKS LAST!
Manufacturer PN: IZIGGI-HD
GTIN: 4712098417993
Warranty: 1 Year
Manufacturer Website

iZiggi-HD – the document camera designed for iPad – is the next evolution in affordable doc cam technology from IPEVO. Traditional doc cams often need to be connected to a computer via USB. But with the exciting rise of tablet computing in more and more classrooms, it's time to harness the full educational potential of iPad. iZiggi-HD connects wirelessly to iPad and skips the computer to stream live, high-resolution images of documents, textbooks, handwritten notes, pictures, devices and 3D objects for teaching and presenting. So whether you're in the classroom, in the office, or anywhere else, iZiggi-HD is the best way to share material with iPad.
Experience iPad and Your Doc Cam in a Whole New Way
The live image from iZiggi-HD can be quickly and easily displayed on iPad using your existing WiFi connection. With wireless freedom, the educational options become limitless. Feel free to walk amongst your students to achieve the interactive learning and close, one-on-one collaborations that wouldn't be possible when you're restricted to a wired computer connection.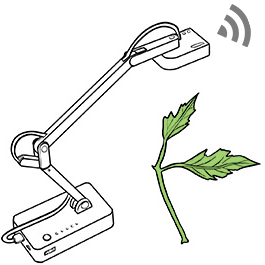 Plus, you can also draw and annotate on the live image using iPad's touchscreen, transforming iPad into an interactive whiteboard when iPad is connected to a projection screen. All in the palm of your hand!
Capture and Present Anywhere, Including Your Students' Desks
With iZiggi-HD's wireless capability, your teaching horizons expand considerably. Instead of keeping the doc cam on the teacher's desk, you and your students can use it anywhere. Bring the camera to your students instead of the other way around for a one-on-one session or to capture their large or fragile work (as in art class). Or, bring the doc cam to a non-moveable object that would be impossible to capture otherwise. You can even take iZiggi-HD outside for a special field trip. None of these would be possible with a traditional, permanently-stationed doc cam. You never know where the next interaction could take place while iZiggi-HD sends a live image to your iPad. iZiggi-HD can also wirelessly connect to PC or Mac, giving you all these wireless benefits for computer use as well.
Connect iPad to Apple TV to Create a Portable Interactive Whiteboard
With the help of Apple TV Airplay, your image feed and IPEVO Whiteboard changes can be projected onto the big screen, turning iPad into a portable interactive whiteboard without a wired connection to get in your way. Teachers aren't stuck at the front of the classroom, and are free to roam the classroom and engage with students. And on the other hand, students don't need to approach the board to interact with the lesson. They can simply draw and annotate on iPad without leaving their seat, and their work is reflected on the big screen for everyone to see. Interactions are fluid, immediate, and more impactful than ever.
Take Advantage of High-Resolution Wireless Video Streaming on iPad, PC or Mac
iZiggi-HD supports a variety of resolutions when connected via Wi-Fi for video streaming. These include 640x480, 800x600, 1024x768, 1280x720 (720p HD), and even 1600x1200. And if 1600x1200 isn't quite large enough to view all the details, you can also pinch-zoom on your iPad to get an even closer look.
A Perfect Tool for Seniors and the Visually Impaired
For the elderly or those with vision impairments, it's a pain to read newspapers, magazines, or even greeting cards and bills with small font. But with the wireless iZiggi-HD, you can place the document camera alongside the reading material and read the text through iPad. Enjoy the easy pinch-zoom and drag features on iPad to achieve a bigger, clearer view of small text. iZiggi-HD and iPad deliver better accessibility options, whether it's for visual impairments or simply to spare tired eyes.
Effortless, Intuitive Capture with a Multi-Jointed Swing-Arm and Swiveling Head
iZiggi-HD continues a signature IPEVO doc cam feature: simple, limitless capture options with a multi-jointed swing-arm. Thanks to three articulating joints, you can position the camera at most any height and angle – all by hand and without screws or knobs. Plus, iZiggi-HD's swiveling head means getting the proper orientation for readable text is just as simple to achieve. It's never difficult to obtain exactly the right image with iZiggi-HD.
Exposure Toggle, Autofocus, Built-in Battery and Other Handy Features
iZiggi-HD is smart enough to capture high-quality images on its own, but sometimes you need to customize your capture. The camera body features an exposure toggle and an autofocus switch so you can tweak your real-time capture with a few button presses. Switch between Continuous focus – a "set it and forget it" mode where the camera keeps setting the best focus – and Single focus, which is best for static subjects, such as text on a sheet of paper. Another essential feature is iZiggi-HD's built-in battery, which will keep your wireless presentation powered.
Dual USB Ports
–

Access Files from a Connected USB Storage Device

iZiggi-HD features two USB ports – one for iZiggi-HD's camera (so it can connect wirelessly to your device), and another for any USB storage device. Take advantage of both ports to share access to files on your storage device with your iPad while you're simultaneously viewing the real-time image from the camera. A connected storage device is ideal for saving snapshots from the camera or even annotations you've created with IPEVO Whiteboard.
Keep Connected to the Internet With Your Existing WiFi Network
Because your iPad, PC or Mac connects to iZiggi-HD via WiFi, you are disconnected from the Internet when using iZiggi-HD. However, iZiggi-HD can connect to your WiFi network and thus link your device to the Internet. In just a couple of straightforward steps, you can keep your device connected to the Internet when it's linked to iZiggi-HD.
Add Proper Emphasis to Lessons with IPEVO Whiteboard for iPad
Designed with educators in mind, the free IPEVO Whiteboard app for iPad allows you to draw and add text directly onto iZiggi-HD's real-time image stream. An easy-to-use touchscreen toolkit gives you the power to add emphasis, highlight important text passages, and add text boxes to clarify teaching material. In addition to live images, Whiteboard can also use blank whiteboards, iPad's real-time camera image, or a Photo Library image. These annotated "boards" can be swapped between as well as saved for future reference.
Record Live Video Complete with Annotation and Audio
When it comes to recording e-learning videos, blogs and tutorials involving objects on the table, your options are limited – that is, without iZiggi-HD. The IPEVO Whiteboard app can record iZiggi-HD's live video stream as well as voiceover/audio and any annotation you create. The video file is then saved to your iPad's Photo Library. It's easy, it's integrated, and it's the best way to demonstrate 3D objects which cannot be drawn or marked upon. Don't settle for unsteady handheld camera phone video which requires additional editing to add annotation or voiceover. And don't settle for cameras and stands which can't capture at a downward angle. iZiggi-HD has everything you need to record videos in one package.
A Wired Connection to PC or Mac is Available, Too
For times when a WiFi connection isn't available or feasible, you always have the option to connect iZiggi-HD's camera directly to PC or Mac via any standard USB port and the included extension cable. iZiggi-HD works just like our popular Ziggi-HD when connected to a computer. You'll enjoy the same image customizations, snapshot management, Full Screen mode, and other IPEVO Presenter features available with our original doc cam.
Maximize Your Capture with IPEVO Presenter for PC/Mac
iZiggi-HD's high-resolution 5 Megapixel camera can achieve up to an amazing 2592 x 1944 pixels when directly connected to PC or Mac. And included IPEVO Presenter software provides useful tools and customizations to get the most out of your IPEVO doc cam experience. Practical tools include Live View, which delivers immediate real-time video of what you're capturing, and Full Screen mode, which fills the entire screen for lessons and presentations. Also included is Review mode to take and manage snapshots of whatever you're capturing. Snapshots can be taken instantly, or with a 3- to 10-second countdown timer. Plus, you can take advantage of mirror mode and an up to 6x digital zoom to get even closer to your subject, bringing tiny details to life for your students.
True 5.0-megapixel CMOS sensor
Resolutions: Up to 1600 x 1200 wirelessly on iPad, PC or Mac and up to 2592 x 1944 directly connected to PC or Mac
Full autofocus lens
Up to 2.2" (5.5cm) macro focus
Up to 30 fps live video capture (at 640 x 480)
USB 2.0 Video Class (UVC) interface
iPad, Mac & Windows PC compatible
Max shooting area: 12.4" x 9.1" (315 x 230mm)
LxWxH (when folded): 9.3" x 2.2" x 2.5" (237 x 55 x 63mm)
Weight: 1.25 lbs (566g)
USB extension cable length: 3.9ft (120cm)
Standard Compliance: 802.11 b/g/n (Up to 300Mbps)
Ports: USB 2.0 x2, RJ-45 x1
Inputs: DC 5V 2A