Gigabyte S1151 ATX Z270X-Gaming 5 DDR4 Motherboard
Web ID: 20128
Intel Z270 Chipset, Socket 1151, 4 x DDR4 Dual Channel Memory, 3 x PCIe 3.0 x16 (x8/x8, x8/x8/x4), 3 x PCIe 3.0 x1, 2 x M.2 (SATA/PCIe) Slots, 6 x SATA 6Gb/s, RAID 0, 1, 5, 10, Dual Gigabit LAN, Displayport, HDMI, 1 x USB 3.1 Type-C, 1 x USB 3.1 Type-A, 8 x USB 3.0 (4 via Back panel, 4 via Internal Header), 6 x USB 2.0 (2 via back panel, 4 via internal header), 7.1 Channel High Definition Audio with Optical Out, ATX Form Factor ONLY WHILE STOCKS LAST!
Manufacturer PN: Z270X-Gaming 5
GTIN: 889523007594
Warranty: 3 Year
Manufacturer Website
AORUS' 200 series motherboards boast the most advanced LED system in the market today. With more customizability than ever and a convenient and intuitive UI thanks to the RGB Fusion App, you'll have a blast making your AORUS your own. LED enthusiasts now have even more options with the ability to customize multiple zones independently. For a more functional use, the bright and vibrant LEDs can be configured to display the PC's temperature or load. For even more LED goodness RGBW strips are now supported for more true and vibrant whites.
Multi-Zone Light Show Design
• 16.8M RGB Colors
• 2 Programmable Sections
• 7 Different Lighting Effects
• 1 RGBW Light Strip Pin Header
• Accent LED with Interchangeable Overlay
• Advanced Mode for Extreme Customizability
Lighting zone, programmable sections, wave mode may vary by model.
Surround Lighting
Now offering more LED customizations than ever, users can truly adapt their PC to represent their lifestyle. With full RGB support and a redesigned RGB Fusion application, the user has complete control over the LEDs which surround the motherboard.
Swappable Overlay for Accent LED
AORUS brings even more color and life to your system with an Accent LED Overlay. This overlay complements the RGB Fusion technology in AORUS Motherboards adding more flare and style to your gaming machine. With the swappable overlay users can utilize different patterns and designs to make their system their own.
The photos are for reference only.
Supports RGBW Light Strips
Independently Programmable Onboard Pin Header for RGBW LED Strips
Not bright enough? You can install standard 12V external RGB or RGBW light strips on the RGBW pin header and control its color from the RGB Fusion software. With RGBW light strips that have a dedicated white color LED, you can have brighter and more vibrant colors.

No need to worry when choosing light strips as the AORUS motherboards support a wide variety of RGBW light strips on the market thanks to the RGB Fusion software that allows users to redefine the pin location for the R/G/B Signal.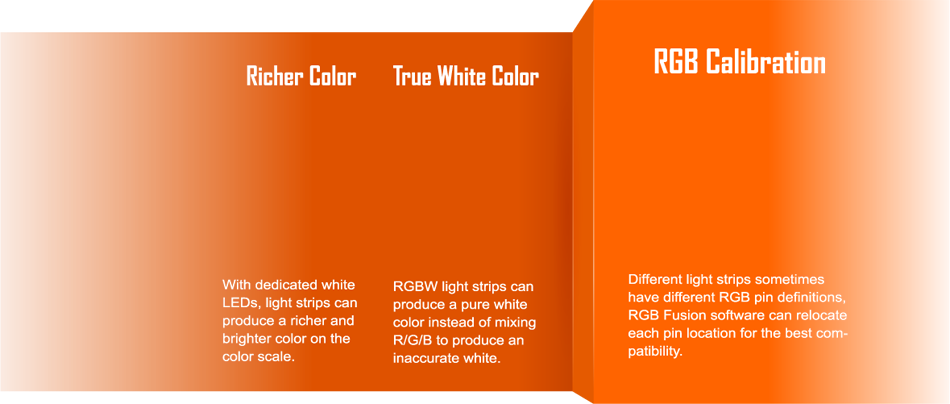 RGB Fusion
(Advanced mode)
With the all new RGB Fusion software, users have access to different preset LED lighting configurations with choice of colors. You can even set the LEDs to synchronize with your favorite music or have them change colors to indicate the CPU temperature.

For true lighting experts there is an Advanced Mode, which can be fully customized by individual area with its own effects and color transitions, along with specific duration and transition times.

Once done, it's simple to save and share your lighting profile with others.

---
Smart Fan 5
With Smart Fan 5 users can ensure that their gaming PC can maintain its performance while staying cool. Smart Fan 5 allows users to interchange their fan headers to reflect different thermal sensors at different locations on the motherboard. Not only that, with Smart Fan 5 more hybrid fan headers that support both PWM and Voltage mode fans have been introduced to make the motherboard more liquid cooling friendly.
---
All Hybrid Fan Pin Headers
• All Hybrid Fan Headers can automatically detect the type of cooling device whether it be fan or pump with different PWM or Voltage mode.
• Supports up to 2 amps with built-in overcurrent protection—a must for high-end high current fans.
---
New Smart Fan 5 Software
Interoperable Sensors and Fans
Each fan can be customized to operate at different speeds according to any defined temperature source input (except the CPU fan).
Fan Curve
Customize fan curves based on specific temperatures with the intuitive graphical UI.
Choose from different modes, Quiet to Full Speed, to match your system usage scenario. For each fan or pump, you can use the intuitive fan curve to define trigger thresholds and corresponding fan speeds.
Enhanced BIOS Interface
The enhanced BIOS interface also has the advanced features seen in the Smart Fan 5 UI, such as: the ability to set triggers based on different temperature sensors on the board, fan curve definition and the temperature interval setting, which can prevent fan rotation noise caused by sudden temperature change—all without having to load Windows.
---
ALC 1220 120dB SNR HD Audio
The ALC1220 is a high-performance multi-channel High Definition Audio Codec with up to 120dB SNR for crystal clear audio and features such as Smart Headphone Amp, 108dB SNR recording for precise voice chats and hardware decoding of DSD128, ensuring users get the best possible audio quality from their PC.
Smart Headphone Amp
Automatically detects impedance of your head-worn audio device, whether earbuds or high-end headphones to provide optimal audio dynamics—preventing issues such as low volume and distortion.
CPU

Support for 7th and 6th generation Intel® Core™ i7 processors/ Intel® Core™ i5 processors/Intel® Core™ i3 processors/ Intel® Pentium® processors/Intel® Celeron® processors in the LGA1151 package
L3 cache varies with CPU

(Please refer "CPU Support List" for more information.)
Chipset

Intel® Z270 Express Chipset

Memory

4 x DDR4 DIMM sockets supporting up to 64 GB of system memory
* Due to a Windows 32-bit operating system limitation, when more than 4 GB of physical memory is installed, the actual memory size displayed will be less than the size of the physical memory installed.
Dual channel memory architecture
Support for DDR4 4000(O.C.) / 3866(O.C.) / 3800(O.C.) / 3733(O.C.) / 3666(O.C.) / 3600(O.C.) / 3466(O.C.) / 3400(O.C.) / 3333(O.C.) / 3300(O.C.) / 3200(O.C.) / 3000(O.C.) / 2800(O.C.) / 2666(O.C.) / 2400(O.C.) / 2133 MHz memory modules
Support for ECC UDIMM 1Rx8/2Rx8 memory modules (operate in non-ECC mode)
Support for non-ECC UDIMM 1Rx8/2Rx8/1Rx16 memory modules
Support for Extreme Memory Profile (XMP) memory modules

(Please refer "Memory Support List" for more information.)
Onboard Graphics
Integrated Graphics Processor-Intel® HD Graphics support:

1 x DisplayPort, supporting a maximum resolution of 4096x2304@60 Hz
* Support for DisplayPort 1.2 version.
1 x HDMI port, supporting a maximum resolution of 4096x2160@24 Hz
* Support for HDMI 1.4 version.

Maximum shared memory of 1 GB
Audio

Realtek® ALC1220 codec
Support for Sound Blaster X-Fi MB5
TI NE5532 operational amplifier
High Definition Audio
2/4/5.1/7.1-channel
Support for S/PDIF Out

LAN

1 x Intel® GbE LAN chip (10/100/1000 Mbit)(LAN1)
1 x Killer™ E2500 LAN chip (10/100/1000 Mbit) (LAN2)
* Teaming is not supported.

Expansion Slots

1 x PCI Express x16 slot, running at x16 (PCIEX16)
* For optimum performance, if only one PCI Express graphics card is to be installed, be sure to install it in the PCIEX16 slot.
1 x PCI Express x16 slot, running at x8 (PCIEX8)
* The PCIEX8 slot shares bandwidth with the PCIEX16 slot. When the PCIEX8 slot is populated, the PCIEX16 slot operates at up to x8 mode.
1 x PCI Express x16 slot, running at x4 (PCIEX4)
* The PCIEX4 slot shares bandwidth with the M2P_32G connector. The PCIEX4 slot operates at up to x2 mode when an SSD is installed in the M2P_32G connector.
3 x PCI Express x1 slots
* The PCIEX1_3 slot shares bandwidth with the SATA3 1 connector. The SATA3 1 connector becomes unavailable when the PCIEX1_3 is populated.
(All of the PCI Express slots conform to PCI Express 3.0 standard.)

Multi-Graphics Technology

Support for NVIDIA® Quad-GPU SLI™ and 2-Way NVIDIA® SLI™ technologies
Support for AMD Quad-GPU CrossFireX™ and 3-Way/2-Way AMD CrossFire™ technologies

Storage Interface
Chipset:

1 x M.2 connector (Socket 3, M key, type 2242/2260/2280/22110 SATA and PCIe x4/x2 SSD support) (M2M_32G)
1 x M.2 connector (Socket 3, M key, type 2242/2260/2280 SATA and PCIe x4/x2 SSD support) (M2P_32G)
1 x U.2 connector
3 x SATA Express connectors
6 x SATA 6Gb/s connectors
Support for RAID 0, RAID 1, RAID 5, and RAID 10
* Refer to "1-10 Internal Connectors," for the installation notices for the PCIEX4, M.2, and SATA connectors.

USB
Chipset+ASMedia® ASM2142 USB 3.1 Gen 2 Controller:

1 x USB Type-C™ port on the back panel, with USB 3.1 Gen 2 support
1 x USB 3.1 Gen 2 Type-A port (red) on the back panel

Chipset:

8 x USB 3.1 Gen 1 ports (4 ports on the back panel, 4 ports available through the internal USB headers)
6 x USB 2.0/1.1 ports (2 ports on the back panel, 4 ports available through the internal USB headers)

Internal I/O Connectors

1 x 24-pin ATX main power connector
1 x 8-pin ATX 12V power connector
1 x U.2 connector
2 x M.2 Socket 3 connectors
3 x SATA Express connectors
6 x SATA 6Gb/s connectors
1 x CPU fan header
1 x water cooling CPU fan header
2 x system fan headers
1 x system fan/water cooling pump header
1 x front panel header
1 x front panel audio header
1 x S/PDIF Out header
2 x USB 3.1 Gen 1 headers
2 x USB 2.0/1.1 headers
1 x Trusted Platform Module (TPM) header
1 x RGB (RGBW) LED strip extension cable header
1 x Thunderbolt™ add-in card connector
1 x Clear CMOS jumper??
1 x ECO button
1 x OC button
1 x audio gain control switch

Back Panel Connectors

1 x PS/2 keyboard/mouse port
1 x DisplayPort
1 x HDMI port
1 x USB Type-C™ port, with USB 3.1 Gen 2 support
1 x USB 3.1 Gen 2 Type-A port (red)
4 x USB 3.1 Gen 1 ports
2 x USB 2.0/1.1 ports
2 x RJ-45 ports
1 x optical S/PDIF Out connector
5 x audio jacks (Center/Subwoofer Speaker Out, Rear Speaker Out, Line In, Line Out, Mic In)

I/O Controller

iTE® I/O Controller Chip

H/W Monitoring

Voltage detection
Temperature detection
Fan speed detection
Overheating warning
Fan fail warning
Fan speed control
* Whether the fan speed control function is supported will depend on the cooler you install.

BIOS

2 x 128 Mbit flash
Use of licensed AMI UEFI BIOS
Support for DualBIOS™
PnP 1.0a, DMI 2.7, WfM 2.0, SM BIOS 2.7, ACPI 5.0

Unique Features

Support for APP Center
* Available applications in APP Center may vary by motherboard model. Supported functions of each application may also vary depending on motherboard specifications.
3D OSD
@BIOS
AutoGreen
BIOS Setup
Color Temperature
Cloud Station
EasyTune
Easy RAID
Fast Boot
Game Boost
ON/OFF Charge
Platform Power Management
RGB Fusion
Smart Backup
Smart Keyboard
Smart TimeLock
System Information Viewer
USB Blocker
USB DAC-UP 2
V-Tuner
Support for 3TB+ Unlock
Support for Q-Flash
Support for Xpress Install

Bundle Software

Norton® Internet Security (OEM version)
Intel® Smart Response Technology

Operating System

Support for Windows 10/8.1 64-bit
Support for Windows 7 32-bit/64-bit
* Operating systems supported may vary depending on your processor model.
* Please download the "Windows USB Installation Tool" from GIGABYTE's website and install it before installing Windows 7.

Form Factor

ATX Form Factor; 30.5cm x 24.4cm

Box Contents

GA-Z270X-Gaming 5 motherboard
Four SATA cables
Motherboard driver disk
I/O Shield
User's Manual
One G Connector
Quick Installation Guide
One RGB (RGBW) LED strip extension cable

Remark

Due to different Linux support condition provided by chipset vendors, please download Linux driver from chipset vendors' website or 3rd party website.
Most hardware/software vendors may no longer offer drivers to support Win9X/ME/2000/XP. If drivers are available from the vendors, we will update them on the GIGABYTE website.