D-Link DWR-956 4G LTE Wi-Fi AC1200 Router
Web ID: 26882
Share your 3G/ 4G connection with built-in standard-size SIM Card Slot, Simultaneous Dual-Band: Deliver faster Wi-Fi speeds of up to 1,200Mbps, LTE Bands: 1 / 3 / 7 / 8 / 20 / 28 (2100/ 1800/ 2600/ 900/ 800/ 700 MHz), UMTS / HSDPA / HSUPA Bands: 1 / 8 (2100/ 900 MHz), GSM/ GPRS/ EDGE: 3 / 8 (1800/ 900 MHz), Gigabit Ethernet: Provides fast wired connectivity with one dedicated Gigabit WAN for NBN/ UFB connectivity and 4 Gigabit LAN ports, VoIP Enabled: Connect your phone to make VoIP calls ONLY WHILE STOCKS LAST!
Manufacturer Warranty: 1 Year
Manufacturer PN: DWR-956
GTIN: 790069447181
Manufacturer Website
Stay connected. Even when your internet goes down.
The DWR-956 Wireless AC1200 4G LTE Multi-WAN Router allows you to seamlessly switch to a 4G LTE mobile internet backup network when your broadband internet goes down, with download speeds of up to 150Mbps1, so you can keep using the Internet without interruptions.
Wi-Fi Speed
Speeds of up to 1200Mbps with AC Wave 2 - 300Mbps (2.4GHZ) + 900 Mbps (5GHz). Enough bandwidth for internet surfing, video chats, streaming, and social media.
4GX and 4G Plus
Supports Telstra 4GX and Optus 4G Plus Networks
Compatible
Like having two Wi-Fi networks, connect more devices with less congestion.
Failover Mode
Connectivity for wired devices such as media centres, network storage, and games consoles.
VoIP
Connect your phone to the back of the DWR-956 to make VoIP calls over the Internet.
Voice Over IP
The DWR-956 provides Voice over IP technology with advanced communication features, and is compatible with Telstra 4GX and Optus 4G Plus Networks, so you can make and receive calls reliably. Use the FXS phone port on the DWR-956 to connect an ordinary phone set for your VoIP phone calls, and use the Router functions to connect all of your family members or personnel to the Internet for a fast online experience throughout your home or office.
A connection that stays with you.
Share a 4G LTE mobile broadband with multiple devices like smart TVs, games consoles, phones, tablets, and smart home devices with a strong Wi-Fi signal of up to 1200Mbps1 and 4 Gigabit Ports for wired connections. Simply insert your SIM card, and share your 4G LTE wireless network with your devices.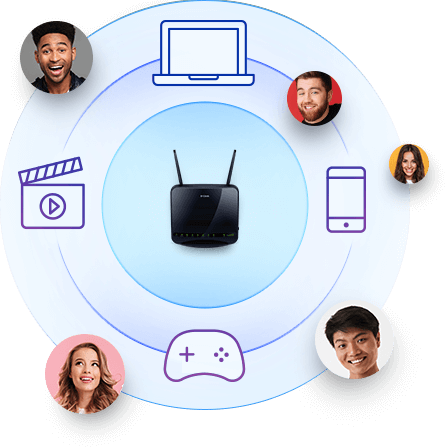 Failover mode
We've designed this router with a constant Internet connection in mind. You can create failover connectivity if either your fixed line or mobile broadband fails.
Simply connect your main broadband to the WAN Port and follow the setup instructions. The Router will instantly switch to the backup mobile Internet when you need it most, allowing you to stay connected and enjoy the Internet without interruptions so you can maintain your productivity.
Superb speeds
Connect to your 4G LTE mobile connection with throughput speeds of up to 150Mbps1, giving you the speed you need for fast, responsive Internet access.
Using the latest Wireless AC technology, which can provide combined transfer rates of up to 1200Mbps1, the DWR-956 operates on the 2.4GHz and 5GHz wireless bands at the same time using concurrent dual-band technology.
More bandwidth intensive devices such as TV & Audio.
Less bandwith intensive devices such as Smart appliances.
Two Firewalls for Superior Protection
Includes built-in dual-active firewalls (SPI and NAT) to protect against malicious attacks. The latest WPA/WPA2 wireless encryption helps keep your wireless network secure and your traffic safe, helping stop unauthorised users from accessing your network.
1 Data rates are theoretical. Data transfer rate depends on network capacity, signal strength, and environmental factors.
HIGHLIGHTS
Share your 3G/ 4G connection with built-in standard-size SIM Card Slot
Simultaneous Dual-Band: Deliver faster Wi-Fi speeds of up to 1,200Mbps1
LTE Bands: 1 / 3 / 7 / 8 / 20 / 28 (2100/ 1800/ 2600/ 900/ 800/ 700 MHz)
UMTS / HSDPA / HSUPA Bands: 1 / 8 (2100/ 900 MHz)
GSM/ GPRS/ EDGE: 3 / 8 (1800/ 900 MHz)
Gigabit Ethernet: Provides fast wired connectivity with one dedicated Gigabit WAN for NBN/ UFB connectivity and 4 Gigabit LAN ports
VoIP Enabled: Connect your phone to make VoIP calls
NOTE: To use the VoIP capability, you will need to obtain your VoIP account settings from your Service Provider
| | |
| --- | --- |
| WAN Type : | Multi WAN |
| Wi-Fi Type : | Wireless AC |
| WAN Port Type : | Fast Ethernet|3G/4G LTE (via SIM) |
| LAN Port(s) : | 4 |
| LAN Port Type : | Gigabit |
| Wireless : | Wireless AC1200 |
| Warranty : | 3-Year Limited Warranty |
| Design : | Desktop |
| WAN Ports : | 1 |
| WAN Failover : | Yes |
| UTM Features : | No |
| Rack Mountable : | Yes |
| Dimensions (Size) : | 170 x 180 x 80 mm |