D-Link COVR-C1203 Dual Band Wireless-AC1200 Seamless Mesh System
Web ID: 23972
Introducing COVR-C1203, the mesh solution that blankets your entire home in stable, consistent, and truly seamless Wi-Fi. With a pack of three Covr Points, you can bring Wi-Fi access to up to 465 square metres, enough coverage for a wide variety of housing sizes and configurations. ONLY WHILE STOCKS LAST! CASH PRICE
Manufacturer Warranty: 3 Year
Manufacturer PN: COVR-C1203
GTIN: 790069436659
Manufacturer Website
Experience the future of Seamless Wi-Fi
Introducing COVR-C1203, the mesh solution that blankets your entire home in stable, consistent, and truly seamless Wi-Fi.
With a pack of three Covr Points, you can bring Wi-Fi access to up to 465 square metres, enough coverage for a wide variety of housing sizes and configurations.

Blanket coverage
Move around your home and stay seamlessly connected.

Combined Gigabit speeds
Smart Steering directs your devices so your Wi-Fi is always at the top of its game at combined wireless speeds of up to 1.2Gbps.
Simple setup
Pre-paired and ready out of the box with a 3-step app setup.

Parental controls
Create schedules, block devices, see who's on the network.
Upgrade your home Wi-Fi
Bring your best Wi-Fi speeds and a full strength signal to every corner of your smart home.
2+1 Year Warranty
You're fully protected with three years of warranty support when you register your product. More details here.
Simple. Yet Flexible.
The Covr Seamless Wi-Fi System comes pre-paired and works straight out of the box, so you just need to plug in the Covr Points and get started.
The best part? It's flexible enough to cover most housing types. From single-storey apartments to multi-storey houses, and front yards to back decks, Covr's got you covered.
No crowds
Experience a full strength signal everywhere in your home. Covr's built-in Smart Steering technology steers you away from buffering and lag by automatically directing your device to the optimum wireless band. No more frustrating dropouts, lags, or interruptions in your wireless connections.
Covr also uses MU-MIMO technology which efficiently handles traffic to multiple devices for even greater wireless speeds.
Free Yourself with Smart Roaming
Don't let endless disconnecting and reconnecting to different networks cripple your Wi-Fi experience.
Bye-bye, buffering!
Discover the energised power of combined dual-band speeds of up to 1.2Gbps. Enjoy voice and video calls with your friends without cut outs,
stream 4k movies and boxsets in any family bedroom without any buffering or signal dropouts, download files while you livestream your latest gaming adventure, and share beautiful photos from anywhere in your home.

Enhanced User Experience
The D-Link Wi-Fi app provides a quick and simple way to set up your Covr Seamless Wi-Fi System and perform basic management without even touching a computer!
D-Link Wi-Fi
Quick and Simple Setup

Download the app and set up your unit in a
matter of minutes.

Create Schedules

With just a few taps you can create and manage schedules for internet access.
Stays New, Gets Better

Receive new firmware notifications and download
updates through the app.

Wi-Fi in the Palm of Your Hand

Manage your entire Wi-Fi network from a simple,
intuitive app. See which devices are connected
and the speeds you're clocking.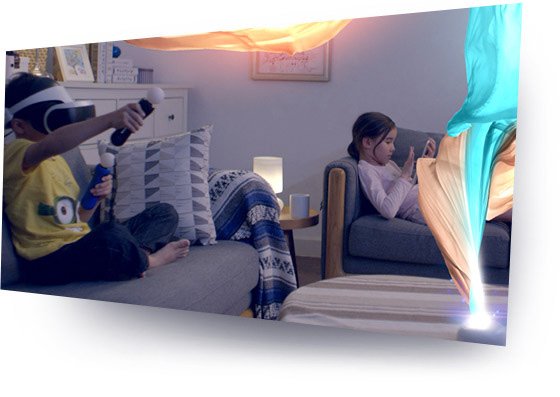 You're the boss
Whether you need to get everyone around the table for a meal, it's time for homework, or you need a break from the screens, Covr comes with parental controls on the D-Link Wi-Fi mobile app so that you're always in charge.
For your peace of mind, you can find out what devices are connected to Covr, schedule when devices can be used, create a guest login for when you have visitors, and block any devices you don't know.
Modern Design
Covr's soft-edged, small and discreet design features a soft white backlight indicator to show you're connected while blending beautifully with your home. No protruding antennas. No flashing lights all over the place.
WPS Button
Pair with smart home devices, Wi-Fi printers, and cameras using the handy one-touch
WPS button.
USB-C Connector
Plug in the standard USB-C connectors into the back of the Covr Points to bring Covr to life.
Ethernet Port
With two Ethernet ports behind each Covr Point, you can free up wireless bandwidth by choosing Gigabit wired Ethernet connections for your gaming consoles, network-attached storage, and smart TVs.
Garden Friendly
Covr is perfect to bring the Internet with you into your garden or for gatherings during a barbecue in the summer.
HIGHLIGHTS
Ultimate Wi-Fi Performance: Stream HD multimedia across your home without interruption
Simultaneous Dual-Band: Deliver faster Wi-Fi speeds of up to 1,200 Mbps
Smart Steering: Automatically directs your devices to the optimal wireless band
MU-MIMO: Simultaneous streaming on multiple devices
Smart Roaming: Seamlessly connects you to the strongest signal as you move
Gigabit Ethernet: For fast wired connections
Intuitive Setup: Configure your network using the D-Link Wi-Fi mobile app or easy to use web interface
| | |
| --- | --- |
| Mesh System : | Yes |
| Ethernet Speed : | Gigabit Ethernet |
| Warranty : | 3-Year Limited Warranty |
| Dimensions (Size) : | 111 x 109 x 51 mm |
| NBN/UFB Support : | FTTP / Satellite / Fixed Wireless / Cable only |
| LAN Port(s) : | 2 |
| CD-less Install : | Yes |
| Guest Network : | Yes |
| Parental Controls : | Yes |
| mydlink enabled : | No |
| Wireless Technology : | AC1200 (300+867Mbps) |
| Wireless Bands : | Dual Band |
| WAN Interface : | Gigabit Ethernet |
| VoIP : | No |
| Whole Home WiFi : | No |