Cougar Wired 700M Gaming USB Mouse Silver/Orange
Web ID: 13506
COUGAR 700M is an adjustable gaming mouse which is dedicated to professional gamers. With the design strategy ,"Framing Structure", the parts and components are built on a simply folded aluminum chassis; which provides better product strength
Manufacturer PN: 700MSilver
GTIN: 4715302445300
Warranty: 1 Year
Manufacturer Website
ALUMINUM FRAMING STRUCTURE

Components are built on a folded aluminum chassis to provide lighter (only 110g min.), more rigid and robust manipulative feelings

MUZZLE BRAKE SR

Extended metal tube inspired from the weapon can extend the durability of the cable during violent play and provide the better flexibility of the cable for smoother motion

MULTI-COLOR PROFILE BACKLIGHT

Choose 1 out of 16.8 million colors and set a unique color to profile

FIRE BUTTON

Ergonomic design and quickly simplify actions to press the fire button at key moments

45 SNIPER BUTTON

Provide a quick access, better stability and more precise aiming during game play

ANTI-SLIP DESIGN

Unique hexagonal pattern on the left and right panel for highly slip resistant and sweat proof, provide optimal control to lift-off style gamers duringgame play

32-BIT ARM PROCESSOR

700M has a little computer onboard and can do sophisticated computing fast and directly by itself- without relying on the gamer's computer and without the need for software drivers

512KB ON-BOARD MEMORY

Storing up to 8 programmable keys functions within 3 separate profiles onboard and you can bring your setting to any PC without re-setup

WEIGHT ADJUSTMENT

Weight cartridge contains four 4.5 gram metal weights, letting you to customize the mouse weight.

PALM REST HIGH/ LOW ADJUSTMENT (TOOL-LESS)

In order for better palm supporting, the arched frame can be raised with the knob rotation

INTERCHANGEABLE PALM REST (TOOL-LESS)

You can change to "Sport Mode" by replacing the palm rest

8200 DPI PRECISION GAMING SENSOR TECHNOLOGY

ADNS-9800 high performance laser sensor for accuracy cursor control
8 PROGRAMMABLE BUTTONS

Reassign command or macro to any one of 8 programmable buttons

AERO-DYNAMICAL SYSTEM

Keep your hand cool and Increase the flexibility of moving

COUGAR UIX SYSTEM

Integrated software combine COUGAR peripherals into one application

COUGAR FUSION

It is a feature that allows COUGAR peripherals to interact together

1000HZ POLLING RATE / 1MS RESPONSE TIME

125Hz – 1000Hz USB rate fine-tuning

ON-THE-FLY DPI ADJUSTMENT

Quickly switch between different DPI settings on the go

4-STAGE DPI LED DISPLAY

Quick confirm DPI stage without moving the hand

OMRON MICRO SWITCHES

Guaranteed 5 million clicks for the longest gaming life

GAMING-GRADE SCROLL WHELL

ALPS encoder and rubberized scroll wheel provide accurate tactile feedback

GAMING-GRADE MOUSE FEET

Best gliding performance and improve accuracy

BRAIDED CABLE & GOLDEN-PLATED USB PLUG

Sturdy and durable solutions for gaming
COUGAR UIX™ SYSTEM
Integrated software combine COUGAR peripherals into one application.
Whether you are a first-time user or a professional gamer, the intuitive operation system and make it easy to set up, edit commands and the most comprehensive features for a better gaming experience.
COUGAR FUSION™
It is a feature that allows COUGAR peripherals to interact together.
MR KEY SHARE
Do not need to open the mouse software immediately begin recording the macro on the mouse.
MODE SYNC
Press the M3 key of the keyboard, mouse mode will automatically follow and switch to mode3.
2WAY-INSTANT MODE SWITCH
Hold down the button of the mouse, keyboard mode will temporarily switch to other mode. With the function, you can temporarily use the button assignment and macros of the other mode to handle different situations in the game.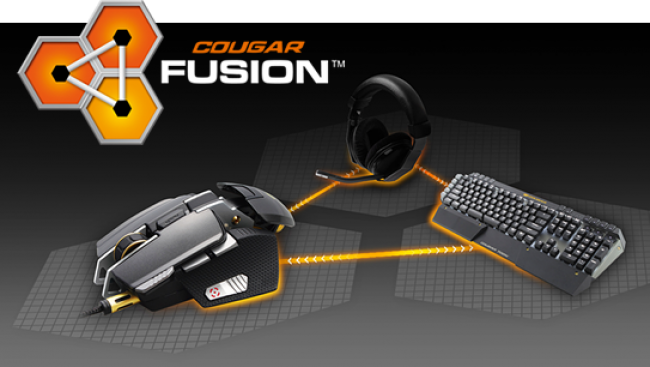 ALUMINUM FRAMING STRUCTURE
To provide more rigid and robust input device for the fierce computer gaming, the design principle of the COUGAR mouse ''Framing Structure'' makes the product different from existing mice on the market. Inspired from a vertebrate animal concept, the COUGAR mouse is built on a metallic backbone chassis which provides extra bracing for the whole device. The electronics compartment, the ergonomic modules and the mechanical structures are contained within, and screwed onto, the chassis. Also, based on the concept of its design, it is the lightest aluminum mouse in the word.
AERO-DYNAMICAL SYSTEM
There is also an Aero-Dynamically designed concept behind the 700M as a way to keep your hand cool and Increase the flexibility of moving. The COUGAR engineers thought about air flow thought out the structure of the mouse as passive way of releasing heat coming from your hand. This will help alleviate sweaty palms during intense game play.
CUSTOMIZABLE ERGONOMICS
With the Palm Rest High/Low Adjustment (Tool-Less) design, you can achieve better palm support as the arched frame can be raised with a knob rotation. The COUGAR 700M optimizes your comfort and eases fatigue over long-time game play, gamers will not be feeling fatigue with the 700M.
45° SNIPER BUTTON
There is a 45 degree sniper button, the function of the sniper button on the gaming mouse is to reduce the sensor dpi. This provides gamers a more accurate mouse cursor control in the sniper mode of first person shooter (FPS) games. The sniper button is designed with a 45 degree angle of activation, to provide quick access, better stability and more precise aiming during game play. Instead of pressing the button towards the mouse, the 45 degree sniper button can provide more stable control in FPS gaming.
SR MUZZLE BRAKE
Extend The Durability Of The Cable During Violent Play.
Provide The Better Flexibility Of The Cable For Smoother Motion.
COUGAR 700M Specifications
Product name

COUGAR 700M gaming mouse

Sensor

ADNS-9800
Laser gaming sensor

Resolution

8200 DPI

Processor

32-bit ARM Cortex-M0

Game type

FPS / MMORPG /
MOBA / RTS

Polling rate

1000Hz / 1ms

On-board memory

512KB

Material

Aluminum / Plastic

Software

COUGAR UIX™ SYSTEM

Programmable buttons

8

Switching

OMRON gaming switch

Profile LED backlight

16.8 million colors

Frame rate

12000 FPS

Maximum tracking speed

150 IPS

Maximum acceleration

30G

Interface

Golden-plated USB plug

Cable length

1.8m Braided

Dimension

127(L) x 83(W) x 38(H) mm

Weight adjusting

4pcs x 4.5g

Weight

130g
COUGAR 700M Specifications
Product name

COUGAR 700M gaming mouse

Sensor

ADNS-9800
Laser gaming sensor

Resolution

8200 DPI

Processor

32-bit ARM Cortex-M0

Game type

FPS / MMORPG /
MOBA / RTS

Polling rate

1000Hz / 1ms

On-board memory

512KB

Material

Aluminum / Plastic

Software

COUGAR UIX™ SYSTEM

Programmable buttons

8

Switching

OMRON gaming switch

Profile LED backlight

16.8 million colors

Frame rate

12000 FPS

Maximum tracking speed

150 IPS

Maximum acceleration

30G

Interface

Golden-plated USB plug

Cable length

1.8m Braided

Dimension

127(L) x 83(W) x 38(H) mm

Weight adjusting

4pcs x 4.5g

Weight

130g