Benq treVolo Portable Electrostatic Speaker
Web ID: 14258
treVolo is the first portable speaker available with the same technology as high-end listening room speakers. It utilizes a quad amplified design utilizing active electrostatic panels, high quality woofers, and large radiators that are precisely tuned with a custom tuned DSP to deliver truly uncompromising sound for the compelling audio enjoyment. ONLY WHILE STOCKS LAST!
Warranty: 1 Year
Manufacturer Website
Take Flight on the Purest Musical Journey with BenQ treVolo
Every note is unique for discriminating listeners and audiophiles. The resonance of the human voice, complex interaction of instruments, and the blending harmonies are key elements in music that are often missed with traditional wireless speakers.
Now, with the world's first portable Bluetooth® speaker with Electrostatic Diaphragm Technology, the BenQ treVolo enables astonishing clarity and absolute precision for your favorite vocal and acoustic music.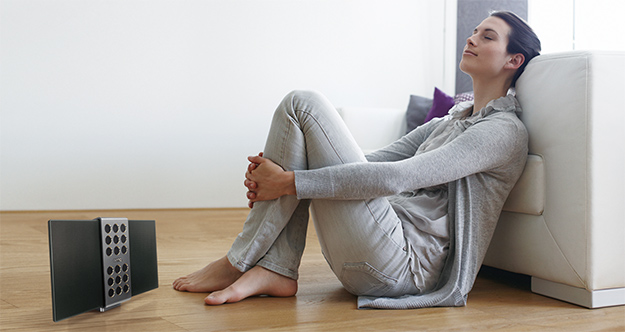 "tre" is the sum of three Es: Electrostatic, Enjoyment and Everywhere. When fused with the Italian word "Volo", which means flight, treVolo is formed to bring to life BenQ's brand promise and belief – uplift your musical journey to new heights of audio satisfaction, and take you flying with music.
BenQ Electrostatic Diaphragm Technology
Unconventionally designed with BenQ's Electrostatic Diaphragm Technology, treVolo incorporates a quad-amplified design that utilizes two BenQ electrostatic panels with dual bass drivers and passive radiators, for flat frequency response to 90 dB, faithfully radiating a high level of audio detail from every angle to deliver precision vocals and harmonies the way they are meant to be heard. The clarity of each note is ensured by the highest reproduction accuracy for the original audio source, natural and true. What's more the broadened sound range immerses you with a whole new experience of audio dynamics and realism.
The design of the electrostatic panels enables sound to be projected in front and behind the speaker to enhance sound projection over a large surface area for broadened sound range, just the way a live instrument such as a violin projects sound throughout the room – not just in one direction.
Comparison Chart

Electrostatic drivers emit sound freely forward and backward, so they have a more spacious, natural sound. Conventional full-range drivers emit sound only forward; sound coming from the rear of the driver resonates inside the enclosure.

Electrostatic Speakers

Conventional Wireless Speakers
| | | |
| --- | --- | --- |
| Vertical dispersion of the entire thin-film diaphragm offers bidirectional sound projection over a large surface area for a more detailed audio performance in just about any space. | Sound Reproduction | Uses traditional cone drivers that may struggle to provide clear sound though the audio range. |
| Quad amplified system with active DSP crossovers that provide seamless transitions from low to high ranges, enabling you to hear the details in your music. | Audio Distinctiveness | Often use passive crossovers with more emphasis on bass tones, and with highs that can sound muddy. |
| Sound is produced on both sides of the speaker, like a real instrument. This provides a spacious and natural sound. | Placement and Spatial Requirement | Sound projects only in one direction from the speaker. |
Precision-Tuned Speaker & Quad Amplified Design

A precision-tuned speaker and quad amplifier design ensure precise bass performance while achieving balance and neutrality in the overall performance of mid- and high-range sounds. So clean, accurate sounds can be produced to please even the most demanding audiophile.

Within the treVolo, the low frequencies driven by two high-quality, high-excursion 2.5-inch woofers, combined with passive radiators to deliver crisp, accurate bass to 60Hz. In addition each driver in the treVolo is powered by its own amplifier channel, and uses an advanced DSP chip to smoothly transition from low to high frequencies.
BenQ TrueSound Technology
The BenQ treVolo speaker also features a unique technology called TrueSound, that can help improve sound quality on highly compressed legacy audio files. If the speaker's DSP chip detects the loss of higher frequency data due to a low bit rate recording or high compression levels, TrueSound will improve the detail in the higher ranges of the audio spectrum that can be lost on a low bit rate recorded file.For normal audio content, such as purchased music, internet subscription services, and files encoded at normal compression levels, the treVolo directly passes through the sound for the best possible audio quality.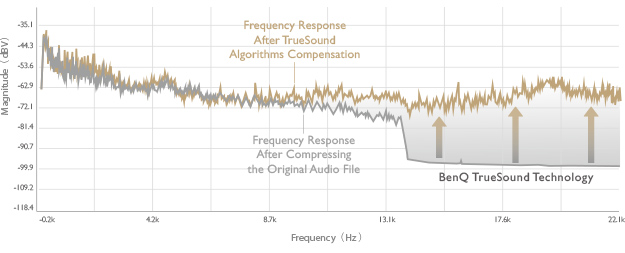 aptX Transmission

CD-quality aptX® Bluetooth® gives you the highest support for Bluetooth® signal transmission for the most faithfully reproduced audio bandwidth and minimized latency and sync issues. So you can enjoy the best quality of sound each and every time.

Line-Out Support

The optional Line-out feature turns the speaker into a high-quality wireless Bluetooth® signal receiver. So you can enjoy CD-like quality sound wirelessly from your smart devices to your mid- to large-sized Hi-Fi stereo system.

Equalization Modes to Listen the Way You Want to Hear Your Music

treVolo gives you three built-in ambience modes–Pure(green indicator light)with minimal equalization, Warm(red indicator light)with a slight increase in bass, and Vivid(blue indicator light)–that highlights lead voices and instruments such as guitar and saxophone.

Speakerphone Convenience

For incoming calls, all you need to do is press the receive button on the speaker and speak directly into the integrated noise-cancellation microphone for a crystal clear conversation. Once you're finished, the music will resume automatically.

USB Transmission

Enables you to send a pure digital audio signal transmission directly to the treVolo speaker through a MicroUSB connector.

BenQ Audio APP

Systems supported:Android™ v4 or above/iOS v7 or above The APP allows you to check for battery information and switch between ambience modes. The Android™ version also offers a Sleep Timer feature to help you automatically shut down the speaker.

12 Hours of Playing Time

A single charge of treVolo's rechargeable battery gives you 12 hours of uninterrupted audio enjoyment. So you can take your music on the go without worrying about recharging.
Frequency response
| | |
| --- | --- |
| Frequency response | 60 Hz - 20 kHz |
Connections
| | |
| --- | --- |
| Playing time | 12 hours (Dependence on user scenario) |
| Bluetooth | Bluetooth® 4.1 |
| Input types | 3.5 mm stereo input, USB audio |
| aptX Support | Yes |
Physical
| | |
| --- | --- |
| Key definition | Power Key, Volume Key (+-), Sound Mode Key (end call), Play/Pause(talk), BT Pairing Key |
| LED indicator | Red LED x 1 ; Blue LED x 1; Green LED x 1 |
Other information
| | |
| --- | --- |
| Battery | Built-in rechargeable lithium-ion battery |
| Other features | Built-in microphone for speakerphone function |
| IO port | Micro USB x1 ; Line-in x1 ; Line-out x1 , Power Jack x1 |
| Input power rating | DC 12V 2A |
| Temperature range for use | 0~40º C |
| Accessories | AC/DC Charger, Quick start guide |
| Dimension | 174.6x134.6x78.5mm (Closed) |
| Weight | 1.2 kg |