ASUS Thunderbolt 3 Card PCIe x4 Single Port PN THUNDERBOLTEX
Web ID: 21375
Breathtaking 40Gbps for faster transfers, A single port integrating Thunderbolt 3, reversible USB 3.1 Type-C and DisplayPort 1.2, Supports the USB Power Delivery specification for fast, high-power charging of up to 36W. Check specifications for compatible motherboards. ONLY WHILE STOCKS LAST!
Manufacturer Warranty: 3 Year
Manufacturer PN: THUNDERBOLTEX
GTIN: 889349448632
Manufacturer Website
Thunderbolt 3, USB 3.1, and up to 36W charging
Thunderbolt™ 3 means faster, bigger and more, all through a single cable with a sleek, any-way-up connector — and ASUS ThunderboltEX 3 is the quick-to-fit expansion card that enables you to upgrade today!
Faster
At a breathtaking 40Gbps you'll experience faster transfers, with four times (4X) the data speeds of any other cable and twice (2X) the video bandwidth.
More connectivity
By integrating reversible USB 3.1 Type-C and DisplayPort 1.2, the ThunderboltEX 3 gears you up for compatibility with the latest high-speed devices, from super-fast external drives to 4K UHD displays. ThunderboltEX 3 supports the USB Power Delivery specification for fast, high-power charging of up to 36W, and you can even daisy-chain up to six devices from a single port — and our card even includes an additional USB 3.1 Type-A connector for total convenience and compatibility!
10-gigabit networking
When you fit ThunderboltEX 3 you'll also enjoy peer-to-peer networking at screaming 10Gbps speeds, enabling you to transfer files in the blink of an eye, perform easy PC migrations, or set up small workgroups with shared storage!
Upgrade your motherboard in just three simple steps!
Easy upgrade: Slide ASUS ThunderboltEX 3 into PCI-Express 3.0 x4 slot
Compatible with ASUS motherboards: Connect the card to the onboard Thunderbolt header with the supplied system-link cable
DisplayPort 1.2 support: Attach the supplied DisplayPort cable to the card and the onboard DisplayPort connector
Turn on your computer, connect your Thunderbolt devices and enjoy the incredible speed!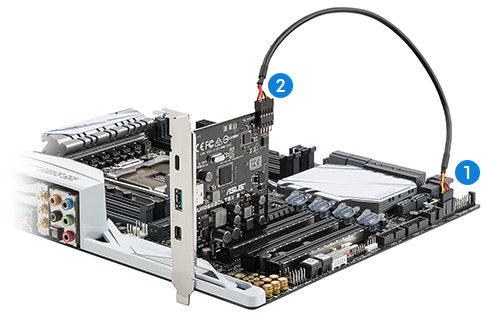 Chipset

Intel® Thunderbolt™ 3 Controller

Interface

PCI Express 3.0 x4 (compatible with PCI Express x16/x8/x4 slots)

External Connectors

1 x Thunderbolt™ 3 port (Type-C)
- up to 40Gbps for Thunderbolt devices
- up to 10Gbps for USB 3.1 devices
- up to 12V/3A, 36W charging support
1 x USB 3.1 port (Type-A, support up to 10Gbps)
1 x 9 pin TB header

Operating System

Windows® 10
Windows® 8.1 64-bit
Windows® 8 64-bit
Windows® 7 32-bit
Windows® 7 64-bit

Accessories

1 x mini DisplayPort Cable (links graphics output from motherboard's or discrete graphics card's DisplayPort to the mini DisplayPort IN port on the ThunderboltEX 3 card)
1 x ASUS TB header cable (connects ASUS motherboard's TB header with ThunderboltEX 3 card's TB header)

Support Disc

Thunderbolt™ 3 driver inside

Dimensions

3.35 inch x 3.94 inch (10cm*8.5cm)

Compatible Model

ROG RAMPAGE VI EXTREME
PRIME X299-DELUXE
PRIME X299-A
TUF X299 MARK 1
TUF X299 MARK 2
PRIME Z370-A
MAXIMUS IX HERO
PRIME Z270-A
PRIME Z270-AR
TUF Z270 Mark 1
Z170-PREMIUM
Z170-DELUXE
Z170-PRO
Z170-A
Z170-AR
SABERTOOTH Z170 MARK 1
SABERTOOTH Z170 S
MAXIMUS VIII EXTREME
MAXIMUS VIII HERO
MAXIMUS VIII RANGER
X99-DELUXE II
X99-DELUXE
X99-DELUXE/U3.1
X99-PRO/USB 3.1
X99-PRO
X99-A/USB 3.1
X99-A
X99-A II
X99-E
SABERTOOTH X99
RAMPAGE V EXTREME/U3.1
RAMPAGE V EXTREME
X99-E WS/USB3.1*
X99-E WS*

VGA

Supports DisplayPort 1.2* with max. resolution 4096 x 2160@60/24Hz

Note

* X99-E WS/USB 3.1 and X99-E WS support ThunderboltEX 3 card at PCIEX16_2 slot.