ASUS S1151 MicroATX B150M PRO GAMING DDR4 Motherboard, BONUS Steelseries Mouse Pad!
Web ID: 19282
Intel Socket 1151, Intel B150 Chipset, 4 x Dual Channel DDR4, Intel HD Graphics, 1 x PCIe 3.0/2.0 x16 (x16 mode), 2 x PCIe 3.0/2.0 x, 1 x M.2 Socket 3, 6 x SATA 6Gb/s, 6 x USB 3.0/2.0 ports, 6 x USB 2.0/1.1 ports, Intel Gigabit Ethernet and LANGuard, 1 x HDMI, 8 Channel HD Audio, BONUS SteelSeries 63004 QcK Gaming Mouse Pad PN 63004
Manufacturer PN: B150M PRO GAMING
GTIN: 889349323434
Warranty: 3 Year
Manufacturer Website
1Intel LGA 1151
2PS/2
36xUSB 3.0(4@rear;2@board)
6xUSB 2.0(4@rear;2@board)
4Intel® Ethernet
LANGuard
51 x PCI Express 3.0 x16 slot (at x16 mode)
2 x PCI Express 3.0 x1 slots
6SupremeFX
SupremeFX Shielding
Premium Audio Caps
Headphone AMP
SupremeFX LED lighting

Still

Breathing

7DDR4 2133 MHz
4 DIMM, dual-channel
Support XMP
86 x SATA 6Gb/s
9M.2 Socket 3
PCIe 3.0x4 mode (NVMe)
FLAWLESS AUDIO THAT
MAKES YOU PART OF THE GAME!
Be the best on the battlefield with B150M Pro Gaming's truly immersive SupremeFX audio and experience sound so alive with realism that it hands you the vital competitive edge needed to win. SupremeFX sounds stupendous — and puts both your ears and frags in front of everyone else!
SupremeFX
Shielded audio, superior sound
ASUS-exclusive SupremeFX technology delivers high-fidelity, near-lossless audio no matter how frantic your game becomes. The purity and stability of the remarkable 115dB signal-to-noise ratio (SNR) is assured, with a shielded design, electromagnetic-interference (EMI) cover and voltage-protected 5V power supply. Supreme FX's superior components, including the trusted Realtek ALC1150 codec, maximize acoustic performance and eliminate interference – so you hear only the very best from your gaming headset or speakers!
Illuminated red line shielding

Banish analog interference and enjoy eye-catching, customizable lighting effects.

EMI cover

Effective shielding against electromagnetic interference preserves the integrity of audio signals for the best quality.

300Ω-headphone amplifier

Drive some of the very best headphones available for exceptional gaming-audio and music-listening experiences.

Premium Nichicon® audio capacitors

Fine-quality Japanese-made components that produce a warmer, natural sound with exceptional clarity and fidelity.
TOP-SPEED PROTECTED NETWORKING
Only the quickest shot survive, so B150M Pro Gaming banishes lag — letting you annihilate your foes as fast as your trigger finger! Our engineers pack in only the best networking technology, including tournament-level Intel® Gigabit Ethernet and ASUS-exclusive LANGuard to keep your connection fast, so always fire first and watch your enemies fall.
Intel Gigabit Ethernet
More throughput, less CPU usage and great gaming experiences
Featuring the very latest Intel Ethernet (I219-V) for faster, smoother gaming — always. Intel's LAN has the serious double advantage of reducing CPU overhead and offering exceptionally high TCP and UDP throughput. This significantly reduces the processor's workload, so there's more power for your game and your gameplay.
LANGuard
Pumped-up throughput. Best surge protection
ASUS LANGuard is hardware-level networking protection that employs signal-coupling technology and premium anti-EMI surface-mounted capacitors for rock-solid gaming connections and better throughout for online play, plus electrostatically-guarded and surge-protected components for greater tolerance to static electricity and improved protection against surges.
* ESD result is undertaken by individual LANGaurd
EMI cover
Surface-mounted
capacitors
PERFORMANCE LEVEL UP
Speed up with onboard M.2 up to 32Gbit/s
With x4 PCI Express 3.0/2.0 bandwidth, M.2 supports up to 32Gbit/s data-transfer speeds. It is the perfect choice for an operating system or application drive, making your whole PC or professional apps work as fast as possible.
One-stop performance-optimization panel
Maxed-out performance means maximum gaming thrills, and with exclusive AI Suite 3's dashboard-style control panel you'll fine-tune almost every aspect of your B150M Pro Gaming-based system. Get the best balance between performance, cooling, stability, efficiency and aesthetics — all via a simple and intuitive interface.
FAN Xpert
Via two 4/3 pin (PWM/DC) combo fan connectors and two onboard thermal sensors, Fan Xpert makes sure every fan achieves the best balance of cooling performance and low noise.
GPU Boost
Exclusive ASUS GPU Boost technology lets you accelerate B150M Pro Gaming integrated GPU (iGPU) for extreme graphics performance safely and easily via a user-friendly interface – it's a free iGPU level-up!
USB 3.0 Boost
This great ASUS-exclusive technology accelerates the already-fast speed of USB 3.0, enabling transfer speeds that are up to 1.33 (1.33X) times faster than standard USB 3.0.
Award-winning BIOS design
The smoothest, slickest mouse-controlled graphical BIOS has been improved to make it even more appealing. Whether you're a PC novice or a seasoned overclocker, the EZ and Advanced Modes help you find your way. In EZ Mode you can get set up very quickly, applying the date and time, fan profiles and Intel Extreme Memory Profile (XMP) memory profiles. Switch to Advanced Mode to set up favorites and shortcuts, record and review recent changes with Last Modified or make notes in Quick Notes.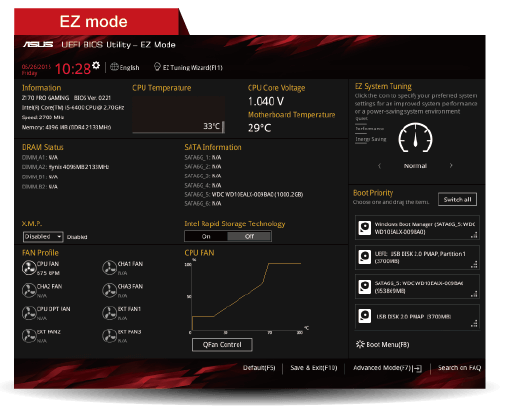 CrashFree BIOS 3
Never again worry about corrupted BIOS, as CrashFree BIOS 3 lets you restore a PC to working order — even when it won't boot!
EZ Flash 3
Update the latest BIOS via the internet, and from within the BIOS.
GAMER'S GUARDIAN FOR REAL-WORLD PROTECTION
Protect your back in the game and let B150M Pro Gaming protect all sides in the real world! Motherboard self-protection with loads of brilliant defenses, including our unique smart DIY features ensures long-term gaming is in your future.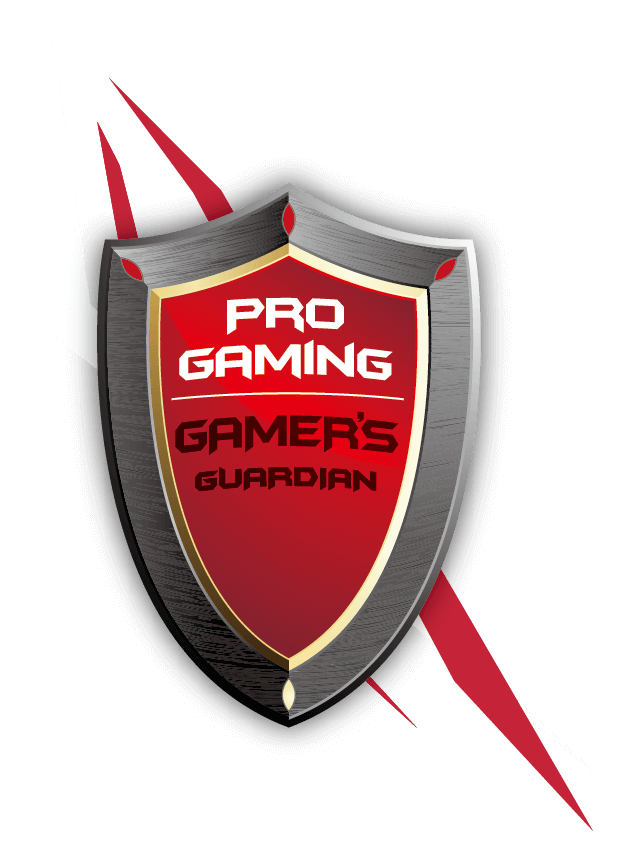 Digi+ VRM
Digi+ VRM voltage-regulator module (VRM) is one of the finest in the industry, ensuring ultra-smooth and ultra-clean power delivery to the CPU at all times!
DRAM overcurrent protection
All connection ports and DRAM are protected against overcurrent and short-circuit damage by onboard resettable fuses, extending your motherboard's life.
Highly durable components
Fine-quality, super-tough components are our watchwords. We fit only superior chokes, plus durable capacitors engineered to resist extreme temperature variations of between -55°C and 105°C —110% better than the industry standard.
Stainless steel back I/O
Crafted from chromium-plated, corrosion-resistant stainless steel, the input/output (I/O) panel is three times longer than ordinary panels!
Q-shield
0 pain!
Protect your hands from nicks and cuts.
Q-slot
1 clip
to swap or secure your graphics card.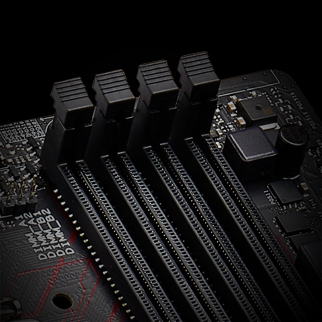 Q-DIMM
1 -sided
clips mean handling memory modules is a cinch — super simple and super secure.
ESD Guards
2X-greater ESD protection for extended component lifespan
Electrostatic discharge (ESD) could mean game over for your rig, so B150M Pro Gaming is protected by ESD Guards to actively prevent ESD — ensuring longer component lifespan and providing system resilience that's two times greater than industry standards. Game on!
Audio connector
Capacitor protection on both front and back audio-output circuits.
LAN connector
ESD TVS diode protection and an anti-surge LAN connector protects against extreme events, such as lightning strikes.
USB 3.0/2.0 connectors
On-circuit transient-voltage-suppression (TVS) diodes and capacitor protection for surface-mount and dual-inline packages.
Keyboard and mouse connector
Additional on-circuit ESD TVS diodes.
BUILT FOR GAMING
B150M Pro Gaming is built for play, shaped by professional gamers and tested for gaming perfection — strong enough storm through the industry's most punishing labs workouts. We engineer and test for the finest quality, longevity, performance, stability and compatibility. Our world-class engineers are themselves avid gamers, and combine their own passion with the skills and demands of some of the planet's best players to create innovative gaming features everyone will crave. With B150M Pro Gaming you do more than just play — you'll experience gaming on the edge of reality.
THE POWER OF INTEL!
Intel B150 Chipset
The Intel® B150 is a single-chipset design that supports 6th-generation Intel LGA1151 Core™ i7/Core i5/Core i3/Pentium®/Celeron® processors. It provides improved performance by utilizing serial point-to-point links, allowing increased bandwidth and stability. It natively supports up to six USB 3.0 ports, six SATA 6Gbit/s ports, and PCIe 3.0 lane speed support for faster data retrieval. Intel® B150 chipset also supports iGPU functionality, so you'll enjoy the very latest Intel integrated graphics performance.
Ready for 6th-generation Intel LGA1151 Core i7/Core i5/Core i3/Pentium/Celeron processors
This motherboard supports 6th-generation Intel Core i7/i5/i3/Pentium/Celeron processors in the LGA1151 package, with graphics, memory and PCI Express controllers integrated to support onboard graphics output with dedicated chipsets, two-channel (4-DIMM) DDR4 memory and 16 PCI Express 3.0/2.0 lanes for great graphics performance.
CPU

Intel® for 6th Generation Core™ i7/Core™ i5/Core™ i3/Pentium®/Celeron® Processors

Chipset

Intel® B150

Memory

4 x DIMM, Max. 64GB, DDR4 2133 MHz Non-ECC, Un-buffered Memory

Graphic

Integrated Graphics Processor- Intel® HD Graphics support
VGA output support : HDMI port
- Supports HDMI with max. resolution 4096 x 2160 @ 24 Hz
Maximum shared memory of 1024 MB
Supports Intel® InTru™ 3D, Quick Sync Video, Clear Video HD Technology, Insider™

Expansion Slots

1 x PCIe 3.0/2.0 x16 (x16 mode)
2 x PCIe 3.0/2.0 x1

Storage

Intel® B150 chipset :
1 x M.2 Socket 3, , with M key, type 2242/2260/2280 storage devices support (both SATA & PCIE mode)*1

LAN

Intel® I219V
Anti-surge LANGuard

Audio

SupremeFX 8-Channel High Definition Audio CODEC *2
- Supports : Jack-detection, Front Panel MIC Jack-retasking
- High quality 115 dB SNR stereo playback output
Audio Feature :
- SupremeFX Shielding™ Technology

USB Ports

Intel® B150 chipset :
6 x USB 3.0/2.0 port(s)
Intel® B150 chipset :
6 x USB 2.0/1.1 port(s)

Special Features

Gamer's Guardian:
- ESD Guards on LAN, Audio, KBMS and USB3.0/2.0 ports
- DRAM Overcurrent Protection
- Stainless Steel Back I/O
- Highly Durable Components
- DIGI+ VRM
ASUS Exclusive Features :
- AI Suite 3
- Ai Charger
- ASUS UEFI BIOS EZ Mode featuring friendly graphics user interface
- USB 3.0 Boost
- Disk Unlocker
ASUS Quiet Thermal Solution :
- Stylish Fanless Design Heat-sink solution
- ASUS Fan Xpert
ASUS EZ DIY :
- ASUS CrashFree BIOS 3
- ASUS EZ Flash 3
- Push Notice
ASUS Q-Design :
- ASUS Q-Shield
- ASUS Q-Slot
- ASUS Q-DIMM
Media Streamer

Operating System Support

Windows® 10 , 64bit
Windows® 8.1 , 64bit
Windows® 7 , 32bit/64bit

Back I/O Ports

1 x PS/2 keyboard/mouse combo port(s)
1 x HDMI
1 x LAN (RJ45) port(s)
4 x USB 3.0
4 x USB 2.0
3 x Audio jack(s)

Internal I/O Ports

1 x USB 3.0 connector(s) support(s) additional 2 USB 3.0 port(s)
1 x USB 2.0 connector(s) support(s) additional 2 USB 2.0 port(s)
1 x M.2 Socket 3 with M Key design, type 2242/2260/2280 storage devices support (Supports both SATA & PCIE SSD)
1 x COM port(s) connector(s)
6 x SATA 6Gb/s connector(s)
1 x CPU Fan connector(s)
1 x Chassis Fan connector(s)
1 x 24-pin EATX Power connector(s)
1 x 8-pin ATX 12V Power connector(s)
1 x Front panel connector(s)
1 x Front panel audio connector(s) (AAFP)
1 x Clear CMOS jumper(s)
1 x 14-1 pin TPM connector

Accessories

User's manual
ASUS Q-Shield
2 x SATA 6Gb/s cable(s)
1 x M.2 Screw Package
1 x pack of cable tie
1 x Supporting DVD
1 x 12 in 1 Cable Label (s)

BIOS

128 Mb Flash ROM, UEFI AMI BIOS, PnP, DMI 3.0, WfM 2.0, SM BIOS 3.0, ACPI 5.0, Multi-language BIOS, ASUS EZ Flash 3,
CrashFree BIOS 3, F6 Qfan Control, F3 My Favorites, F9 Quick Note, Last Modified Log, F12 PrintScreen function, and ASUS DRAM SPD (Serial Presence Detect) memory information

Manageability

WfM 2.0, DMI 3.0, WOL by PME, PXE

Support Disc

Drivers
ASUS Utilities
ASUS EZ Update
Anti-virus software (OEM version)

Form Factor

mATX Form Factor
9.2 inch x 8.6 inch ( 23.4 cm x 21.8 cm )

Note

*1:When the M.2 Socket 3 is operating in SATA mode, SATA port 1 will be disabled.
*2:Use a chassis with HD audio module in the front panel to support an 8-channel audio output.