ASUS GTX960 4GB OC STRIX PCIe Video Card PN STRIX-GTX960-DC2OC-4GD5
Web ID: 15846
Powered by NVIDIA GeForce GTX 960 GPU, 4GB GDDR5 memory 128-bit memory interface, DVI / HDMI / 3 x DisplayPort ONLY WHILE STOCKS LAST!
Manufacturer PN: STRIX-GTX960-DC2OC-4GD5
GTIN: 886227983216
Warranty: 3 Year
Manufacturer Website
Taken from the ancient Roman and Greek word for owl, Strix means the keenest hearing and sharpest eyesight. Strix means feeling your environment so that you detect and react to the slightest movement. Strix means survival on the very edge of instinct. Strix is in your blood, as it is in ours.
ASUS Strix GTX 960, an all new gaming graphics card packed with exclusive ASUS technologies, including DirectCU II for cooler, quieter and faster performance for incredible action gaming, and 0dB fan technology for light gameplay in total silence.

The new card features feature exclusive ASUS Super Alloy Power components and backplate design for enhanced durability and cooling, and GPU Tweak with XSplit Gamecaster for overclocking and online streaming that's as simple as it is flexible. Strix GTX 960 comes equipped with a DisplayPort interface to support connections up to 4K/UHD (ultra-high definition) resolution.

Strix GTX 960 is factory-overclocked at 1291 MHz and has a 1317 MHz boost clock speed in OC Mode that delivers stunning gaming performance. Strix GTX 960 provides 12% faster gameplay in Assassin's Creed® Unity and Battlefield 4™, and runs the 3DMark 11 (Extreme) benchmark at 1920 x 1080 Full HD resolution 6.5% faster than reference designs. It is fitted with 4 GB of high-speed GDDR5 video memory that races along at boosted speeds of up to 7010 MHz.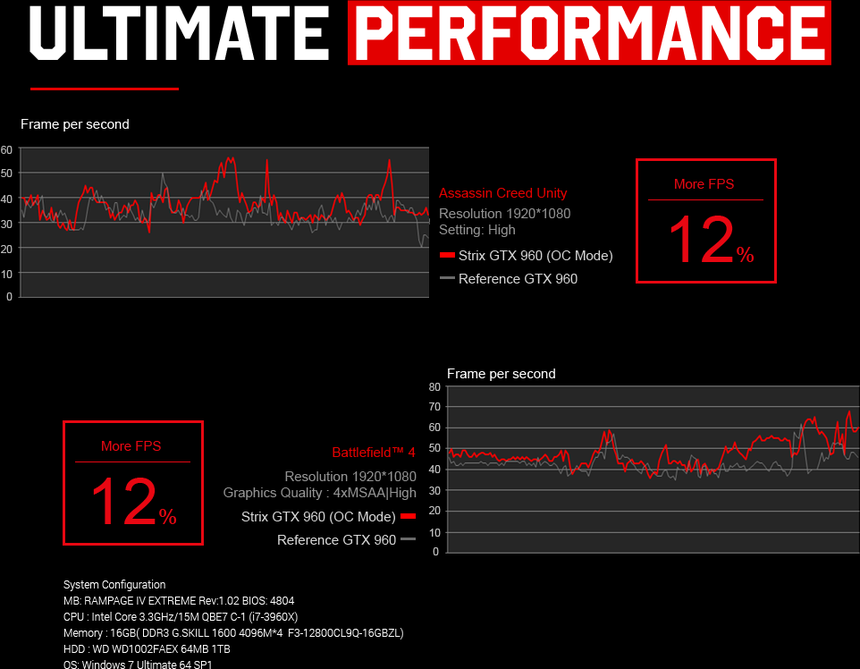 DirectCU II with 0dB Fan Technology
30% cooler. Silent gaming.
Exclusive DirectCU II cooling technology outperforms reference designs with an exclusive 10mm heatpipe that transports 40% more heat away from the GPU — a first for the industry! The design also includes 220%-larger heat-dissipation: this means performance that's 30% and three-times (3X) quieter than reference for ultra-stable hardcore gaming with very low noise. And Strix ups the ante still further with 0dB fan technology that lets you enjoy games like League of Legends® and StarCraft® in complete silence — because the fan stops completely when the GPU temperature remains below a set level.

* performance vary from system configuration and usage

Super Alloy Power
Enhanced durability and cooling
Exclusively-formulated alloy components boost performance by reducing power loss, enhancing durability, and achieving cooler operation. Choke concrete cores eliminate buzzing sound under full load while capacitors assure a 50,000-hour lifespan: equivalent to 2.5 times longer than traditional capacitors.
Super Alloy Capacitor:
2.5X extended lifespan (over 90,000 hours longer than traditional capacitors)
Dedicated SAP CAP:
Maximize overclocking headroom(situated at the back of GPU)
Super Alloy Choke:
Decrease buzzing noise with concrete alloy chokes
Super Alloy MOS:
30% higher voltage threshold for enhanced OC capability
220% larger heatsink area for more
efficient heat dissipation
Back plate provides extra protection
and lowers the PCB temperature.
Rear-facing 6-pin power design with Red / white
LED indicator ensures easy and successful plug-in
Red LED indicator :
Unfinished setup
White LED indicator :
Power cables are plugged in completely

GPU Tweak with Streaming
Real-time intuitive graphics tuning
Shows detailed specs and actual card status with GPU-Z

Monitoring widget provides real-time detailed multi-parameter info

Automatically checks and updates drivers and BIOS versions
XSplit Gamecaster x GPU Tweak
XSplit Gamecaster lets you easily stream and record your greatest gaming moments at the click of a button. It's simple, easy to use, and perfect for sharing your gameplay with the world. ASUS GPU Tweak helps you modify clock speeds, voltages, fan performance and more, all via an intuitive interface. Download XSplit Gamecaster today and get a 1 year FREE XSplit Premium License.

* This program will be effective from March 1, 2015. Please go to asus.com and xsplit.com/asus for further information
Graphics Engine

NVIDIA GeForce GTX 960

Bus Standard

PCI Express 3.0

OpenGL

OpenGL®4.4

Video Memory

GDDR5 4GB

Engine Clock

OC Mode - GPU Boost Clock : 1317 MHZ , GPU Base Clock : 1253 MHz
Gaming Mode (Default) - GPU Boost Clock : 1291 MHZ , GPU Base Clock : 1228 MHz

CUDA Core

1024

Memory Clock

7010 MHz ( GDDR5 )

Memory Interface

128-bit

Interface

DVI Output : Yes x 1 (Native) (DVI-I)
HDMI Output : Yes x 1 (Native) (HDMI 2.0)
Display Port : Yes x 3 (Native) (Regular DP)
HDCP Support : Yes

Power Consumption

up to 150W1 additional 6 pin PCIe power required

Accessories

1 x DVI to VGA adaptor
1 x STRIX Laser Sticker

Software

ASUS GPU Tweak & Driver

Dimensions

8.47 " x 4.77 " x 1.61 " Inch
21.52 x 12.12 x4.09 Centimeter

Note

• To have the best cooling performance, ASUS STRIX-GTX960-DC2OC-4GD5 extends the fansink to 2 slots. Please double check you Chassis and Motherboard dimension prior to purchase to make sure it fits in your system!
• Note that the actual boost clock will vary depending on actual system conditions. For more information, please visit http://www.geforce.com/
• UEFI BIOS support