Asrock S1151 Mini-ITX Z370M-ITX/AC DDR4 WIFI Motherboard
Web ID: 22083
Supports 8th Generation Intel Core Processors (Socket 1151), Supports DDR4 4000+(OC), 1 PCIe 3.0 x16, Graphics Output Options: 2 HDMI, DisplayPort, Supports Triple Monitor, 7.1 CH HD Audio (Realtek ALC892 Audio Codec), Nichicon Fine Gold Series Audio Caps, 6 SATA3, 1 Ultra M.2, 8 USB 3.1 Gen1(2 Front, 6 Rear), Dual Intel Gigabit LAN, Wireless-AC + BT 4.2 Module, Intel Optane Memory Ready ONLY WHILE STOCKS LAST!
Manufacturer Warranty: 3 Year
Manufacturer PN: Z370M-ITX/AC
GTIN: 4717677334371
Manufacturer Website
Armor Your VR Machine
Prepare yourself well to enjoy the impressive world of Virtual Reality. Before that, you have to make sure everything is qualified, including hardware, software and drivers. Motherboard is the key to connect every critical components and ASRock's VR Ready motherboards are definitely the one you're looking for. The premium quality is assured by rigorous testing during development. The sturdy components and rock-solid performance makes you completely immersive in the VR scenario. Users can be assured to experience VR enjoyments without any compatibility problems.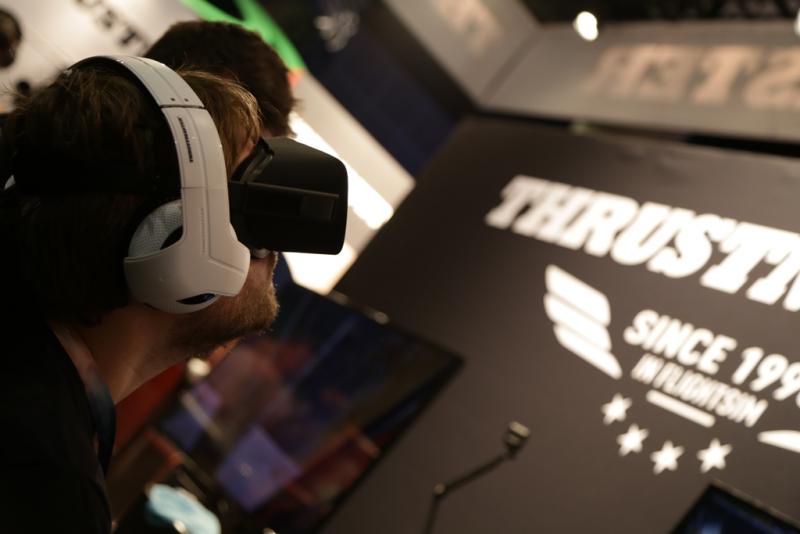 ROCK-SOLID VRM
Built for 8th Generation Intel® Core™ Processors
The improved power phase design offers smooth power delivery to the more powerful 8th Generation Intel® Core™ Processors, providing unmatched overclocking capabilities, lower temperature for advanced gamers, and reinforced system stability for taking on all sorts of arduous computing tasks.
Hyper DDR4
UNBEATABLE MEMORY PERFORMANCE
ASRock Hyper DDR4 technology unlocks the hidden performance of DDR4 memory modules, giving the overall performance a huge boost. Unlike traditional memory signal designs that are easily distorted, Hyper DDR4 uses an optimized trace design and the memory circuitry are ideally isolated, thus providing pure memory signals for compatibility, stability and performance.
Dual Intel® LAN
Users are able to connect two LAN cables to this motherboard's rear I/O. Dual LAN with Teaming function enabled on this motherboard allows two single connections to act as one single connection for twice the transmission bandwidth, making data transmission more effective.
* Teaming is supported on Windows® 10 RS2 and above.
Dual Band 802.11ac WiFi
No one has time for weak WiFi signals and sluggish internet! That's why this motherboard comes with a 802.11ac WiFi (2.4G / 5G WiFi) module which supports wireless networks and Bluetooth v4.2.
Ultra M.2 32 Gb/s (PCIe Gen3 x4 & SATA3)
The PCIe Gen3 x4 Ultra M.2 interface pushes data transfer speeds up to 32Gb/s. In addition, it also supports SATA3 6Gb/s M.2 modules.
Intel® Optane™ Memory Ready
Supports Intel® Optane™ memory technology and Intel® Optane™ storage technology that redefines a new standard of high performance and responsiveness.
Premium 60A Power Choke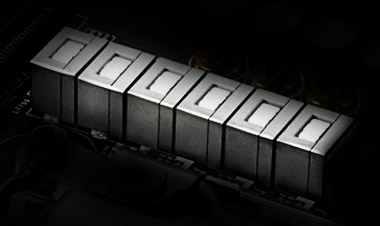 Compared to traditional chokes, ASRock's premium 60A power chokes effectively make the saturation current up to three times better, thus providing enhanced and improved Vcore voltage to the motherboard.
Dual-Stack MOSFET (DSM)
Dual-Stack MOSFET (DSM) is another innovative MOSFETs design by ASRock. The silicon die area is increased by stacking two dies into one MOSFET. The larger the die area, the lower Rds(on). Compared to traditional discrete MOSFET, DSM with larger die area provides extreme lower Rds(on) 1.2 mΩ, so the power supply for the CPU Vcore is more efficient.
Nichicon 12K Black Caps
Supreme 12K black capacitors with lifespans of at least 12,000 hours. Compared to other counterparts on high-end motherboards that merely have lifespans of around 10,000 hours, ASRock applied Nichicon 12K Black Caps that offer 20% longer lifespans and provide more stability and reliability.
Sapphire Black PCB
Pure black PCB appearance. The new Sapphire Black PCB represents rock-solid quality and gives the motherboard a more mysterious touch.
High Density Glass Fabric PCB
High Density Glass Fabric PCB design that reduces the gaps between the PCB layers to protect the motherboard against electrical shorts caused by humidity.
Triple Monitor
Graphics, graphics and even more graphics! You've demanded for more eye candy, so this motherboard supports Triple Monitor. You may choose up to three display interfaces from the rear i/o to connect monitors and use them simultaneously without installing another graphics card.
Digi Power
Unlike traditional motherboards that use analog power, this motherboard uses a next generation digital PWM (Pulse-Width Modulation) design, which provides CPU Vcore voltage more efficiently and smoothly, so that the stability and lifespan of the motherboard is greatly enhanced.
A-Tuning
A-Tuning is ASRock's multi purpose software suite with a new interface, more new features and improved utilities.
Live Update & APP Shop
ASRock Live Update & APP Shop is designed for your convenience. We provide various apps and support software for users to download. You can also easily optimize your system and keep your motherboard up to date with ASRock Live Update & APP Shop.
Unique Feature

ASRock Super Alloy
- Premium 60A Power Choke
- Dual-Stack MOSFET (DSM)
- Nichicon 12K Black Caps (100% Japan made high quality conductive polymer capacitors)
- Sapphire Black PCB
- High Density Glass Fabric PCBIntel® 802.11ac WiFiASRock Ultra M.2 (PCIe Gen3 x4 & SATA3)
ASRock Full Spike Protection (for all USB, Audio, LAN Ports)
ASRock Live Update & APP Shop

CPU

- Supports 8th Generation Intel® Core™ Processors (Socket 1151)
- Digi Power design
- 6 Power Phase design
- Supports Intel® Turbo Boost 2.0 Technology
- Supports Intel® K-Series unlocked CPUs
- Supports ASRock BCLK Full-range Overclocking

Chipset

- Intel® Z370

Memory

- Dual Channel DDR4 Memory Technology
- 2 x DDR4 DIMM Slots
- Supports DDR4 4000+(OC)* / 3866(OC) / 3800(OC) / 3733(OC) / 3600(OC) / 3200(OC) / 2933(OC) / 2800(OC) / 2666 / 2400 / 2133 non-ECC, un-buffered memory
- Supports ECC UDIMM memory modules (operate in non-ECC mode)
- Max. capacity of system memory: 32GB**
- Supports Intel® Extreme Memory Profile (XMP) 2.0
- 15μ Gold Contact in DIMM Slots


*8th Gen Intel® CPU supports DDR4 up to 2666.
Please refer to Memory Support List on ASRock's website for more information.

**Due to the operating system limitation, the actual memory size may be less than 4GB for the reservation for system usage under Windows® 32-bit OS. For Windows® 64-bit OS with 64-bit CPU, there is no such limitation.

BIOS

- 128Mb AMI UEFI Legal BIOS with multilingual GUI support
- ACPI 6.0 Compliant wake up events
- SMBIOS 2.7 Support
- CPU, DRAM, PCH 1.0V, VCCST, CPU Internal PLL Voltage Multi-adjustment

Graphics

- Supports Intel® UHD Graphics Built-in Visuals : Intel® Quick Sync Video with AVC, MVC (S3D) and MPEG-2 Full HW Encode1, Intel® InTru™ 3D, Intel® Clear Video HD Technology, Intel® Insider™, Intel® UHD Graphics
- DirectX 12
- HWA Encode/Decode: VP9 8-bit, VP9 10- bit (Encode only), VP8, HEVC (MPEG-H Part2, h.265), AVC (MPEG4, h.264), MPEG2-Part2 (h.262), JPEG/MJPEG,VC-1
- Max. shared memory 1024MB**
- Three graphics output options: DisplayPort 1.2 and 2 x HDMI ports
- Supports Triple Monitor
- Supports HDMI with max. resolution up to 4K x 2K (4096x2160) @ 30Hz
- Supports DisplayPort 1.2 with max. resolution up to 4K x 2K (4096x2304) @ 60Hz
- Supports Auto Lip Sync, Deep Color (12bpc), xvYCC and HBR (High Bit Rate Audio) with HDMI Port (Compliant HDMI monitor is required)
- Supports HDCP with HDMI and DisplayPort 1.2 Ports
- Supports 4K Ultra HD (UHD) playback with HDMI and DisplayPort 1.2 Ports


*Intel® UHD Graphics Built-in Visuals and the VGA outputs can be supported only with processors which are GPU integrated.

**The size of maximum shared memory may vary from different operating systems.

Audio

- 7.1 CH HD Audio with Content Protection (Realtek ALC892 Audio Codec)*
- Premium Blu-ray Audio support
- Supports Surge Protection
- Nichicon Fine Gold Series Audio Caps


*To configure 7.1 CH HD Audio, it is required to use an HD front panel audio module and enable the multi-channel audio feature through the audio driver.

LAN

- Gigabit LAN 10/100/1000 Mb/s
- 1 x Giga PHY Intel® I219V, 1 x GigaLAN Intel® I211AT
- Supports Wake-On-LAN
- Supports Lightning/ESD Protection
- Supports Dual LAN with Teaming*
- Supports Energy Efficient Ethernet 802.3az
- Supports PXE


*Teaming is supported on Windows® 10 RS2 and above.

Wireless LAN

- Intel® 802.11ac WiFi Module
- Supports IEEE 802.11a/b/g/n/ac
- Supports Dual-Band (2.4/5 GHz)
- Supports high speed wireless connections up to 433Mbps
- Supports Bluetooth 4.2 / 3.0 + High speed class II

Slots

- 1 x PCI Express 3.0 x16 Slot (PCIE1: x16 mode)*
- 1 x Vertical M.2 Socket (Key E) with the bundled WiFi-802.11ac module (on the rear I/O)


*Supports NVMe SSD as boot disks

Storage

- 6 x SATA3 6.0 Gb/s Connectors, support RAID (RAID 0, RAID 1, RAID 5, RAID 10, Intel® Rapid Storage Technology 15), NCQ, AHCI and Hot Plug*
- 1 x Ultra M.2 Socket, supports M Key type 2230/2242/2260/2280 M.2 SATA3 6.0 Gb/s module and M.2 PCI Express module up to Gen3 x4 (32 Gb/s)**


*If M2_1 is occupied by a SATA-type M.2 device, SATA3_0 will be disabled.

**Supports Intel® Optane™ Technology
Supports NVMe SSD as boot disks
Supports ASRock U.2 Kit

Connector

- 1 x TPM Header
- 1 x Chassis Intrusion Header
- 1 x CPU Fan Connector (4-pin)*
- 1 x Chassis Fan Connector (4-pin)
- 1 x Chassis Optional/Water Pump Fan Connector (4-pin)**
- 1 x 24 pin ATX Power Connector
- 1 x 8 pin 12V Power Connector
- 1 x Front Panel Audio Connector
- 1 x USB 2.0 Header (Supports 2 USB 2.0 ports) (Supports ESD Protection)
- 1 x USB 3.1 Gen1 Header (Supports 2 USB 3.1 Gen1 ports) (Supports ESD Protection)


*The CPU Fan Connector supports the CPU fan of maximum 1A (12W) fan power.

**The Chassis Optional/Water Pump Fan supports the water cooler fan of maximum 1.5A (18W) fan power.

Rear Panel I/O

- 2 x Antenna Ports
- 1 x PS/2 Mouse/Keyboard Port
- 2 x HDMI Ports
- 1 x DisplayPort 1.2
- 2 x USB 2.0 Ports (Supports ESD Protection)
- 6 x USB 3.1 Gen1 Ports (Supports ESD Protection)
- 2 x RJ-45 LAN Ports with LED (ACT/LINK LED and SPEED LED)
- HD Audio Jacks: Line in / Front Speaker / Microphone

Software and UEFI

Software
- ASRock A-Tuning
- ASRock XFast LAN
UEFI
- ASRock EZ Mode
- ASRock Full HD UEFI
- ASRock My Favorites in UEFI
- ASRock Instant Flash
- ASRock Internet Flash
- ASRock Easy RAID Installer


*These utilities can be downloaded from ASRock Live Update & APP Shop.

Support CD

- Drivers, Utilities, AntiVirus Software (Trial Version), Google Chrome Browser and Toolbar

Accessories

- Quick Installation Guide, Support CD, I/O Shield
- 2 x SATA Data Cables
- 2 x ASRock WiFi 2.4/5 GHz Antennas
- 1 x Screw for M.2 Socket

Hardware Monitor

- Temperature Sensing: CPU, Chassis, Chassis Optional/Water Pump Fans
- Fan Tachometer: CPU, Chassis, Chassis Optional/Water Pump Fans
- Quiet Fan (Auto adjust chassis fan speed by CPU temperature): CPU, Chassis, Chassis Optional/Water Pump Fans
- Fan Multi-Speed Control: CPU, Chassis, Chassis Optional/Water Pump Fans
- CASE OPEN detection
- Voltage monitoring: +12V, +5V, +3.3V, CPU Vcore

Form Factor

- Mini-ITX Form Factor: 6.7-in x 6.7-in, 17.0 cm x 17.0 cm

OS

- Microsoft® Windows® 10 64-bit

Certifications

- FCC, CE
- ErP/EuP ready (ErP/EuP ready power supply is required)