800 Watt Cougar GX800 80+ GOLD Modular Power Supply
Web ID: 11931
New high-end series of power supplies specifically targeting demanding gamers, the COUGAR GX series. The 80Plus Gold certified GX series provides up to 93% peak efficiency. The advanced cable management solution allows users to only use those cables their peripherals actually need, thereby effectively reducing cable mess while at the same time improving air circulation and ventilation within the case.
GTIN: 4710918405434
Warranty: 3 Year
Manufacturer Website
Technical details and special features
MAXIMUM EFFICIENCY

Up to 93% of efficiency, compliant with 80-PLUS® GOLD efficiency requirement .


RST (RAPID SWITCH TECHNOLOGY) POWER

COUAGR® GX provide highest efficiency performance with Rapid Switch Technology.


DC-DC TECHNOLOGY

DC-DC technology provides highest efficiency, most stable performance, and perfect regulation (Regulation <3%).


CLC FILTER DESIGN
CLC filter design efficiently suppress Ripple/Noise ‹1%


C

OUGAR VORTEX HDB FAN TECHNOLOGY



COMPATIBLE WITH LATEST PC-TECHNOLOGY

Supports the newest specifications of ATX12V. Created for usage with current and next-generation multi-core CPU platforms.


SUPPORT MULTI-GPU TECHNOLOGY

Support PCI Express 2.0 next-generation graphic card with 8(6+2)pin PCI-E connector.


HIGHEST DURABLE & RELIABLE SOLID CAPS FOR 12V,3.3V,5V

The best solution for a High-End PSU by using solid caps for 12Vs, 3.3V, 5V, solid caps provide highest efficiency, best reliability, and extend power lifespan.


105°C JAPANESE CAPACITORS

COUGAR® use highest durable 105°C Japanese capacitors providing uncompromised performance and reliability and delivering 4 times the lifespan of conventional 85°C rated capacitors.


HIGH PERFORMANCE AT 50°C

Non-stop high performance and full rated wattage at 50°C/122°F ambient temperature.


HDB (Hydro-Dynamic Bearing) 140mm FAN

Advanced HDB (HYDRO-Dynamic Bearing) fan provide best lifespan and super silent performance. Temperature-controlled design adapts its rotating speed to the PSU temperature. Even on its highest rotating level the fan is still quiet enough to be barely noticeable.


DYNAMIC MULTI-12V

Automatic dynamic load distribution on multi-12V line provide power separately to the GPU and the CPU. If you are not using all output lines, the PSU automatically reroutes needed power from unused lines. This improves the performance and safety of the 12V lines considerably for systems with high-end graphic cards in SLI® or CrossFire® mode and provides high voltage stability to keep components safe.


FLEXIBLE CABLE MANAGEMENT

The modular cables that reduce air friction help maximize airflow through the PC case. The modular design also simplifies installation as it allows unprecedented flexibility in using only those cables which are needed.


COMPLIANT WITH LATEST EUROPEAN DIRECTIVE 2009/125/EC (ErP)

In Standby consumption is ‹0.3W, compliant with economy-friendly electrical equipment.


SUPPORTS THE ENERGY STAR 5.0
Compatible with Energy star 5.0 computer system.


ACTIVE PFC



FULL PROTECTIONS WITH OCP, SCP, OVP, UVP, OPP, OTP
80 PLUS GOLD CERTIFICATION

Up to 93% of efficiency, compliant with 80-PLUS® GOLD efficiency requirement . Due to the extremely high efficiency of the COUGAR® GX-series you can reduce your electricity costs in spite of high performance.
RST (RAPID SWITCH TECHNOLOGY) POWER
COUGAR® GX provide highest efficiency performance and less wattage loss.
CLC FILTER DESIGN
COUGAR® GX CLC filter design efficiently suppress Ripple/Noise ‹1%
HDB (Hydro-Dynamic Bearing) 140 mm FAN
Advanced HDB (HYDRO-Dynamic Bearing) fan provide best lifespan and super silent performance. Temperature-controlled design adapts its rotating speed to the PSU temperature. Even on its highest rotating level the fan is still quiet enough to be barely noticeable.
140 mm FAN DESIGN

Better CFM means fan can provide better air flow and cooling performance.
140 mm and 120 mm fan can provide much better air flow just require lower rpm than 80 mm fan, therefore, 140 mm fan is much better cooling performance, but is extremely low noise and longer life of the fan.
DC to DC TECHNOLOGY
DC-DC technology for switching PSU has smaller volume, the highest efficiency, the most stable performance and perfect regulation.(‹3%)
105°C JAPANESE CAPACITORS
COUGAR® use the highest durable 105°C Japanese capacitors provide uncompromised performance and reliability, delivering 4 times the lifespan of conventional 85°C rated capacitors.
HIGHEST DURABLE & RELIABLE SOLID CAPS FOR 12V,3.3V,5V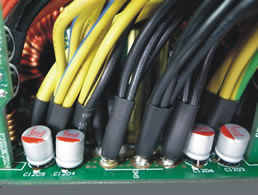 The best solution for a High-End PSU by using solid caps for 12Vs, 3.3V, 5V, solid caps provide highest efficiency, best reliability, and extend power lifespan.
FLEXIBLE CABLE MANAGEMENT
The modular cables that reduce air friction help maximize airflow through the PC case. The modular design also simplifies installation as it allows unprecedented flexibility in using only those cables which are needed.
Dimension
Dimension (L*W*H) mm 180 x 150 x 86
Safety function
UVP (Undervoltage protection)
If the voltages fall below a certain tolerance value on the single lines, the PSU automatically switches off.

OVP (Overvoltage protection)
If the voltages increase above a certain tolerance value on the single lines, the PSU automatically switches off.

SCP (Short-circuit protection)
In the case of a short-circuit this feature prevents damage to the core components of the PSU and its system components.

OPP (Overload protection)
If the system is oversized and requires more power from the PSU than it can perform, this protection function is activated.

OCP (Overcurrent protection)
If the load on a single line is higher than indicated, the PSU automatically switches off.

OTP (Overtemperature protection)
If the temperature is too high, the PSU automatically switches off.