6TB (2 x 3TB) WD My Book Duo External HDD PN WDBLWE0060JCH-SESN
Web ID: 13112
My Book Duo is the ultimate USB dual-drive storage solution offering the capacity and security you need with blazing-fast data transfers, complete backup solutions, hardware RAID and password protection ONLY WHILE STOCKS LAST!
Manufacturer Warranty: 3 Year
Manufacturer PN: WDBLWE0060JCH-SESN
GTIN: 718037823379
Manufacturer Website
Transfer, save and protect your photos, videos, music and other massive files to free up valuable space on your computers. Featuring blazing-fast transfer speeds, local, cloud and system-level backup options, hardware RAID and password protection, My Book Duo is the ultimate storage solution offering the capacity and security you need.
Dual-drive performance with up to 290 MB/s data transfers
Transfer a full HD movie in just under 20 seconds. With ultra-fast transfer speeds up to 290 MB/s, get the speed you need to transfer your entire media collection with ease.*
Massive capacity to hold all your large media files
My Book Duo is your storage vault. With up to 12 TB of capacity, you can organize and save your entire photo, video and music collection, and other important documents in one safe place.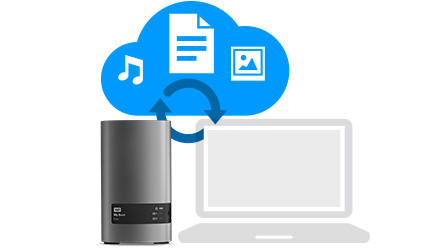 Complete backup solutions to secure your data from loss.
My Book Duo provides multiple backup options to help protect your media collection and important files with local, cloud and system-level backup.
Multiple data management options
Preconfigured in RAID 0 for maximum performance and capacity out-of-the-box or choose RAID 1 for ultimate data protection or JBOD to use the drives individually. True hardware RAID provides an independent CPU to manage RAID volumes and maximize bandwidth for reduced bottlenecks and improved data throughput.
Fast and reliable hardware encryption with password protection
My Book Duo provides 256-bit AES hardware encryption; the most secure data encryption available. My Book Duo also provides password protection to ensure your entire media collection and important files are protected from unauthorized access.
Expand capacity and organize your workspace with two high-speed USB 3.0 ports
My Book Duo features two additional USB expansion ports allowing you to connect additional devices, such as another external drive to increase your storage, or simultaneously charge your smartphones, tablets or other USB devices.
Configure, manage and diagnose your drive with WD Drive Utilities
You're in complete control. With this software you can run drive diagnostics, manage RAID configurations, erase and format your drive, register your drive and more.
Easy to set up, easy to use
My Book Duo is pre-formatted NTFS and is ready to use right out-of-the-box for Windows OS users. The drive can also be easily reformatted for Mac OS X.
Ultra-reliable with WD Red NAS drives
My Book Duo ships with integrated WD Red NAS hard drives, designed and tested for reliability and optimal performance in small RAID environments.
User serviceable enclosure
Ready to upgrade your drives to expand storage capacity? With the simple push of a button, pop open the enclosure and insert new drives with ease. No tools required.
Want to upload, access and share your files from anywhere?
If you are looking for the capacity that My Book Duo offers plus anywhere access, choose WD's dual-drive personal cloud storage solution, My Cloud Mirror. Get all the cloud storage you need without the monthly fees with the ability to upload, access and share your files from anywhere using your smartphones, tablets and computers.
Product Specifications
Interface
USB 3.0
Physical Specifications
Capacity
6 TB
Physical Dimensions
English
Height
6.50 Inches
Depth
3.9 Inches
Width
3.09 Inches
Weight
4.80 Pounds
Metric
Height
165 mm
Depth
99 mm
Width
99.00 mm
Weight
2.18 kg
Environmental Specifications
Temperature (English)
Operating
32° F to 95° F
Non-operating
-40° F to 158° F
Temperature (Metric)
Operating
-0° C to 35° C
Non-operating
-40° C to 70° C
Electrical Specifications
Current Requirements
Power Dissipation
AC Input Voltage
100-240 VAC
AC Input Frequency
47-63 Hz
Compatibility
Operating System
Compatibility
Windows®
As used for storage capacity, one megabyte (MB) = one million bytes, one gigabyte (GB) = one billion bytes, and one terabyte (TB) = one trillion bytes. Total accessible capacity varies depending on operating environment. As used for buffer or cache, one megabyte (MB) = 1,048,576 bytes. As used for transfer rate or interface, megabyte per second (MB/s) = one million bytes per second, megabit per second (Mb/s) = one million bits per second, and gigabit per second (Gb/s) = one billion bits per second.