65" BenQ RP654K 4K UHD Touch Interactive Flat Panel LED Display (CALL for Education and Corporate pricing)
Web ID: 21690
The RP654K is designed to tap into the dynamic possibilities of the classroom and help teachers build a healthy and engaging learning environment. Not only does it come with Germ-Resistant Screen, but the RP654K also comes installed with proficient annotation tools for enhanced class participation. It is your ultimate interactive display to achieve a touch-enhanced, smooth and fun learning experience. ONLY WHILE STOCKS LAST!
Manufacturer Warranty: 3 Year
Manufacturer PN: RP654K
GTIN: 840046036959
Manufacturer Website
4K UHD 65'' Education Interactive Flat Panel Display | RP654K

Your Caring Mate for Enhanced Interactive Learning
The RP654K is designed to tap into the dynamic possibilities of the classroom and help teachers build a healthy and engaging learning environment. Not only does it come with Germ-Resistant Screen, but the RP654K also comes installed with proficient annotation tools for enhanced class participation. It is your ultimate interactive display to achieve a touch-enhanced, smooth and fun learning experience.
Create a Healthy Learning Environment for Students
Germ-Resistant Screen
The Germ-Resistant Screen is empowered by a multilayer coating of the non-toxic, enduring nano ionic silver agent that kills most germs accumulating on screen surfaces and prevent cross-infection or epidemic in classrooms. The ionic silver's antimicrobial feature remains effective even after thorough cleaning or long periods of use.

* SGS Test Confirmed
SGS is the world's leading inspection and verification company, providing internationally approved testing services to verify product quality and performance. Placing our trust in SGS's best-in-class facilities and world-recognized integrity, we had their experts carefully evaluate the screen's antimicrobial efficacy. Proved by the JIS Z 2801:2010 testing methods, the result shows that BenQ's Germ-Resistant Screen can effectively restrain the growth of Escherichia coli and Staphylococcus aureus. To maintain antimicrobial efficacy, please frequently wipe your touch screen with a clean, soft, lint-free cloth moisturized with a neutral detergent.
Smart Eye-Care Solution
The Smart Eye-Care solution can function intuitively with the help of the embedded motion sensor. For a smooth and comfortable viewing experience, RP654K will automatically activate Flicker-Free and Low Blue Light features by detecting the movement of users close to the screen.
*For Android devices, BenQ's RP654K will automatically set screen backlight to a comfortable setting instead of switching to the Low Blue Light mode.
TÜV-Certified Low Blue Light Technology

Blue light emissions from displays may cause adverse health effects such as macular degeneration or disrupted melatonin secretion. BenQ's Low Blue Light technology minimizes blue light exposure and allows for healthier time spent in front of the display, helping you create the best and most comfortable viewing experience for you and your students.

TÜV-Certified Flicker-Free Technology

Flickering, which is the main cause for eye strain and visual fatigue, is the result of rapid change of bright backlight, a common phenomenon in most displays using Pulse Width Modulation (PWM) that turns the backlight on and off quickly in order to control the display's level of backlight brightness. BenQ's Flicker-Free technology is meticulously designed to remove LED backlight flickering while providing a zero-flicker viewing experience. This effectively reduces CVS-related eye problems and alleviates discomfort caused by looking at the screen all day.
Anti-Glare Display

Screen glare can cause reflected images on the screen, making it challenging for students to see, take notes, and remain focused. The RP654K's anti-glare glass surface can effectively reduce reflections, freeing students from excessive squinting with more legible text and clearer images, avoiding eye strain and facilitating more effective instruction.
Foster Active Learning & Collaborative Interaction
Intelligent Handwriting Recognition

The RP654K's handwriting recognition feature allows presenters to simultaneously convert written text, numbers, forms, and drawings into legible materials without having to switch modes while effectively facilitating smooth teaching flow.
Video Recording
RP654K comes with the video recording feature that allows teachers to record lectures for class preparation or review purposes.
*Available in 2017 Q3
MS Office Compatibility
EZWrite 4.0 is compatible with Adobe PDF and other MS Office software, which can make class preparation and loading teaching material more efficient.
Data-to-Go
Save annotations as .pdf or .png files and share them as review materials through e-mails, QR code, print, USB drive, IFP's internal memory.
Floating Toolbar
EZWrite 4.0's floating toolbar is compatible with any input source and Android™ applications. The floating on-screen menu lets you immediately access a range of functions, including recording, print screen, screen capture, eraser, pen and whiteboard.
Tool Box
Tool Box is the all-in-one place that offers a wide range of useful teaching tools, including calculator, geometry, and team post to facilitate truly interactive lectures.
Wireless Solution for Seamless Collaboration

InstaQShare is the software designed for seamless wireless presentation and collaboration during lectures. It allows the smooth streaming of visual, audio files and Full HD quality videos. Users can also mirror content from mobile devices, and invite up to 16 participants for seamless collaboration.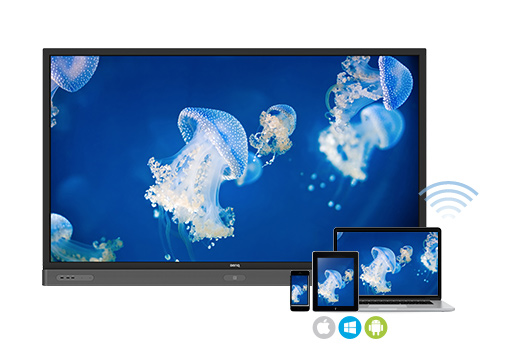 20-Point Multi-Touch Interactivity

As the leading pioneer on the market, the RP Series supports multi-touch capability up to 20 points, allowing more students to participate in discussion and highly engaging activities at once.
Facilitate Teaching Flow with Friendly Design

Integrated Front-Facing Speaker and Pen Tray
RP654K integrates the repositioned audio speakers with the screen-length pen tray. The two front-facing,16W speakers create better sound transmission and bring more audiovisual enjoyment to interactive learning. The pen tray offers a handy place to keep IFP stylus and other tools that help enrich and smoothen presentations, providing fast access and avoiding needless interruption.

Smart Account Management System
(Smart AMS)
BenQ's IFPs support multi-account management through NFC technology, which allows users to directly access their personal system-setting and folders by simply scanning ID cards with the built-in sensor, as well as easily lock screens when not in use. Smart AMS also offers instant access to major cloud storage services without having to enter password.
*This function will be available in 2017 Q4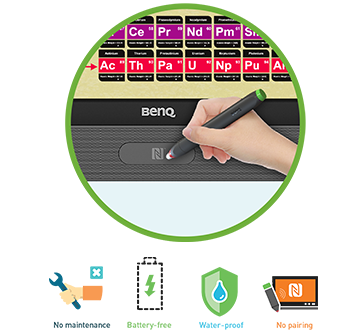 NFC Pen
With a simple tap of the NFCPen at the sensor, you can instantly activate the EZWrite 4.0 annotation app, and begin to annotate with different colors. Built with NFC technology, the NFCPen is battery-free and doesn't require device pairing. It is also waterproof while being able to withstand long-term use.
Front Buttons
The front buttons, including Power, Home, Back, Setting, and Volume, further enhance the convenience of using IFPs and help teachers easily control the pace of lectures.

Instant Plug and Play
RP654K can save you from the hassles of complicated setup. Simply connect to a PC via USB and you're all set to deliver compelling IFP touch-enhanced lessons.

Parental Control
BenQ IFPs come with website control feature that blocks certain websites by configuring proxy server settings, which is useful for preventing students from accessing inappropriate content.
Maximize Flexibility in Teaching through Open Sharing
Multiple Multimedia Device Connectivity
RP654K offers multiple ports, including 6 USB ports, slot-in-PC port, HDMI 2.0 and an HDMI out for enhanced performance and screen extension. Additionally, the repositioned side IO ports make plugging cables more convenient while avoiding any visual distraction.
Multi-Platform Compatibility
The Interactive Flat Panels can work seamlessly with a wide range of computing and mobile devices running most major operating systems, from Windows to Mac, Linux and Chrome, through its plug-and-play feature.
Recommended Apps through "BenQ Suggest"
RP654K incorporates several recommended Android apps into BenQ Suggest, which further expand the IFPs' potential by simplifying app updates and downloading in the future.
Display Management Support
Multiple Display Administrator (MDA)
Multiple Display Administrator (MDA) allows school IT to remotely control the general display settings of IFPs and schedule their on/off times, which helps to create hassle-free maintenance.
EasySetting
Install Android™ apps for a selection of displays through the BenQ cloud server. EasySetting can save you from repetitive manual installation.
Over-the-Air Update (OTA)
Upgrade your displays with the latest BenQ firmware via BenQ's OTA update support to keep them running smoothly at all times.
Education IFP RP654K
Panel
| Backlight / Lightsource | DLED |
| --- | --- |
| Resolution (Pixels) | UHD 3840x 2160 pixels |
| --- | --- |
| Brightness (Typical) | 350 nits |
| --- | --- |
| Contrast Ratio (Typical) | 1,200:1 |
| --- | --- |
| Viewing Angle (Horizontal/Vertical) | 178°/178° |
| --- | --- |
| Color Gamut (x% NTSC) | 72% |
| --- | --- |
| Panel Bit (8 or 10) | 10 bit |
| --- | --- |
| Light Life (Typical) | 30,000 hours |
| --- | --- |
| Display Orientation | Landscape |
| --- | --- |
Glass
| Tempered Glass | 4mm, Tempered Glass |
| --- | --- |
| Anti-Glare (AG) Coating | Yes |
| --- | --- |
| Germ-Resistant Screen | Yes |
| --- | --- |
Touch
| Touch Technology | IR Touch |
| --- | --- |
| Numbers of Touch | Up to 20 Point Multi-touch |
| --- | --- |
| Resolution (Points Area Function) | 32,767*32,767 |
| --- | --- |
| Touch Interface | x2 (USB type B) |
| --- | --- |
| OS Supported | Windows XP/7/8/10/WinCE/Vista/Linux/Mac/Android/Chrome |
| --- | --- |
Audio
| Line Out (Audio Out, 3.5mm) | x1 |
| --- | --- |
AC Power
Basic IO
| HDMI Input | x3 (2.0x1, 1.4x2) |
| --- | --- |
Legacy IO
| USB Player (Photo, Video) | x6 (2.0x5, 3.0x1) |
| --- | --- |
Control
Power
| Voltage | 100V-240V, 50/60Hz |
| --- | --- |
Mechanical
| Weight (Without / With Packing) (kg) | 49kg/61kg |
| --- | --- |
| Dimension (WxHxD) (mm) | 1,521x967x128mm |
| --- | --- |
Wall Mounting (VESA) (mm)
4 holes (600x400mm)
Screw M8x 25mm
RF
OSD
| On-Screen Display Languages | English/ French/ Spanish/ Portuguese/ Simplified Chinese/ Traditional Chinese/ German/ Dutch/ Polish/ Russian/ Czech/ Danish/ Swedish/ Italian/ Romanian/ Finnish/ Norwegian/ Greek/ Turkish/ Arabic/ Japanese (21 Languages) |
| --- | --- |
Package / Accessory
| Power Cord (By Region) | x4 (1.8m) |
| --- | --- |
| User's Manual Electronic File | x1 |
| --- | --- |
| USB Cable for Touch | x 1 (10m) |
| --- | --- |
| Touch Pen (Stylus) | X2 (NFC) |
| --- | --- |
Optional
| QCast HDMI Streaming Dongle | Yes |
| --- | --- |