6 Bay QNAP TS-653B-4G Gigabit NAS Unit
Web ID: 23365
The TS-653B comes with a sleek new look, featuring an OLED panel and two capacitive touch buttons. The TS-653B also features a PCIe port for boosting the potential applications of your NAS: the QNAP QM2 expansion card can be installed for adding an M.2 SSD cache/10GbE connectivity. ONLY WHILE STOCKS LAST!
Manufacturer Warranty: 2 Year
Manufacturer PN: TS-653B-4G
GTIN: 885022012954
Manufacturer Website
The TS-653B comes with a sleek new look, featuring an OLED panel and two capacitive touch buttons. The TS-653B also features a PCIe port for boosting the potential applications of your NAS: the QNAP QM2 expansion card can be installed for adding an M.2 SSD cache/10GbE connectivity, a compatible wireless card can be installed to use the TS-653B as a wireless access point, and a USB 3.1 10Gbps card can be added for easier backup to/from multiple external storage devices. With a USB Type-C QuickAccess port and a SD card slot, the TS-653B simplifies transferring and sharing files without needing a network connection. The TS-653B also provides feature-rich multimedia functionality, such as 4K @30Hz video playback and real-time transcoding.
PCIe port supports installing a QNAP QM2 dual-port M.2 SSD/10GbE connectivity, a compatible PCIe wireless adapter, or a USB 3.1 10Gbps card
USB QuickAccess port for direct access to files on NAS without needing a network connection
Supports virtualization, centralized storage, backup, sharing, and disaster recovery
A hybrid approach to virtualization in one NAS: Virtualization Station and Container Station
Supports dual-channel 4K H.264/H.265 hardware decoding and on-the-fly or offline transcoding
IFTTT Agent enables web automation for improved working efficiency
Note: Hey Guy Media uses a TS-251A. Real Time Remote Replication (RTRR) is a standard feature in the QTS operating system, but SD card reader support varies by NAS model.
Intel® Celeron® J3455 quad-core 1.5GHz CPU with AES-NI Encryption
Powered by the latest 14 nm Intel® Celeron® J3455 quad-core 1.5GHz processor (burst up to 2.3 GHz), up to 8GB DDR3L RAM, dual Gigabit LAN ports, and SATA 6Gb/s, the TS-653B runs tasks smoothly and quickly with up to 225 MB/s read/ write speeds. The TS-653B features Intel® AES-NI hardware-accelerated encryption to drive transfer speeds of up to 225 MB/s with AES 256-bit encryption for both full NAS volumes and shared folders, boosting system performance and security while ensuring the safety of sensitive data stored in the TS-653B.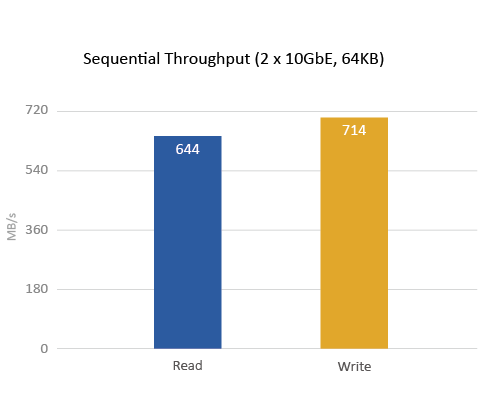 Tested in QNAP Labs. Figures may vary by environment.
Test Environment:
NAS:
OS: QTS 4.3.3
Volume type: RAID 5; 6 x Intel S3500 240GB SSDs (SSDSC2BB240G4); QNAP LAN-10G2SF-MLX 2 port 10GbE SFP+

Client PC:
Intel® Core™ i7-4770 3.40GHz CPU; DDR3L 1600Hz 16GB; WD 1TB WD10EZEX; Intel Gigabit CT (MTU 1500) ; Windows® 10 64-bit
Extend NAS functionality with the PCIe Slot
With PCIe expansion, the TS-653B provides flexibility in extending NAS functionality and potential applications. Install a QNAP QM2 card to provide M.2 SSD caching/10GbE connectivity, or use the TS-653B as a wireless access point by installing a compatible wireless network card, or boost the USB connectivity of the TS-653B by installing a USB 3.1 10Gbps card.
QM2 expansion card rede?nes NAS function
QNAP's QM2 is a PCIe expansion card that features dual M.2 SSD slots and 10GbE connectivity* (individual cards may vary in functionality). This allows users to easily set up SSD caching or to enable Qtier auto-tiering technology to optimize NAS performance. 10GbE-compatible models can also future proof the TS-653B for use with 10GbE networks. Equipped with a dedicated cooling module, the QM2 can maintain its high performance even when tasked with the highest workloads.
*Selected models with 10GbE connectivity is backward compatible with 5GbE/2.5GbE/1GbE/100MbE network.


OLED panel with capacitive touch buttons
The TS-653B features an all-new design with a sliding cover. The tool-less 3.5" hard drive installation makes it easier for users to set up and maintain the TS-653B. The OLED front panel displays system information (including temperatures, fan speed, and the capacity of hard drives, volumes and LUN) allowing you to quickly view the overall system status. Dust-proof capacitive touch buttons allow you to easily wake up the screen, change network IP settings and host password or even restart and shut down the system.
Directly access files with USB-C QuickAccess
The TS-653B features an innovative USB-C QuickAccess port that allows you to complete the first-time installation and setup of your TS-653B without requiring network connectivity. The files and data stored on the TS-653B can also be directly accessed by using Qfinder Pro* and a USB Type-C cable**. You can also assign access rights to users for different folders to prevent unauthorized access to important files.
* Qfinder Pro and USB QuickAccess support Windows 8.0 (and later) and Mac OS X 10.7 (and later). Other versions may require driver installation.
**Sold separately.


Data backup, recovery, and synchronization
QNAP Hybrid Backup Sync provides a well-rounded solution for data backup, file synchronization and disaster recovery. With Hybrid Backup Sync, you can easily and securely backup data from your NAS to several local, remote and cloud storage spaces. In the event of system crashes or critical hardware failure, you can quickly restore data from these storage spaces, minimizing downtime and reducing overall loss. Hybrid Backup Sync also takes advantage of cloud storage for one-way sync of your data to cloud storage through RTRR, Rsync, FTP, SMB protocol, or two-way sync your NAS with remote NAS/cloud services.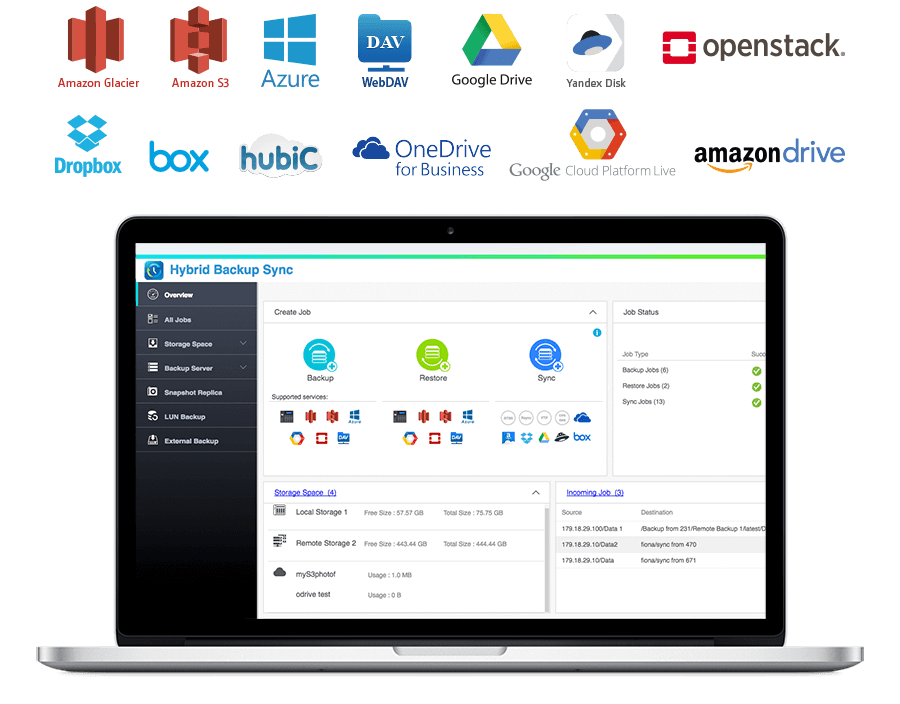 Share and sync files across devices
The TS-653B supports SMB, NFS and AFP, allowing you to quickly share files to Windows®, Mac®, and Linux®/UNIX® devices. With QNAP's Qsync utility, the TS-653B becomes a safe data center for file synchronization with huge storage potential. Any file uploaded to TS-653B can be synchronized to all the linked devices such as computers, laptops and mobile devices. You can also sync shared folders to increase the flexibility of collaboration and file sharing. The SDXC card slot makes it easier to directly access and back up files stored on them, and the new exFAT driver (optional purchase, sold separately) provides compatibility with newer, faster SD cards.
QTS-Linux dual systems, geared for the IoT era
The TS-653B's QTS-Linux dual systems are based on QNAP's advanced virtualization technologies. The revolutionary architecture of the TS-653B enables users not only to download rich apps from QTS App Center but also to develop or utilize IoT packages for Linux® and display them using HDMI output. With the TS-653B, you can develop and install various IoT packages on demand and centrally store the data on the TS-653B, benefiting from a secure private storage and development solution.
Datastore for virtualized environments
The TS-653B is an iSCSI/ IP-SAN storage that supports VMware® and Citrix®, and is compatible with Microsoft® Hyper-V® and Windows Server 2012® R2, fulfilling the need for flexible deployment and management in virtualization environments. The TS-653B supports VMware VAAI and Microsoft ODX to increase performance by offloading server loading for ESXi server and Hyper-V respectively, and supports QNAP vSphere Client plug-in and QNAP SMI-S provider with enhanced operational efficiency and management in virtualization applications.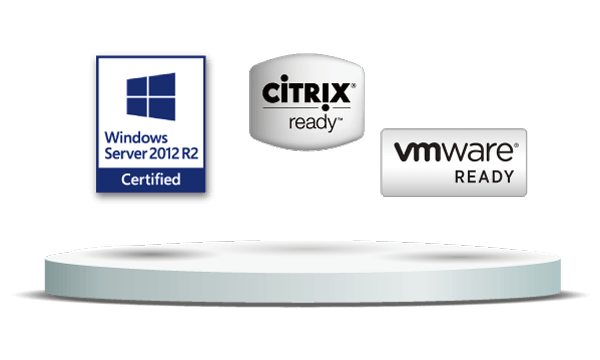 Storage for hosting virtual machines and containerized applications
Virtualization Station allows you to host virtual machines (VM) on the TS-653B and access them via a web browser or VNC. Virtualization Station supports multiple operating systems, fast VM creation, VM backup & restoration, VM import/export, snapshot, and Device Management for centrally managing VMs. Virtualization Station allows the TS-653B, VMs and containers to share the same LAN port. No longer constrained by physical network performance, high-speed virtual switches greatly increases data transfer between VMs, containers and NAS through the internal interface. The TS-653B also features Container Station, which integrates LXC and Docker® lightweight virtualization technologies. You can operate multiple isolated Linux® systems on the TS-653B as well as download apps from the built-in Docker Hub Registry®. Containers Station also supports the QIoT Containers platform that helps quickly structure your IoT environment and deployment on your private IoT cloud.
Secure access with VPN & Proxy Server
The new QVPN combines VPN server and VPN client functionality. Through QVPN, the TS-653B can be used as a VPN server with L2TP/ IPsec, OpenVPN, and PPTP support, allowing you to securely access data shared within the private local network. The TS-653B can also be used as a VPN Client to connect to other VPN servers or virtual private network through PPTP and OpenVPN for secure data transmission. VPN Client also allows your NAS to connect to multiple servers at the same time. You can connect your devices to your NAS and the VPN server at home to access data on the LAN and via VPN Client on your NAS, you can connect to international VPN servers for accessing regionally-restricted services such as Netflix and Hulu in HD Station. The TS-653B provides you with various VPN options and helps secure your data transmission.
Upgrade your IT environment with QNAP's fast and affordable 10GbE Switch!
QNAP 10GbE/NBASE-T™ unmanaged switches allow you to instantly upgrade your network environment at a cost-effective price. With a 10GbE network you can enjoy blazing-fast transfer speeds, empower bandwidth-demanding tasks like virtualization, and enable simultaneous real-time access to large NAS-based files using multiple workstations (ideal for video editing and multimedia). QNAP also provide a 10GbE PCIe network expansion card for the TS-653B and Windows®/Linux® PCs to take advantage of high-speed LAN environments.
QTS 4.3 – The most intelligent and intuitive NAS operating system
With modularized multiple applications and functions, QTS enhances management efficiency, personal productivity, multimedia, and much more. New intelligent agent services have also been added to simplify system operations and management. The user-friendly QTS features an intelligent desktop that allows you to find desired functions quickly, monitor important system information on a real-time basis, open multiple application windows to run multiple tasks concurrently with greater working efficiency, and provides a built-in App Center with install-on-demand apps to extend NAS functionality. QTS breaks the barriers of devices, platforms, and geography to bring optimized cloud experiences and incorporates advanced features.
Ordering P/N
TS-653B-4G
CPU
Intel® Celeron® J3455 quad-core 1.5 GHz, up to 2.3 GHz

Encryption Accleration

? (AES-NI)
Graphics
Intel® HD Graphics 500
System memory
4GB DDR3L
(2 x 2GB)
Maximum Memory
8GB
Total Memory Slots
2 x DDR3L SODIMM slots
(For dual-DIMM configuration, you must use a pair of identical DDR3L modules.)
Drive
Hot-swappable 6 x 3.5"/2.5" SATA 6Gb/s HDD/SSD
GbE LAN Port
2 x RJ45 Gigabit LAN port
10GbE LAN Port
Optional 10 Gigabit LAN port via a PCIe expansion card
USB 3.0 Port
5 x USB 3.0 Type-A ports
USB QuickAccess
USB Type-C
PCIe Slot
1 PCIe 2.0 x2 slot
HDMI Port
2 x HDMI v1.4b, up to 3840 x 2160, 30 Hz
Audio Input
2 x 3.5mm dynamic microphone input jacks
Audio Output
speaker, 3.5mm line out jack
Display
0.96" monochrome OLED
LED Indicators
Status/Power, LAN, USB, Drives, SD card, USB QuickAccess
Buttons
Power, USB copy, Reset, Capacitive touch buttons (select, enter)
Infrared Receiver
? supplied with a QNAP RM-IR004 remote control (compatible with RM-IR002 remote control)
SDXC Card Reader
?
Other Interfaces
Kensington security slot
Dimension (HxWxD)
168 x 235 x 226 mm
6.61 x 9.25 x 8.90 inch
Weight
Net: 3.02 kg (6.66 lbs)
Gross: 4.63kg (10.21 lbs)
Sound Level*
Operating low speed: 19.6 dB(A)
Operating Temperature
0 ~ 40°C (32°F ~ 104°F)
Relative Humidity
5~95% RH non-condensing, wet bulb: 27°C (80.6°F)
Power Consumption
HDD sleep: 20.62W
Typical Operation: 40.33W
Power Supply
120W AC adapter, 100-240V
Fan
2 x 9 cm
Package Contents
NAS, QIG, 2 x RJ45 ethernet cables, AC adapter, power cord, 2.5" drive screw kit