5 Bay Synology DS1517 DiskStation Scalable Gigabit NAS Unit 2GB
Web ID: 22857
Synology DiskStation DS1517 comes with quad-core CPU, hardware encryption engine, four built-in Gigabit LAN ports,and is scalable up to 15 drives, providing a cost-effective storage solution for growing businesses. DS1517 is ideal for centralizing data backups , protecting critical assets , and sharing files across different platforms. Synology DS1517 is backed by Synology's 3-year limited warranty. ONLY WHILE STOCKS LAST! CASH PRICE
Manufacturer Warranty: 3 Year
Manufacturer PN: DS1517
GTIN: 846504002719
Manufacturer Website
CPU
Quad-core 1.7GHz
Memory
2GB DDR3L
High Performance
449 MB/s sequential writing
Scalability
Up to 15 drives with two DX517 expansion units
Engineered for reliability, backed by Synology
DS1517 is designed to reliably store your data and is backed by Synology's three-year hardware warranty. An optional two-year extended warranty is available in select regions for up to five years of coverage. Learn more
Synchronize files across your devices
Cloud Station Suite provides real-time data synchronization across all your devices and other Synology NAS. "Intelliversioning" keeps the most important file versions to better utilize storage space. Learn more
Cloud Station Sharesync
Cloud Station Drive
Cloud Station Server
DS Cloud
Ultimate file management and sharing
File Station is a web-based, fast and secure management tool built to allow easy, drag-and-drop operation without requiring any complex setup on Mac or PC. Advanced search and filtering tools allow for easy organization and sharing of files with just a link. Supports SMB, FTP, AFP, NFS, WebDAV, compatible with any environment.
Real-time collaboration on your private cloud
Office is a collaboration package combining the convenience and usability of public clouds with the data privacy and security guaranteed by private clouds. It allows you to work seamlessly together on documents and spreadsheets in a protected environment.
Real-time collaboration on the same online documents to boost productivity,
Instant communication on Synology Chat during the editing of documents or spreadsheets
Version control for you to navigate all the changes and retrieve previous versions with just a click
Easy file access with QuickConnect
Access files on your Synology NAS over the Internet without the hassle of setting up port forwarding rules, DDNS, or other complicated network settings. QuickConnect allows you to connect via a secure, customizable address, so that you can instantly access media and work files on any Internet-connected device with no additional charge.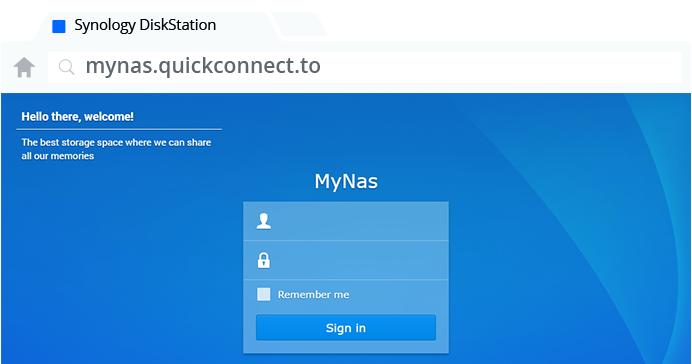 Powered by Synology DSM
Surveillance Station
Complete surveillance solution for recording, monitoring, and management.
Desktop Backup
Simplified backup solution for your Mac, PC, and mobile devices.
Public Cloud Integration
Backup and synchronize data easily between your public cloud accounts and your NAS.
DSM UI
Award-winning operating system with an intuitive user interface and powerful capabilities.
Security
Comprehensive built-in security tools are constantly updated to tackle evolving threats and protect your devices.
Multimedia
Complete multimedia solution for management, streaming, and playback.
Hardware Specifications
CPU
CPU Model
Annapurna Labs Alpine AL-314
CPU Architecture
32-bit
CPU Frequency
Quad Core 1.7 GHz
Hardware Encryption Engine
Memory
System Memory
2 GB DDR3L
Storage
Drive Bays
5
Maximum Drive Bays with Expansion Unit
15
Compatible Drive Type* (See all supported drives)

3.5" SATA HDD
2.5" SATA HDD
2.5" SATA SSD

Maximum Internal Raw Capacity
60 TB (12 TB drive x 5) (Capacity may vary by RAID types)
Maximum Raw Capacity with Expansion Units
180 TB (60 TB + 12 TB drive x 10) (Capacity may vary by RAID types)
Maximum Single Volume Size
108 TB
Hot Swappable Drive
Notes
"Compatible drive type" indicates the drives that have been tested to be compatible with Synology products. This term does not indicate the maximum connection speed of each drive bay.
External Ports
RJ-45 1GbE LAN Port
4 (with Link Aggregation / Failover support)
USB 3.0 Port
2
eSATA Port
2
File System
Internal Drives
EXT4
External Drives

EXT4
EXT3
FAT
NTFS
HFS+
exFAT*

Notes
exFAT Access is purchased separately in Package Center.
Appearance
Size (Height x Width x Depth)
157 mm x 248 mm x 233 mm
Weight
4.15 kg
Others
System Fan
80 mm x 80 mm x 2 pcs
Fan Speed Mode
Easy Replacement System Fan
Power Recovery
Noise Level*
22.4 dB(A)
Scheduled Power On/Off
Wake on LAN/WAN
Power Supply Unit / Adapter
200W
AC Input Power Voltage
100V to 240V AC
Power Frequency
50/60 Hz, Single Phase
Power Consumption*
39.5 W (Access)
18.2 W (HDD Hibernation)
British Thermal Unit
134.78 BTU/hr (Access)
62.10 BTU/hr (HDD Hibernation)
Environment Temperature
Operating Temperature
5°C to 40°C (40°F to 104°F)
Storage Temperature
-20°C to 60°C (-5°F to 140°F)
Relative Humidity
5% to 95% RH
Certification

EAC
CCC
RCM
KC
FCC
CE
BSMI

Warranty
3 Year Hardware Warranty, Extendable to 5 Year Coverage - EW201
Notes

Power consumption is measured when fully loaded with Western Digital 1TB WD10EFRX hard drive(s).
Noise Level Testing Environment: Fully loaded with Seagate 2TB ST2000VN000 hard drive(s) in idle; Two G.R.A.S. Type 40AE microphones, each set up at 1 meter away from the Synology NAS front and rear; Background noise: 16.49-17.51 dB(A); Temperature: 24.25-25.75°C; Humidity: 58.2-61.8%

DSM Specifications ( See more )
Storage Management
Maximum Internal Volume Number
256
Maximum iSCSI Target Number
32
Maximum iSCSI LUN
256
iSCSI LUN Clone/Snapshot, Windows ODX
SSD Read/Write Cache (White Paper)
SSD TRIM
Supported RAID Type

Synology Hybrid RAID
Basic
JBOD
RAID 0
RAID 1
RAID 5
RAID 6
RAID 10

RAID Migration

Basic to RAID 1
Basic to RAID 5
RAID 1 to RAID 5
RAID 5 to RAID 6

Volume Expansion with Larger HDDs

Synology Hybrid RAID
RAID 1
RAID 5
RAID 6

Volume Expansion by Adding a HDD

Synology Hybrid RAID
RAID 5
RAID 6
JBOD

Global Hot Spare Supported RAID Type

Synology Hybrid RAID
RAID 1
RAID 5
RAID 6
RAID 10

File Sharing Capacity
Maximum Local User Accounts
2048
Maximum Local Groups
256
Maximum Shared Folder
256
Maximum Shared Folder Sync Tasks
4
Maximum Concurrent CIFS/AFP/FTP Connections
512
Windows Access Control List (ACL) Integration
NFS Kerberos Authentication
High Availability Manager
Log Center
Syslog Events per Second
400
Add-on Packages (learn more about the complete add-on package list)
Central Management System
Chat
Maximum Users
800
Notes

The number of concurrent HTTP connections for Chat was configured to the maximum.
For tested models with expandable memory, the maximum amount of RAM was installed.

Cloud Station Server
Maximum Number of Concurrently Connected Devices
512
Maximum Number of Synced Files (ext4)
500,000 / single file reaction time 763 ms
Notes

The maximum number of concurrently connected devices refers to the maximum number of devices that can remain connected at the same time. For more information on file processing capability, please refer to the reaction time for file processing.
File reaction time refers to the preparation time required for other devices to start downloading a 10KByte file from a Synology NAS after the file has been added to the NAS. RAM expansion was not used during testing.
Non-encrypted shared folders were used during the aforementioned testing.

Download Station
Maximum Concurrent Download Tasks
50
Drive
Maximum Number of Synced Files
500,000 / single file reaction time 362 ms
Maximum Number of Concurrent Connections for PC Clients
450
Notes

The EXT4 file system was used for the purpose of testing.
The maximum number of concurrent connections refers to the maximum number of connections that could be maintained when the maximum number of synced files was reached.
File reaction time refers to the preparation time required for other devices to start downloading a 10KByte file from a Synology NAS after the file has been added to the NAS.
Non-encrypted shared folders were used during the aforementioned testing.

exFAT Access (optional)
Media Server
DLNA Compliance
Moments
Facial recognition
Subject recognition
Office
Maximum Users
400
Notes

Multiple files were opened for testing and each file was edited by 30 users simultaneously.
CPU and RAM usage were both under 80% when the number of maximum users was reached.
Client performance may affect maximum simultaneous editing users. Client PCs used for testing: Intel Core i3-3220 / 8GB RAM

Surveillance Station
Maximum IP cam (Licenses required)
30 (including 2 Free License) (See All Supported IP Cameras)
Total FPS (H.264)*
900 FPS @ 720p (1280x720)
300 FPS @ 1080p (1920×1080)
200 FPS @ 3M (2048x1536)
150 FPS @ 5M (2591x1944)
50 FPS @ 4K (3840x2160)
Total FPS (H.265)*
900 FPS @ 720p (1280x720)
900 FPS @ 1080p (1920×1080)
660 FPS @ 3M (2048x1536)
330 FPS @ 5M (2591x1944)
150 FPS @ 4K (3840x2160)
Total FPS (MJPEG)*
250 FPS @ 720p (1280x720)
120 FPS @ 1080p (1920×1080)
100 FPS @ 3M (2048x1536)
80 FPS @ 5M (2591x1944)
Notes
Surveillance Station throughput is tested with Axis network camera, using continuous recording with live view from Surveillance Station and motion detection by camera. Live view and recording are sharing the same stream from the camera.
Video Station
Video Transcoding
Group 1 - Type 2 (See more)
Maximum Transcoding Channel Number
1 channel, 30 FPS @ 720p (1280x720), H.264 (AVC)/MPEG-4 Part 2 (XVID, DIVX5)/MPEG-2/VC-1
VPN Server
Maximum Connections
15
Environment & Packaging
Environment
RoHS Compliant
Packaging Content

Main Unit X 1
Welcome Note X 1
Accessory Pack X 1
AC Power Cord X 1
RJ-45 LAN Cable X 2

Optional Accessories

Surveillance Device License Pack
Expansion Unit: DX517 X 2
VS360HD
VS960HD