4TB WD 3.5" USB 3.0 Elements Desktop HDD PN WDBBKG0040HBK-AESN
Web ID: 13919
Desktop External Hard Drive, 4TB Capacity, SuperSpeed USB 3.0, PN WDBBKG0040HBK-AESN
Manufacturer Warranty: 3 Year
Manufacturer PN: WDBBKG0040HBK-AESN
GTIN: 718037824895
Manufacturer Website
Transfer files faster than ever
When connected to a SuperSpeed USB 3.0 port, WD Elements lets you access and save files faster than ever. Transfer a 2-hour HD movie in just 3 minutes instead of 13 minutes.
Free trial of WD SmartWare Pro backup software
Download the free trial of WD SmartWare Pro automatic and cloud backup software and start protecting your files today. Back up to your WD Elements drive or to the cloud using your Dropbox account.
Learn more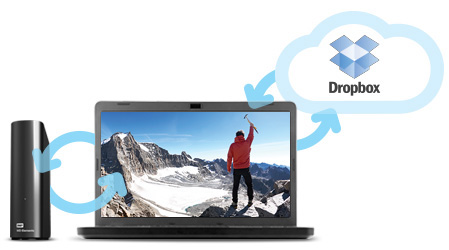 Plug-and-play simplicity
Formatted to work right out of the box with your Windows® PC. Just connect the power and plug the drive into the USB port on your computer to instantly add more storage.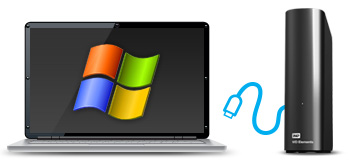 Massive capacity
With up to 3 TB capacity, there's plenty of room for all your important files and precious memories.
Improve PC performance
When your internal hard drive is almost full, your PC slows down. Don't delete files. Free up space on your internal hard drive by transferring files to your WD Elements desktop storage and get your computer moving again.
Universal connectivity
With this single drive you can connect to the latest USB 3.0 devices or to your USB 2.0* devices as well.

* Data transfers will occur at USB 2.0 speeds when connected to a USB 2.0 port.
WD quality inside and out
We know your data is important to you. So we build the drive inside to our demanding requirements for durability, shock tolerance and long-term reliability. Then we protect the drive with a durable enclosure designed for style and protection.
Product Specifications
Interface
USB 3.0 and USB 2.0
Performance Specifications
Serial Transfer Rate
USB 3.0
Serial Bus Transfer Rate (USB 3.0)
5 Gb/s (Max)
Physical Specifications
Capacity
4 TB
Physical Dimensions
English
Height
6.50 Inches
Depth
5.3 Inches
Width
1.90 Inches
Weight
2.00 Pounds
Metric
Height
165.8 mm
Depth
135 mm
Width
48.0 mm
Weight
0.91 kg
Environmental Specifications
Temperature (English)
Operating
41° F to 95° F
Non-operating
-4° F to 149° F
Temperature (Metric)
Operating
5° C to 35° C
Non-operating
-20° C to 65° C
Electrical Specifications
Current Requirements
Power Dissipation
AC Input Voltage
100-240 VAC
AC Input Frequency
50-60 Hz
Compatibility
Operating System
Compatibility
Windows/Mac
As used for storage capacity, one megabyte (MB) = one million bytes, one gigabyte (GB) = one billion bytes, and one terabyte (TB) = one trillion bytes. Total accessible capacity varies depending on operating environment. As used for buffer or cache, one megabyte (MB) = 1,048,576 bytes. As used for transfer rate or interface, megabyte per second (MB/s) = one million bytes per second, megabit per second (Mb/s) = one million bits per second, and gigabit per second (Gb/s) = one billion bits per second.