43" Samsung LC43J890DKEXXY LED 120Hz Curved Monitor with Height Adjust and Speakers
Web ID: 24459
43", 3840 x 1200 Resolution, 32:10 Aspect Ratio, 5ms (GTG) Response, 1 x HDMI(2.0), 1 x Display Port (1.2)
Manufacturer Warranty: 3 Year
Manufacturer PN: LC43J890DKEXXY
GTIN: 8801643323158
Manufacturer Website
Work Wide. Work Smart.
With its 32:10 aspect ratio and 3840 x 1200 resolution, the 43" super ultra-wide curved panel to display your data-rich documents. The CJ89 offers a panoramic view, designed so you can keep many windows open at once and work comfortably.

*Screen image simulated. Keyboard and mouse sold separately.
Goodbye to Dual
With no bezels impeding your view between screens the Samsung CJ89 Monitor is designed to match image quality even from different sources. With only one power cable, the Samsung CJ89 Monitor has fewer cables cluttering your desktop, and is the smart alternative to dual monitor setups.
*Computer, mouse and keyboard sold separately.
Double Your View
Picture-by-Picture lets you display input from two PCs simultaneously for collaboration with colleagues or clients. Simply connect a compatible second device such as a laptop to view its display side by side with your primary PC's display.
*Compatible computer, compatible Samsung smartphone and Samsung DeX Station required, sold separately. UI of the actual product may be different. DeX Station supports Galaxy S8/S8+ and above and Galaxy Note8.
Built-In KVM Switch
When two compatible devices are connected to the CJ89, its built-in KVM switch lets you control them both using just one keyboard and mouse. Designed for multitasking and to save desk space at the same time.

*Computer, keyboard, mouse and accessories sold separately.
Easy Setting Box
Easy Setting Box software makes splitting the monitor workspace into multiple windows a snap. Partition the screen into up to six windows with just a mouse click for an instant view of all your projects. You can also adjust the window sizes for a fully customized view.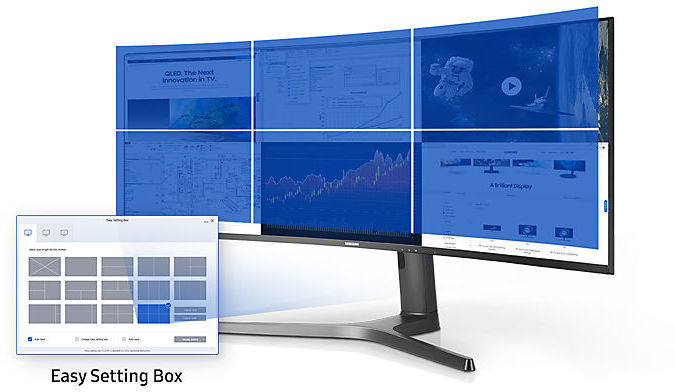 *Microsoft Office requires users to purchase licenses. Microsoft Word, Microsoft PowerPoint, Microsoft Excel and other Microsoft software require a download to use.
Fine Control with 120 Hz
The rapid 120 Hz screen refresh rate provides smooth scenes and can be adjustable to 60 Hz for excellent monitor performance.
* Screen image simulated
Two USB Type-C Ports
USB Type-C transmits data, video and audio, and power all over a single cable. Connect a compatible smartphone, tablet, or laptop to one of the monitor†s two USB Type-C ports to display content onscreen and charge the device at the same time.
Multiple Inputs
Featuring DP, HDMI, USB and two USB Type-C inputs, the CJ89 lets you connect a range of devices. And with built-in 5-watt stereo speakers, you can be sure that whatever you, your colleagues, or your clients bring to the table, your monitor is up to the task.
Curved for Comfort
The CJ89's curved display is designed for a comfortable viewing experience.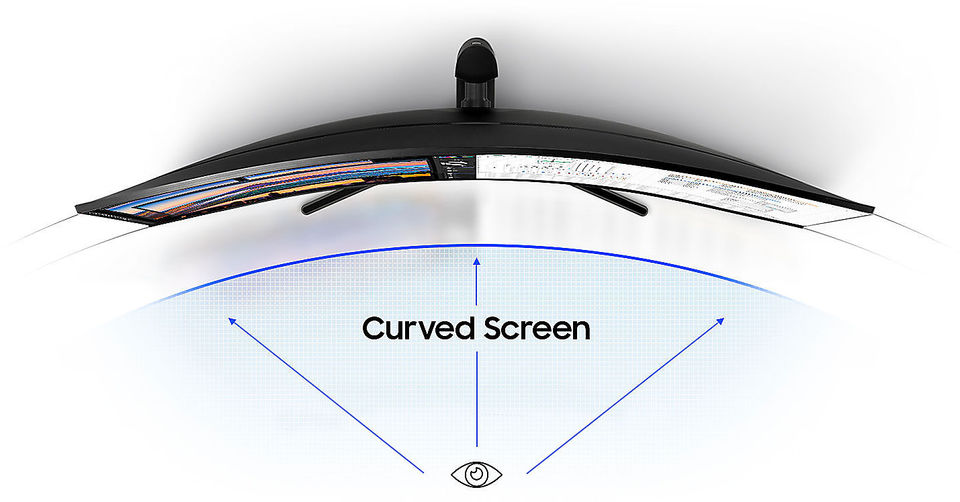 Reduced Eye Fatigue
Samsung's Eye Saver Mode is designed to reduce blue light emissions and its Flicker Free technology is designed to suppress screen flicker.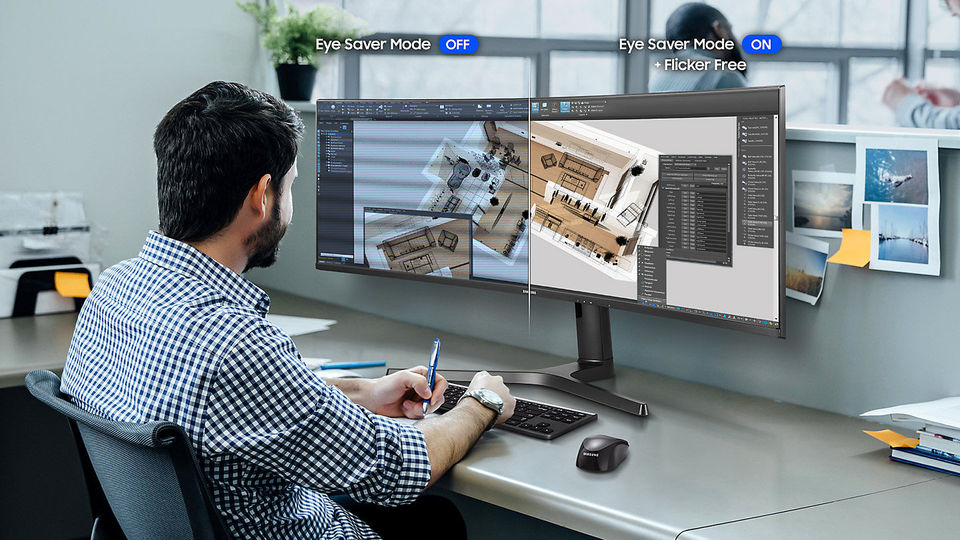 * Screen image simulated
The swivel/tilt and height-adjustable stand offers all the flexibility you need to position the screen for your comfort. The panel's VESA Standard mount also offers the option of mounting on VESA-compatible arms*.
*VESA-compatible arms sold separately.
Display

Screen Size (Inch)43.4
Screen Size (cm)110.2
Screen Size (Class)43
Flat / CurvedCurved

Active Display Size (HxV) (mm)1052.3 x 328.8
Screen Curvature1800R
Aspect Ratio32:10
Panel TypeVA

Brightness (Typical)300cd/m2
Peak Brightness (Typical)N/A
Brightness (Min)250cd/m2
Contrast Ratio Static3000:1(Typ),2400:1(Min)

Dynamic Contrast RatioMega DCR
HDR(High Dynamic Range)N/A
Resolution3,840 x 1,200
Response Time5(GTG)

Viewing Angle (H/V)178°(H)/178°(V)
Color Support16.7M
Color Gamut (NTSC 1976)N/A
Color Gamut (DCI Coverage)N/A

sRGB CoverageN/A
Adobe RGB CoverageN/A
Refresh Rate120Hz

General Feature

Samsung MagicAngleN/A
Samsung MagicBrightYes
Samsung MagicUpscaleYes
Samsung MagicRotation AutoN/A

Eco Saving PlusN/A
Eco Motion SensorN/A
Eco Light SensorN/A
0.00 W Off modeN/A

Eye Saver ModeYes
Flicker FreeYes
Picture-In-PictureYes
Picture-By-PictureYes

Active Crystal ColorN/A
Quantum Dot ColorN/A
Game ModeN/A
Image SizeYes

USB Super ChargingN/A
Daisy ChainN/A
Easy Setting BoxYes
Windows CertificationWindows 10

FreeSyncNo
FreeSync 2N/A
Smart Eco SavingYes
Off Timer PlusYes

Smartphone Wireless ChargingN/A
Game Color ModeN/A
Screen Size OptimizerN/A
Black EqualizerN/A

Low Input Lag ModeN/A
Refresh Rate OptimizorN/A
Custom KeyYes
Super Arena Gaming UXN/A

Sound Interactive LED LightingN/A
Interface

Wireless DisplayNo
D-SubNo
DVINo
Dual Link DVINo

Display Port1 EA
Display Port Version1.2
Display Port OutNo
Display Port Out VersionNo

Mini-Display PortNo
HDMI1 EA
HDMI Version2
Audio InNo

HeadphoneYes
USB Ports3
USB Hub Version3
USB-C2 EA

Audio

SpeakerStereo
USB Sound Bar (Ready)No

Operation Conditions

Temperature10~40 ?
Humidity10~80,non-condensing

Calibration

Factory TunningYes
Built in Calibration EngineN/A
LUT(Look-up Table) Bit DepthN/A
Gray BalanceN/A

Uniformity CorrectionN/A
Color ModeN/A
CMS(Color Management Software)N/A
Factory Calibration ReportN/A

Design

ColorDark Blue Gray(Hair-line)
Stand TypeHAS
HAS(Height Adjustable Stand)120.0 ± 5.0 mm
Tilt-2.0° (±2.0°) ~ +17.0° (±2.0°)

Swivel-15.0° (±2.0°) ~ +15.0° (±2.0°)
PivotN/A
Wall Mount100.0 x 100.0

Eco

Energy Efficiency Class3.5
Recycled PlasticN/A

Circuit Amps

Power SupplyAC 100~240V
Power Consumption (Max)220 W
Power Consumption (Typ)57.2 W
Power Consumption (DPMS)Less than 0.5(HDMI/DP Input Condition)

Power Consumption (Off Mode)Less than 0.3 W
Power Consumption (Yearly)N/A
TypeInternal Power

Set Dimension (WxHxD)

Net Dimension with Stand (WxHxD)1062.7 x 524.6 x 314.4 mm
Net Dimension without Stand (WxHxD)1062.7 x 359.2 x 174.4 mm
Package Dimension (HxWxD)1149.0 x 274.0 x 445.0 mm

Weight

Net Weight with Stand13.0 kg
Net Weight without Stand10.2 kg
Package Weight17.2 kg

Accessory

Power Cable Length1.5 m
D-Sub CableN/A
DVI CableN/A
HDMI CableYes

HDMI to DVI CableN/A
DP CableN/A
USB Type-C CableYes
Mini-Display GenderN/A

Install CDN/A
Quick Setup GuideYes
Clean ClothN/A

Disclaimer