43" ASUS ROG SWIFT PG43UQ 4K VA Gaming Monitor with Speakers
Web ID: 28524
43-inch 4K UHD (3840 x 2160) gaming monitor with 144Hz refresh rate for super-smooth gaming visuals. Supports Display Stream Compression Technology for transporting ultra-high definition video streams across a single interface at high speed with no perceptible loss of visual quality. ASUS Extreme Low Motion Blur technology, which achieves 1ms MPRT to eliminate smearing and motion blur, and makes objects in motion look sharper, so gameplay is more fluid and responsive. High dynamic range (HDR) technology with DisplayHDR 1000 certification and 90% DCI-P3 professional color gamut ensures exceptional contrast and color performance. Certified as G-SYNC Compatible, delivering a seamless, tear-free gaming experience by enabling VRR (variable refresh rate) by default. HDMI 2.0, DisplayPort 1.4 ONLY WHILE STOCKS LAST! CASH PRICE
Manufacturer Warranty: 3 Year
Manufacturer PN: PG43UQ
GTIN: 192876533017
Manufacturer Website
World's First 43" DSC Gaming Monitor
Brilliant Color. Blistering Speed.
ROG Swift PG43UQ is the world's first 43-inch gaming monitor with display stream compression (DSC) technology that delivers smooth, 4K visuals at up to 144Hz. It features high dynamic range (HDR) technology with 90% DCI-P3 professional color gamut coverage and exceptional contrast for DisplayHDR™ 1000 certification, plus support for NVIDIA® G-SYNC®technology. ROG Swift PG43UQ also includes GameFast Input technology for more responsive, lag-free control that heightens the gameplay experience and gives you an edge against your opponents.
Superb picture quality
With DSC Technology
ROG Swift PG43UQ's Display stream compression (DSC) technology* enables 4K visuals via a single DisplayPort 1.4 connection by compressing and decompressing each frame on the fly with no visual loss of image quality.
*To enable 4K resolution at 144 Hz with DSC, an NVIDIA® GeForce® RTX 20 series, AMD Radeon™ RX 5700 or higher graphics card is required. For additional information about enabling DSC, contact your graphics card manufacturer.
BIG-SCREEN GAMING AND ENTERTAINMENT
Loaded with gaming features, the 43-inch ROG Swift PG43UQ offers a more immersive big-screen experience without sacrificing the high refresh rate and variable refresh tech usually only found in smaller panels.
lets you adjust display settings from a distance.
makes it easier to see on-screen content in changing indoor lighting conditions.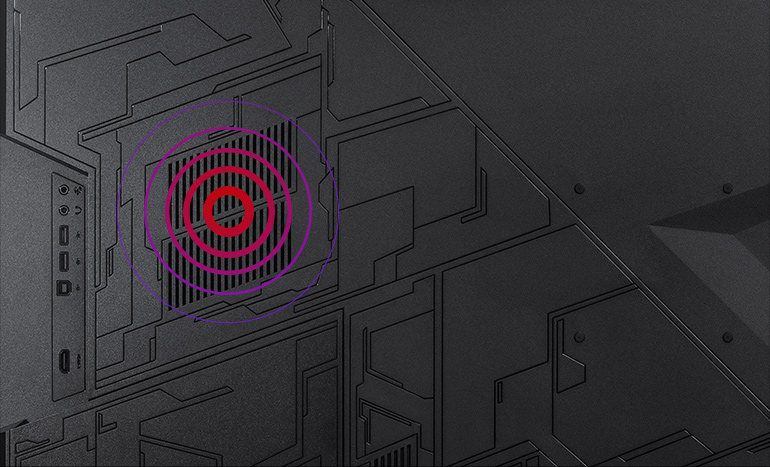 deliver incredible audio fidelity with ASUS SonicMaster technology.
GameFast Input Technology
ROG Swift PG43UQ features GameFast Input Technology to minimize input lag. This technology provides much faster motion delivery so you'll always be up to speed with in-game action at the precise timing you need to respond as quickly as is needed.
Fast 144Hz Refresh Rate and Ims Response Time (MPRT)
ROG Strix PG43UQ offers an ultrafast 144Hz refresh rate and 1ms reponse time (MPRT), ensuring that even the fastest-paced games played at the highest visual settings remain buttery-smooth and completely lag-free.
Certified as G-SYNC compatible, ROG Swift PG43UQ delivers a seamless, tear-free gaming experience by enabling VRR by default on NVIDIA GeForce GTX 10-Series and NVIDIA GeForce RTX 20-Series graphics cards.
Wide Color Range and High Contrast
HIGH DYNAMIC RANGE (HDR)
WITH DCI-P3 90% AND DISPLAYHDR™ 1000
ROG Swift PG43UQ supports HDR technology across a range of luminance (up to 400cd/m2). The brightest whites and the darkest blacks bring out details like never before. ROG Swift PG43UQ also delivers DCI-P3 90% color gamut and contrast performance that passes DisplayHDR™ 1000 certification. To ensure color Accuracy, each ROG Swift PG43UQ is factory pre-calibrated and comes with a factory calibration report.

Now you can choose from multiple HDR modes in order to adjust monitor HDR performance based on the current scenario.
Shadow Boost technology clarifies dark areas of the game world without overexposing brighter areas — improving overall viewing while also making it easier to spot enemies hidden in dark areas of the map.
ASUS DISPLAY WIDGET SOFTWARE
DisplayWidget is an intuitive software utility that lets users tweak the settings of the monitor. Adjustments to these utilities can be made via the On Screen Display (OSD) menu or the navigational joystick, but ASUS DisplayWidget makes accessing and using these various settings much faster and easier.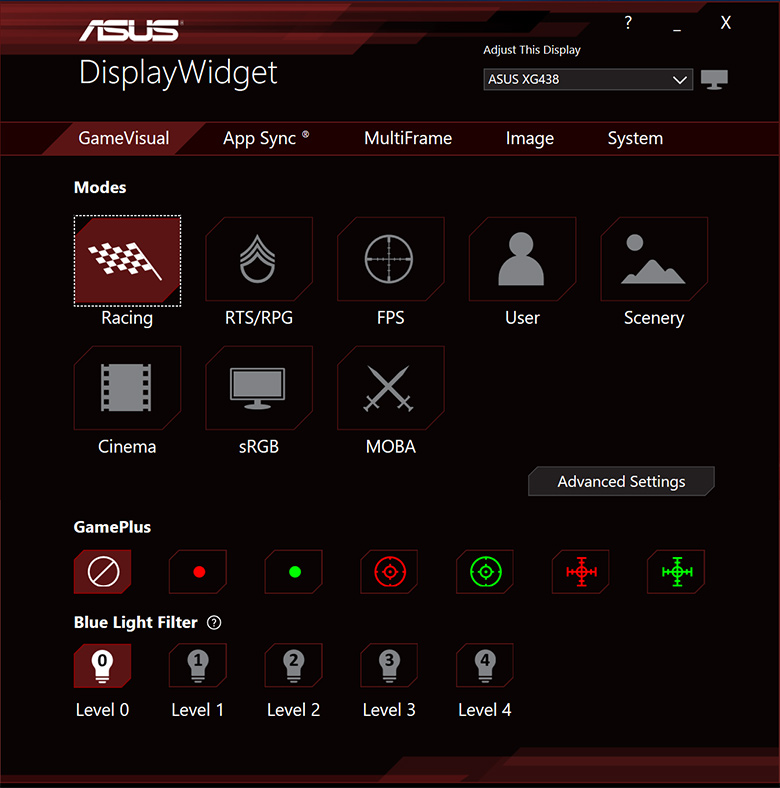 Ultra-Low Blue Light technology
ROG Strix PG43UQ comes with TÜV Rheinland-certified ASUS Ultra-low Blue Light filters to protect eyes and prevent strain from harmful blue light. Select from four different filter settings via the OSD menu or by using the five-way joystick.
Picture-by-Picture Hotkeys
ROG Swift PG43UQ supports picture-in-picture mode with a main screen and inset window, along with a picture-by-picture mode that divides the monitor into segments, giving you the option to view multiple sources simultaneously.
ROG Strix PG43UQ offers a wide selection of connectivity options, including two HDMI 2.0 inputs, two USB 3.0 inputs, and two DisplayPort 1.4 interface.
With exclusive ASUS Aura Sync lighting technology*, ROG Swift PG43UQ provides ambient lighting that can be synchronized with other Aura-enabled components and peripherals.
*Download the latest Aura Sync software here.