4 Bay Tandberg D400 BizNAS Gigabit NAS Unit PN 5000-NAS
Web ID: 11369
4x 3.5" or 2.5" SATA 3.0 Gb/s, Intel Atom Dual Core Processor, 2GB RAM, 2 x Gigabit Ethernet LAN, 2 x USB 3.0 (Rear), 4 x USB 2.0 (Rear), 1 x USB 2.0 (Front), eSATA, 1x D-Sub VGA, Debian Linux OS, Network Client Compatibility: Windows Server 2003, 2008, 2008 R2, 2012, Windows: XP, Vista, 7, 8 (32bit & 64bit), Mac OS X, Linux, UNIX ONLY WHILE STOCKS LAST! CASH PRICE
Manufacturer PN: 5000-NAS
Warranty: 2 Year
Manufacturer Website
Product Overview
Tandberg Data's BizNAS™ D400 offers reliable, cost-effective shared storage for small and medium-sized business, remote offices, departments, and workgroups. This sleek 4-bay desktop unit allows users to add up to four 3.5" or 2.5" SATA 3.0 Gb/s HDD disks.
Built for Professional Applications – Industrial-grade hardware, robust software, and solid performance for maximum usability and longevity
Resilience – Hot-swappable disks and multiple RAID choices for optimum capacity, fault-tolerance, performance, expandability, and migration
Built-In Data Protection & Disaster Recovery Tools – Protect and recover BizNAS storage and its operating system, plus any shared data on the network using cloud, disk, another BizNAS, or RDX® removable disk technology
High-Performance Architecture – An Intel Dual-Core Processor, Dual GbE LAN Interfaces, and USB 3.0 deliver solid responsiveness
Easy to Manage & Use via BizNAS Information Center – Powerful-yet-simple web-based user interface provides remote control and administration without unnecessary clutter
Cross-Platform Compatibility – Share data across Windows®, Mac®, Linux®, and iSCSI, as well as iOS®, Android™ and Blackberry® via Dropbox or client app
iSCSI Block-Level Storage – Fast, flexible, and secure storage, ideal for virtualized servers
Dropbox Gateway – Centralize, monitor, and protect Dropbox cloud storage accounts in real time. Learn how your data is secured in the Dropbox cloud here.
Open System – Built on Debian® Linux for infinite customization by Linux aficionados and system integrators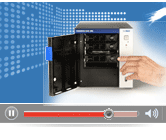 Watch the BizNAS video.